NFL Tales Of The Week – Week 3 Edition (9-27-21)
By: Tyrone Montgomery Jr.
Headline Photo Credit: Buffalo Bills
Up
Buffalo Bills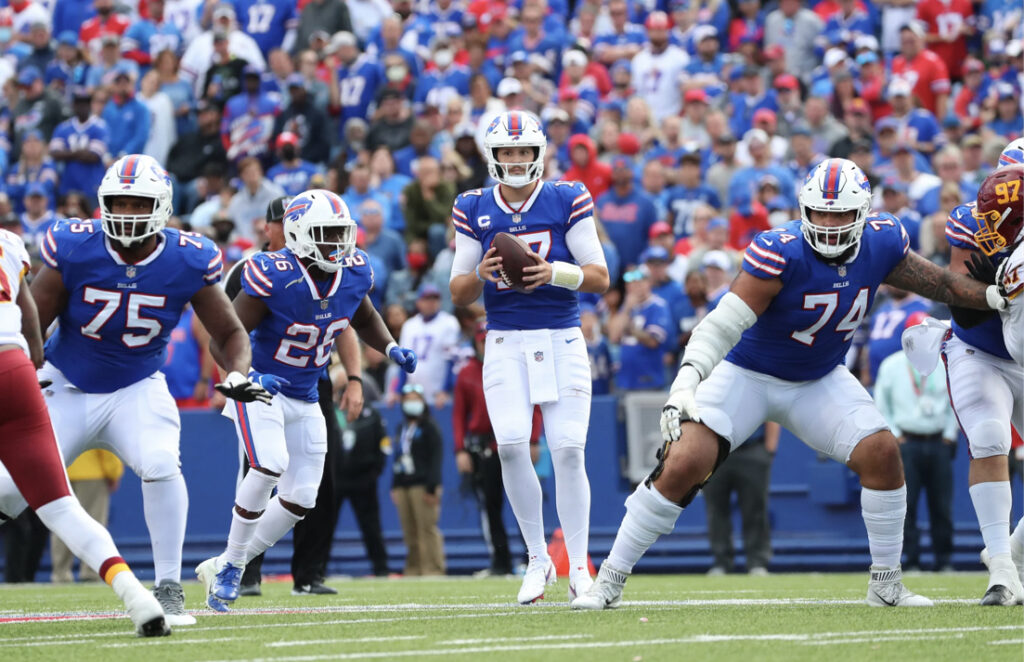 New season, new expectation. Not only are those expectations new, but they're higher now. Many people believe Josh Allen should have won MVP last season. He led the charge and is the main reason The Bills have Super Bowl hopes. Not taking anything away from Aaron Rodgers, but Josh Allen took the league by storm and now he's a top fantasy target, even before Aaron Rodgers. In week 1, it was a bit alarming when Buffalo lost to the Steelers. You say to yourself, Pittsburgh was good last season and has weapons. But Pittsburgh is more of a pretender rather than a contender and even more so this season. Week 1 blues could have been a thing. They were off to Miami to take on the Dolphins. The defense was never an issue for the Bills. All eyes have been on the offense. Despite the Bills winning 35-0, you say to yourself, "Oh, well Tua went down early." That is very true. So you take the win and hope it translates into something bigger. CONFIDENCE. This week, the Bills hosted WFT. Washington has one of the best defenses in the league and Josh Allen looked like he did last season, like the league's MVP. The season is early, but the Bills are a Contender. I think they just may be getting warmed up and this is only the beginning. An addition that doesn't get the credit it deserves is Emmanuel Samuels. Samuels spend last season with the Saints where he was a vital piece to their offense. Stephon Diggs has been huge for this offense. But we knew after what he did last year, teams would probably be looking to double-team him. Saunders gives this team another option who can be dominant at times. This Bills team may be scary now that they're finally finding their rhythm.
The Vegas Raiders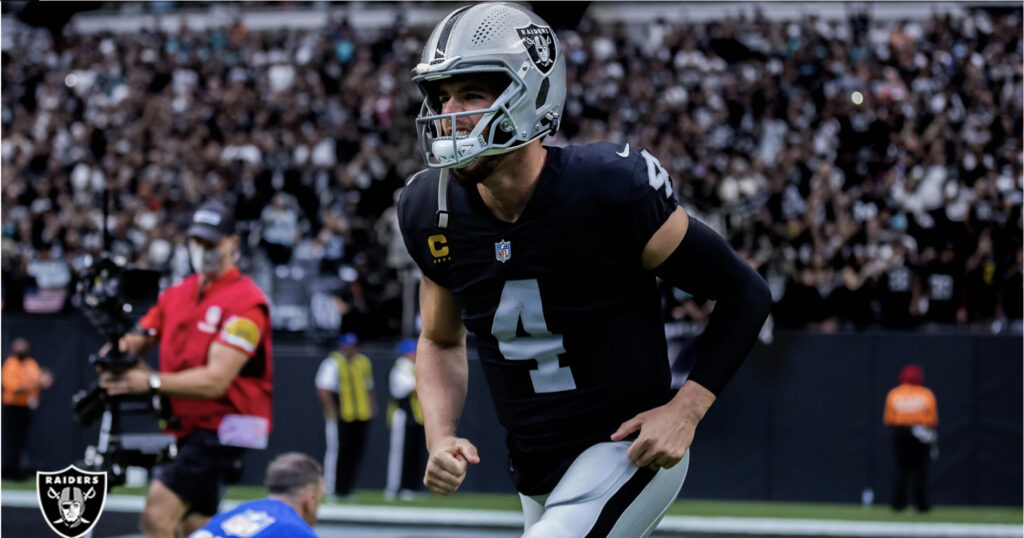 What happens in Vegas stays in Vegas. This is the first season the Raiders have played in Vegas after the formal relocation. The Vegas Raiders are undefeated at home but it doesn't end there. They're undefeated for the season! They have the best record in the league. Their games have been quite exciting, to say the least. This team is the perfect team for Las Vegas. They have 2 Overtime Victories already in just 3 weeks! What's most impressive here for these Raiders is the way their winning. When we think of the Raiders, we think of a team that wants to control the tempo. They want to win the Time of Possession. And they want to make short chop plays to move the ball. Their best offensive weapon hasn't been healthy all year and has missed 2 of the 3 games already, Josh Jacobs. The Raiders had 2 good signings with RB Kenyan Drake and Peyton Barber. They have been huge in the absence of Jacobs. But the unsung hero here is Derek Carr. Carr is at the top of his game and this is his peak. He's quietly having an MVP type of year. Last season, he passed for a career-high 4,103 Yards. He's already on pace to surpass that total this year especially with Jacobs being banged up and having an extra game in the regular season. The verdict is still out as if this team will be a legit threat this season. But we HAVE to give Derek Carr and Head Coach Jon Gruden their flowers as they have this Raiders team ROLLING early on this season.
Down
Kansas City Chiefs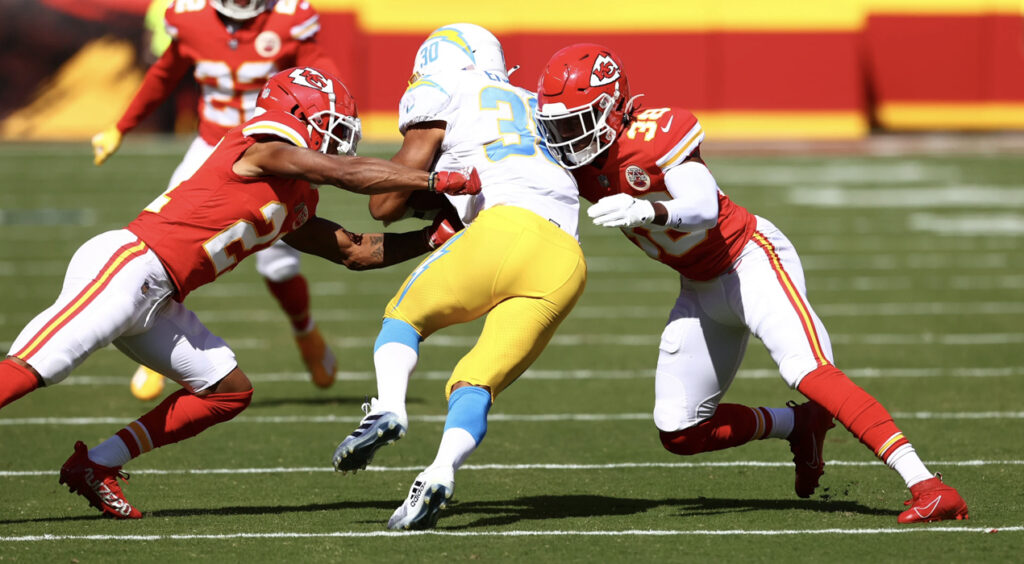 Oftentimes in life, after being on top for so long, you get a little fatigued. It's hard to hold down a lead. The pressure is always on you and there comes to be a target on your back. You become the hunted rather than the hunter. It's almost like you have nothing to play for. The motivation is gone. The Kansas City Chiefs won a super bowl a couple of seasons ago. Their defense was suspect, but the offense overcame it. Last season, the loss in the Super Bowl to Tom Brady and the Tampa Bay Buccaneers. Their defense wasn't necessarily the issue here though. Of course, playing against Tom Brady, you get a pass as he torches everyone he plays against. After winning 6 Super Bowls now, Brady has been considered the GOAT, especially winning with 2 different franchises now. But the debate still comes up – Is Pat Mahomes the real GOAT? A 26-year-old who has only won just a single super bowl is being compared to Tom Brady. Mahomes has been incredible and he is the most feared QB in the league right now. His hard work has earned him the richest contract for a QB in NFL History. Despite the Chiefs losing in the Super Bowl last season, they're still the favorites to win it all this season. The Chiefs have a 1-2 record currently after losing to the LA Chargers. The main issue this week was their defense. They struggle to make tackles and they're giving up a lot of yards per play. So what's wrong with the Chiefs? While their defense is struggling, they're beating themselves mentally. They're relying on Patrick Mahomes way too much for one thing. But ultimately, the high expectations are taking a toll on them after being so dominant these last few years. The elephant in the room right now is the Chiefs are in trouble this season already.
Zach Wilson and the NY Jets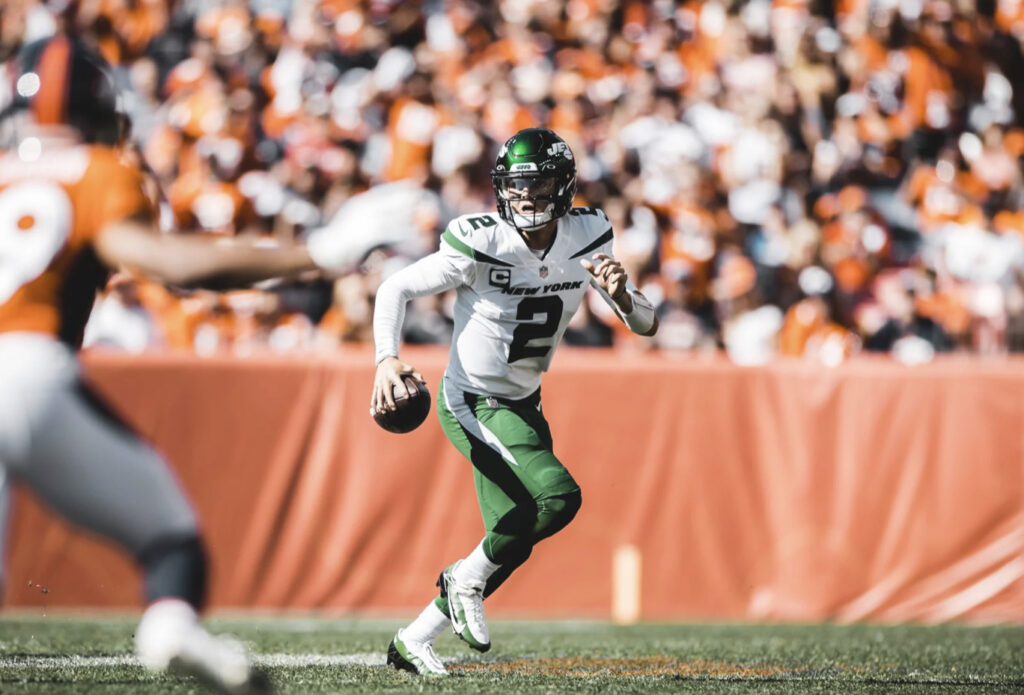 When you start a new job, growing pains are expected. You have to learn the company's policies. Rules and regulations are a thing. Perhaps you have to learn the software systems of the company. Or even get to know your workmates. When those growing pains hit you, GOOD management helps ease the problems as best as they can. They try to make things a little easier for you so life at work can run smoother for you. Rather it's evident or not at this point doesn't even matter, but the fact of the matter is Zach Wilson an extremely talented QB. The kid has got game! But we will never know how great he can be with the New York Jets. We all see how well Sam Darnold is playing in a different uniform. Zach Wilson is struggling badly right now. Wilson has thrown 0 TDs and 6 interceptions in his last 2 games. What's frustrating here is the lack of running game that's there in New York for the Jets too. So Wilson is being forced to throw his way out of this funk. That is what I call poor management. You want to get your QB in a groove or a rhythm so he can get out of this funk. One thing you can do is establish that running game that should open the door for play action. But the Jets are allowing Wilson to find his way on his own. He is already being set up for failure. It's a hard watch in New York and while it may be early in the season, the Jets need to find answers fast.