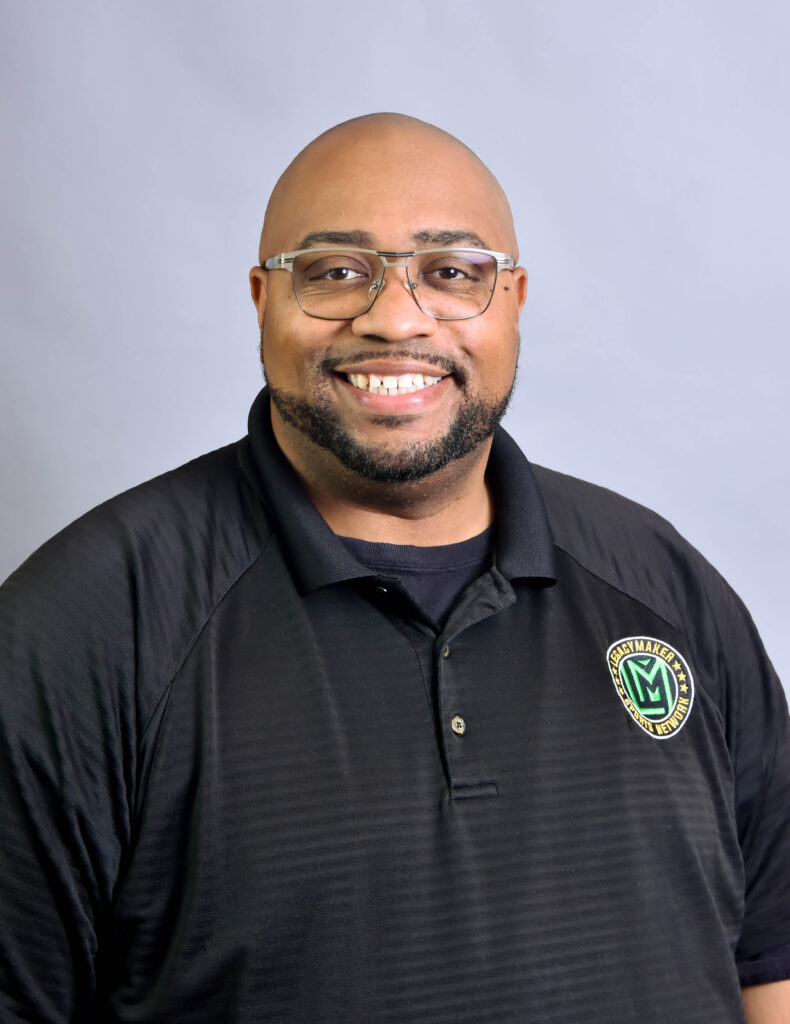 Darrell, 37
Twitter:@DLO_Legacy
Instagram:dlo_legacy
Facebook: Darrell Lee Owens Sr.
My name is Darrell Owens Sr., I am from Amelia County, Virginia about 30 minutes from Richmond, VA and now I live in Chesterfield, VA. I've been Married for 16 years to my beautiful wife, Shaniell. I have 3 kids Shaniya, Alayna and Darrell Jr. Being a family man means the world to me.
I'm a Lifetime sports fan, who lifelong dream is to be in the world of sports broadcasting. I've been the PA Announcer for Amelia County High Raiders Football & Basketball in Amelia, VA since 2000, this fall will be his 22 season behind the mic.
My biggest claim to fame is starring in over 50 commercials and training videos for Walmart as "Mr.Rollback" since 2010. Also during That time frame, I've performed on stage with the likes of Academy Award winners Jamie Foxx & Reese Witherspoon!
Darrell's ultimate goal is to do Play-by-Play Commentary for a living. Darrell also co-host The LegacyMaker Sports Podcast on our network
Quick Facts about Darrell

Real Name: Darrell Owens
Nicknames: "Mr. Rollback", "Tito","The LegacyMaker"
Hometown: Amelia, Virginia

Biggest Sport Rivals: Minnesota Vikings, Seattle Seahawks, New Yankees, New York Knicks, Detroit Red Wings
The athlete you're supposed to hate because he/she plays for a rival, but you secretly love: Russell Wilson he has broken my heart a few times the last 5 years…Two Reasons "Fail Mary" & 2015 NFC Championship Game. he drives me crazy but its hard to hate a guy that so charming and nice

The one sport I can't live without:Football, but Baseball is a close second
The one sport I wouldn't notice if it disappeared: This is a tough but I will say Tennis.

Favorite Sports Movies: Major League 2, Water Boy & Little Big League

Best Year in My Sports Life: 1996-97 The Green Bay Packers won Super Bowl 31 and my Colorado Avalanche won the Stanley Cup for the first time!

Favorite athletes from my hometown: Would have to be my Brother Pernell Owens he was drafted by the Florida Marlins back in 1993 and Justin Lawrence DT of the 2016 & 2017 Arena Football League Champions "Philadelphia Soul".


Favorite Teams:

NFL – Green Bay Packers

MLB -Seattle Mariners

NBA -Miami Heat

NHL -Colorado Avalanche

NCAAF -Virginia

NCAAB (Men's & Women's) – Men's Virginia & Woman's South
Carolina (Dawn Staley Favorite Women's Player All-Time)

WNBA -Minnesota Lynx (Maya Moore is Amazing)

MLS -Portland Timbers


Favorite Athletes:

NFL -Sterling Sharpe (All-Time) Aaron Rodgers (Current)

MLB -Ken Griffey Jr(All-Time) Andrew McCutehen (Current)

NBA – Alzono Mourning (All-Time) Giannis Antetokounmpo (Current)

NHL – Joe Sakic (All-Time) P.K. Subban (Current)

NCAAF -Tommie Frazier (Nebraska)

NCAAB (Men's & Women's) – Allen Iverson (Men's) Dawn Staley
(Women's)

WNBA – Maya Moore & Skylar Diggins

Soccer – Eric Wynalda (USA)

Nascar – Dale Earnhardt Sr (All-Time)

Boxing – Mike Tyson
MMA- Brock Lesner
​WWE-The Rock