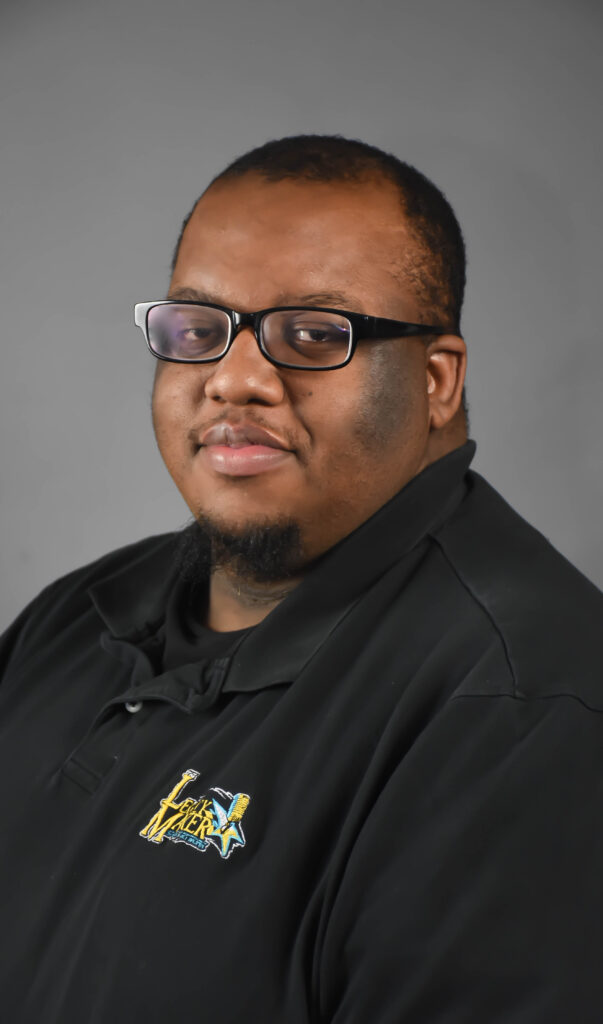 Russ,
Facebook – facebook.com/BigBlack973
Twitter – @lmsnStatman
Instagram – lmsnStatman
Hey y'all. Stat Guy Russ here, but you can call me RJ too. I've been living here in Virginia for a few years now, but I'm originally from New Jersey, & I am very proud of that. My love for sports didn't start really until I was in 8th grade. Until then, I'd catch the occasional game on TV & watch the holiday & championship games with friends & family, but i never really cared that much. I even did a fantasy baseball league in 7th grade, but I was more into the stats than the actual games, if that's even possible. In 8th grade, had a math teacher who was a HUGE giants fan. He was so big of a giants fan; he gave us a pop quiz every Monday if the giants lost. With the extra pressure, I had to pay attention to football & care about it for the first time in my life. Even as a young stat boy, i had to do my research & see what kind of team was deciding my fate of pop quizzes. I got lucky because they went 10-6 that year. I missed a 4-12 season by one year & I'm still thanking god for that. The sports bug was planted because that year of "extra" studying & it only grew bigger as I got into other sports.


After explaining all that, you'd probably think I'm a giants fan over everything, & you'd be 100% correct. The NY Giants are my favorite sports team. All of my favorite teams are from the NJ/NY area. Giants, Rutgers Football, Yankees, Nets, and Devils are some of my favorite sports teams, but as I said, I love all sports (or at least try to). I'm also a big fan of Barcelona soccer, Serena Williams & Rafael Nadal are my favorite tennis players, & Frankie Edgar (who is also from NJ) is my favorite UFC fighter. If i was asked what sport I like the most, I would say MMA with football being a very close second. I can honestly say that whether I'm watching UFC, Bellator, WSOF (now known as the Professional Fighters League), or any other MMA promotion, I'm in a weird trance of happiness. The same can almost be said when I'm watching football. I think it would be safe to say that most of my articles & content on the network here are going to be MMA/football related. While that is a safe bet, I will give my 2 cents on some other subjects outside of my certain specialty when something else pops up, especially if involves one of my teams.

Quite frankly, I absolutely love sports & it's played a big part in my life. I remember watching channel 3 way too much as a kid in middle school because that was ESPN. Stuart Scott & Scott Van Pelt are my favorite anchors. When I was looking for an apartment a few years ago, I told my roommates, "I don't care what kind of cable we have at the house as long as it's the cheapest package that comes with ESPN!" Me bring a huge UFC fan, I also watch my fair share of Fox Sports as well. I've had a lot of reasons to celebrate sports as well since my teams have been lucky to win or appear on in quite a few championships. Also I, like everybody else, have had my up & downs in life. Sports has always been there for me to get lost in & forget about whatever is bringing me down & that's what I want to happen here. Whether you're in the worst mood or the best mood, I want you to come get lost & have a great time in our world of sports here at THE Legacy Maker Sports Network. We're just getting started!!!!
​Quick Facts about #StatMan

Real Name: Russ
Nicknames: #StatGuy or RJ
Hometown: Montclair, NJ

Biggest Sport Rivals:Red Sox or Cowboys. Depends on what month of the year you ask the question, but I can't stand either one of them

The athlete you're supposed to hate because he/she plays for a rival, but you secretly love: David Ortiz. I love big papi. Just think he's one of the coolest guys I've ever seen play the game

The one sport I can't live without: MMA & Football. I cheated & chose 2. I gotta check the news on them everyday. I'd be lost without them

Favorite Sports Movie: Tough one. I'd say it's a toss-up between Happy Gilmore, Talladega Nights, Space Jam or Mighty Ducks. Either one o f those would be a good answer for me

The one sport I wouldn't notice if it disappeared:Nascar. I just can't get into it. I have much respect for the drivers, just not my favorite

Best Year in My Sports Life:2008. Giants, as a wild card, upset the undefeated Patriots to win the Super Bowl 42. Rafa Nadal had the greatest summer in tennis history winning the French Open, Wimbledon, & Gold @ the Olympics in consecutive major tournaments

Favorite athlete from my hometown (Montclair, NJ): Yogi Berra. Originally from St Louis, Berra called Montclair home for many years after his retirement. He even has a museum dedicated to him on the campus of the local college, Montclair State University. I had the honor & privilege to meet him on a field trip there in 8th grade


Favorite Teams:
NFL – NY Giants

MLB – NY Yankees

NBA – Brooklyn Nets

NHL – NJ Devils

NCAAF – Rutgers Scarlet Knights

NCAAB (Men's & Women's) – UConn Huskies

WNBA – LA Sparks

MLS – NY Red Bulls

International Soccer – FC Barcelona


Favorite Athletes:

MMA – Frankie Edgar
​NFL – Michael Strahan

MLB – Bernie Williams

NBA – Shaquille O'Neal

NHL – Patrik Elias/Martin Brodeur/Jaromir Jagr (Can't decide)

NCAAF – Bran Leonard

NCAAB (Men's & Women's) – Candace Parker

WNBA – Once again, I'm in love with Candace Parker

Soccer – Ronaldinho
Nascar – If i had to choose a favorite, probably be Jeff Gordon