Super Bowl 52 Preview: The Philadelphia Eagles
By:Paul Scofield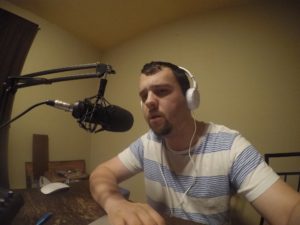 No, this isn't the February 6, 2005.  However, the New England Patriots and Philadelphia Eagles will be back at it again in Super Bowl 52.  The game was played in Jacksonville, Florida when they first met.  There's somewhat of a climate change this season, as they're playing in Minneapolis, Minnesota.  Although they're playing inside a dome, so that won't necessarily matter this time around.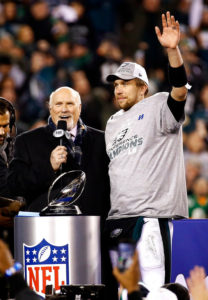 If you want to break down the X-Factors on the Eagles side of the field, then the first thing that comes to mind is Nick Foles.  Of course, quarterback play is significant to a team's success, and this game features a player that's over-performing in a "simple" quarterback friendly system and the G.O.A.T. at the position.  However, this isn't necessarily about the quarterback play.  Those two guys will be fine, unless my X-Factor happens: The Eagles' Defense.
Tom Brady has lost 2 Super Bowls, both to the New York Giants.  That's not a coincidence, the Giants had a similar game plan in each other those wins: to pressure Brady without the blitz.  The Eagles need to get pressure on Brady and do so without the blitz.  Philadelphia pressures the quarterback on 41% of drop backs (per PFF), most of NFL defenses.  The Eagles led the league with 271 pressures, 27 more than the next best team (Cincinnati Bengals) in that category.  With that stat, I'd like to give you the most surprising thing about this defense.  The Eagles had the 10th lowest blitz rate in the league, but generated pressure on 38% of their rushes featuring NO blitz – again, the highest rate in the league.  Philly had seven players this season top 20 total pressures, which is 1 more than any team in the league.  This defense is a defensive "elite" style team, much like those kryptonite Giants teams.
Something about this whole "defense wins championships" thing I'm pushing on you, it might not matter if the Eagles get pressure on Brady or not.  He is just good, there's no denying that.  He led the NFL this season in passer rating under pressure at 96.6.  Brady under pressure this season had a passer rate of 10 points higher than the average quarterback did on any given down (per PFF).  It's not necessarily the amount of pressure you get on Brady, it's more importantly the volume of it and how decisive that pressure is.  It's definitely on Jim Schwartz play calling.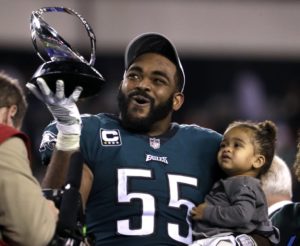 Ultimately, the Giants and Tom Coughlin laid out the blueprint to beat Brady.  Heck, Coughlin almost pulled it off in the AFC Championship game with Jacksonville, but Brady pulled his magic out in the 4th quarter.  Super Bowl 52 is a "redemption" game for the Philadelphia Eagles and the City of Philadelphia.  Can Nick Foles bring home Philadelphia's first Super Bowl Championship?  We will find out Sunday evening.