Atlantic 10 Tournament Semi-Finals Recap (March 10,2018)
By:Darrell Owens
Day 4 of the Atlantic 10 Basketball Championship Tournament saw 4 teams compete for a chance to go to the A10 Championship Game. All four teams competed with tons of heart and passion, but only two teams could move on to today's championship game. The tournament's #1 seed the Rhode Island Rams took on the #4 St.Joseph Hawks & #2 St. Bonaventure matchup against #3 Davidson. Both games keep the fans on their toes the entire time.
In Saturday's 1pm tip, Rhode Island and St.Joe's came out swing. The Hawks were on fire from 3-point land early in this game. At one point, the Hawks were shooting 76% from behind the arch in the 1st Half. Rhode Island did whatever they could to stay close in the 1st Half, but every time the Rams cut the lead down, the Hawks came through with some big shots from Anthony Longpre and Shavar Newkirk keeping a firm lead going into halftime 47-40.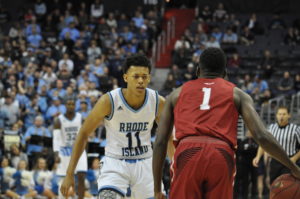 The second half would tell a different story, St. Joe's would extend their lead to 11 points during the second half and looked to be on there way to the title game for the first time in 2 years but the defending champs wouldn't go down easy. The Rams would battle back and take the lead for the first time in this game with 6:16 left in the this game. With an injury to St.Joe's star Shavar Newkirk keeping him sidelined on and off during the 2nd Half , the Rams would capitalize & go on to win this game 90-87 advancing to today's championship game.
In yesterday's second semifinal game, #3 Davidson would flex their muscle against #2 St.Bonaventure. The lead would change hands a couple of times during in the first 8 minutes of the game, then Davidson would unleash a multitude of huge 3-pointers throughout the entirely of this game, (16 Total) making it extremely hard for the Bonnies to keep up with the Wildcats. Both A10 Co-Players of the Year, Peyton Aldridge of Davidson (24 points) and Jaylan Adams of St.Bonaventure (20 Points) both lead there team in scoring in this contest. Davidson would go on to win this game and clinch there spot in today's title game.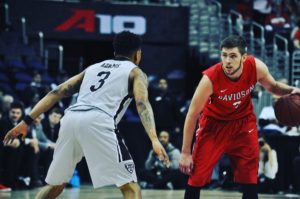 Today's game starts at 1pm at the Capitial One Arena in Washington D.C. and promises to be a very competitive matchup between #3 Davidson and #1 Rhode Island. Their last game took place in the regular season finale, which Davidson won 63-61. Can the Wildcats win there 1st Atlantic 10 Title? Or will Rhode Island repeat as champs? We will find at 1pm! You can catch all updates of the game on our social media platforms. Thanks for reading!