"Tales of the Week" – Week 6 of the 2018 NFL Season
By:Tyrone Montgomery Jr.
Headline Photo Credit:Andy Lyons-Getty Images
Back to Basics
After experiencing success in life, we sometimes change how we do business. We get ahead of ourselves, and we sometimes become something or someone that we're not. We take more chances in life due to a bit of cockiness. We don't put as much effort into things as we used to in the past. Come on, you know this has happened to us all. After we sale the most cars during the fall, our numbers drop tremendously and the new guy outsold you and it wasn't even close. This is what has happened to the Philadelphia Eagles. Coming off a Super Bowl, as expected they now have a target on their backs. Injuries were an issue last season; injuries are an issue this season. Well last season they loss their starting QB, Carson Wentz. Many believed Wentz would have won MVP last season if it wasn't for his season ending injury. This year, there are a ton of injuries all across the board. But the one that sticks out to them the most are the ones in the backfield, particularly Jay Ajayi. The Eagles have now turned their attention to acquiring another RB. This may be necessary. Some names that have captured GM Howie Roseman's attention are David Johnson and LeSean McCoy. Johnson had an MVP type season 2 years ago and McCoy actually started his career in Philadelphia.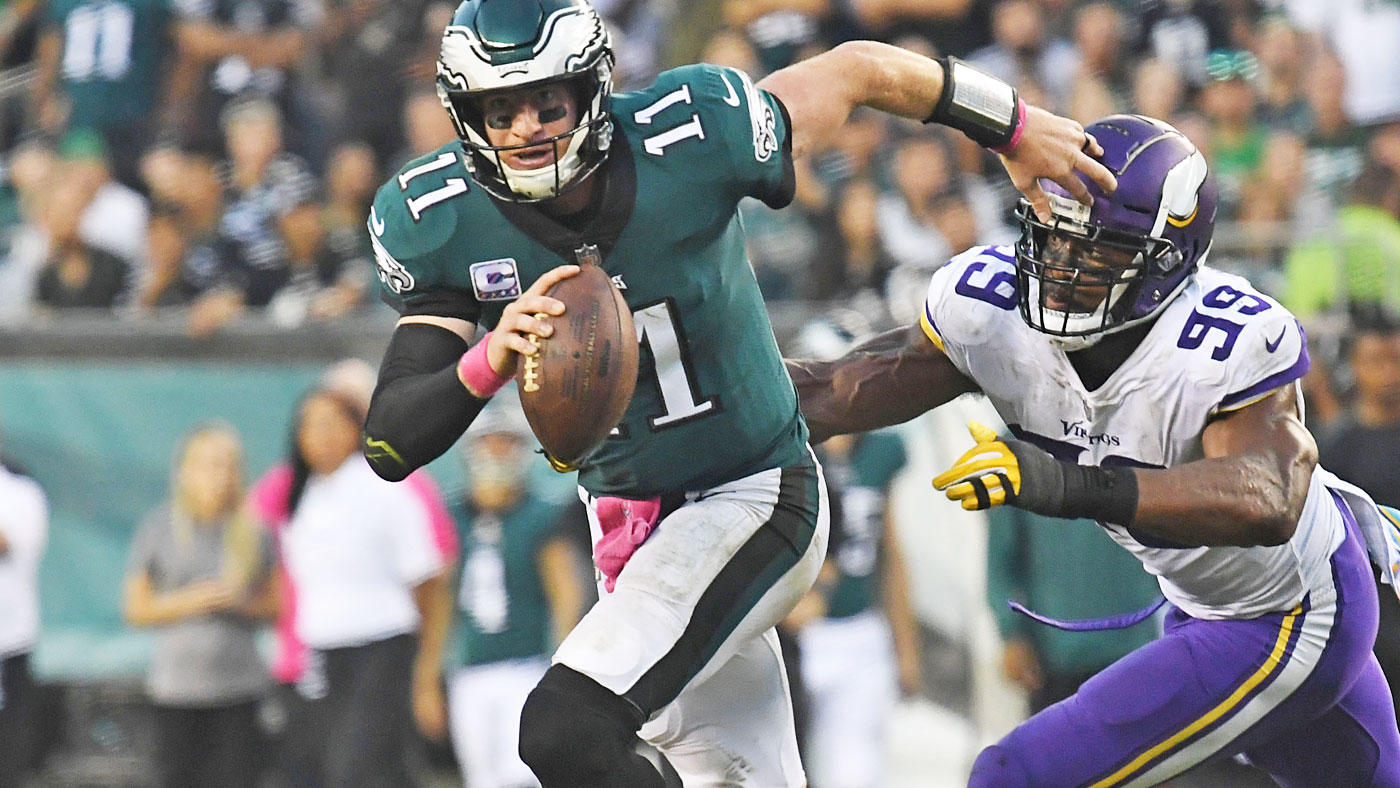 While acquiring another RB will help this team, it won't fix their issues. Last season, the Eagles ranked 4TH in total takeaways. That gave them great field position to put some points on the board. They ran the ball fairly well last season, but they ran when they had to. Carson Wentz made a ton of big plays on his feet. The offensive line also played well too. Carson may be a bit hesitant in running, but he can learn to slide. We've seen him slide a lot in the win over the Giants. So here you have it, three keys to fixing the Eagles 1. Force Turnovers 2. Carson Wentz has to be Superman 3. O-Line must improve. If this happens, the Eagles should win this division easily.
Kings of The North?
Here from the Legacy Maker Sports Network, we consider this NFL Season as week to week. The season has been fun thus far, and we don't know what to expect from each team. No one in the league has been consistent. Upsets have happened all across the board all season long. You just don't know what to expect, and that's where the terminology "Week to week" comes from. There is, however, one certainty this season. The AFC North is the best division in football.
The Cleveland Browns experienced what it actually felt like to win again. This isn't a team that's satisfied with just a single win. The actually have competed in all of their games this year. At 2-3-1, I can make the argument that they should be .500. It's been Baker Time in Cleveland. Not only has the Number 1 Overall Pick showed hope for this team, but he's showed promise too. The Browns have finally found their QB and they have weapons for him too.
The Pittsburgh Steelers are the team they tied with. Pittsburgh has been without their Weapon X all season long as he has been holding out. Rightfully so, he has earned that right and he does deserve to make like Eric B & Rakim and get paid in full. James Connor has been holding it down in Bell's absence. Who would have thought that would happen. Ben has been healthy all season thus far, and AB and JuJu have been doing what they do best as well. Once LeVeon Bell returns, if he returns, this team is going to be untouchable offensively. Then there's two teams tied for first place within the division.
The Baltimore Ravens and The Cincinnati Bengals. B-More was a team we all wrote off after they won the Super Bowl a few years ago. We said Flacco was washed up; he's too old. They put a little pressure on him by drafting QB Lamar Jackson. Jackson will be a great QB in this league one day, but Flacco has said not on his watch as he is playing on an MVP Type Level. The Ravens did a great job surrounding him with a strong running game led by Alex Collins and Javorius Allen. Flacco now has some good WR's too in Michael Crabtree and John Brown, Willie Snead was a good pickup to this team too. TE Hayden Hurst was also drafted in the 1st Round for the Ravens too. With plenty of weapons, they have turned things completely around.
The Cincinnati Bengals were in a similar situation too. We all assumed Andy Dalton would be backing someone up soon. He's actually been quite impressive. AJ Green has a good Number 2 in Tyler Boyd. CJ Uzomah has been a good player for this team too. Joe Mixon is in the backfield and is the featured back running the show for them. We all shouldn't be surprised if 2 and possibly 3 teams make the playoffs out of this division. And it definitely shouldn't surprise us if one of these teams represents the AFC in the Super Bowl. Keep your eyes on the AFC North!