2019 ACC Football Preseason Standings Announced, LMS Network All-Preseason Teams (7-22-19)
By: Darrell Owens & Lamonte Thomas
Headline Photo From: CBSSports.com
The new college football season is upon us. At this time all teams still have dreams of winning the National Championship. The road to the Championship starts now. As we all know, only one team will win it all. Last year, the team that came out on top would be the Clemson Tigers. Clemson also won the ACC Championship last season & according to the panel of 173 media experts they will win the ACC again this season. The Tigers capture 170 of 173 votes to win the preseason ACC title. Also the Tigers were voted to win the Atlantic Division capturing all but 2 votes. Syracuse would be the team grabbing the other two votes in Atlantic Division.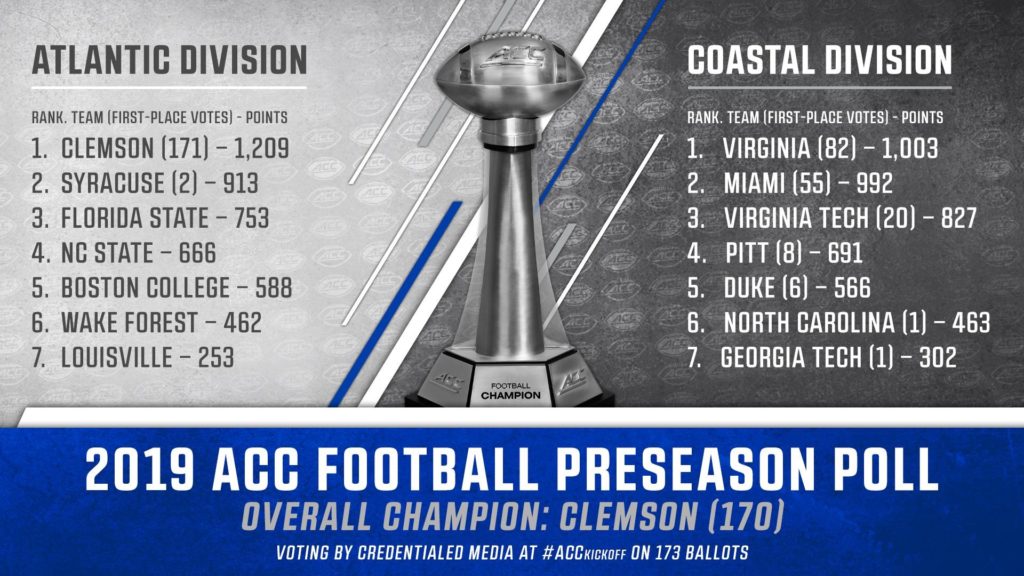 The Coastal Division won't be as easy to call according to the panel. Every team received at least one vote to win the division. The main reason for that, six different teams have won the division the last 6 years. The only team not to win the division in the time frame, but are favored to win it this year…the Virginia Cavaliers. The Cavs received 82 first place votes. Followed behind them Miami (FL) with 55 votes, Virginia Tech (20) Pittsburgh (8), Duke (6) and North Carolina/Georgia Tech received 1 vote a piece.
The conference will be fun to watch this season. There will be tons of talent showcased in the conference. The panel selected the All-Conference Teams which will be released soon, but for now LMS Network's Darrell Owens & Lamonte Thomas will Share their votes for both All-Conference teams and standing predictions. Enjoy!!!
ACC FOOTBALL PRESEASON AWARDS BALLOT
LegacyMaker Sports Network (Official Vote)
Darrell Owens Selections
QUARTERBACK
#16 Trevor Lawrence – QB – Clemson
RUNNING BACK
#2 AJ Dillon – RB – Boston College
#3 Cam Akers – RB – Florida State
WIDE RECEIVER
#8 Justyn Ross – WR – Clemson
#15 Tamorrion Terry – WR – Florida State
#14 Damon Hazelton – WR – Virginia Tech
TIGHT END
#9 Brevin Jordan – TE – Miami (FL)
ALL-PURPOSE BACK
#2 Joe Reed – WR – Virginia
OFFENSIVE TACKLE
#73 Tremayne Anchrum – OL – Clemson
#64 Ben Petrula – OL – Boston College
OFFENSIVE GUARD
#74 John Simpson – OL – Clemson
#69 Chris Glaser – OL – Virginia
CENTER
#67 Jimmy Morrissey – OL – Pittsburgh
DEFENSIVE END
#3 Xavier Thomas – DE – Clemson
#1 James Smith-Williams – DE – NC State
DEFENSIVE TACKLE
#21 Marvin Wilson – DT – Florida State
#55 Jason Strowbridge – DL – North Carolina
LINEBACKER
#55 Shaquille Quarterman – LB – Miami (FL)
#23 Rayshard Ashby – LB – Virginia Tech
#6 David Curry – LB – Georgia Tech
CORNERBACK
#34 Bryce Hall – CB – Virginia
#21 Essang Bassey – DB – Wake Forest
SAFETY
#7 Andre Cisco – S – Syracuse
#19 Tanner Muse – S – Clemson
PLACEKICKER
#23 Ricky Aguayo – PK – Florida State
PUNTER
#10 Sterling Hofrichter – P – Syracuse
SPECIALIST
#97 Alex Kessman – PK – Pittsburgh
PRESEASON PLAYER OF THE YEAR
#16 Trevor Lawrence – QB – Clemson
ATLANTIC DIVISION FINISH
1. Clemson
2. Syracuse
3. Florida State
4. NC State
5. Boston College
6. Louisville
7. Wake Forest
COASTAL DIVISION FINISH
1. Virginia
2. Pittsburgh
3. Georgia Tech
4. Miami (FL)
5. Virginia Tech
6. North Carolina
7. Duke
ACC CHAMPION
Clemson
Lamonte Thomas Picks
QUARTERBACK
Trevor Lawrence-Clemson
RUNNING BACK
1)Travis Etienne- Clemson
2) AJ Dillon- Boston College
WIDE RECEIVER
1) Tamorrion Terry- Florida State
2) Justyn Ross-Clemson
3) Damon Hazleton- Virginia Tech
All-PURPOSE BACK
1) Deon Jackson- Duke
TIGHT END
1) Dalton Keene- Virginia Tech
TACKLE
1) Ben Petrula- Boston College
2) Tremayne Anchrum- Clemson
GUARD
1) John Simpsom- Clemson
2) Navaughn Donaldson- Miami
CENTER
1) Jim Morrissey- Pittsburgh
DEFENSIVE END
1) Alton Robinson- Syracuse
2) Xavier Thomas- Clemson
DEFENSIVE TACKLE
1) Jason Strowbridge- North Carolina
2) Marvin Wilson- Florida State
LINEBACKER
1) Shaquille Quarterman- Miami
2) Isaiah Simmons- Clemson
3) Justin Strnad- Wake Forest
CORNERBACK
1) Bryce Hall- Virginia
2) Trajan Bandy- Miami
SAFETY
1) Andre Cisco- Syracuse
2) Joey Blount- Virginia
KICKER
1) Andre Szmyt- Syracuse
PUNTER
1)Tyler Logan- Virginia Tech
RETURN SPECIALIST
1) Joe Reed- Virginia
PLAYER OF THE YEAR
1) Travis Etienne- Clemson
ATLANTIC DIVISION FINISH
1) Clemson
2) Syracuse
3) Florida St
4) NC State
5) Wake Forest
6) Boston College
7) Louisville
COASTAL DIVISION FINISH
1) Virginia
2) Virginia Tech
3) Pittsburgh
4) Miami (FL)
5) Duke
6) North Carolina
7) Georgia Tech