"Tales Of The Week" Week 8 of the 2019 NFL Season-Midseason Grades Edition (10-30-19)
By: Tyrone Montgomery Jr.
Headline Photo Courtesy: Washington Post
NFL Interims (Midseason Grades)
This week's "Tales of the Week" is short and to the point. Here are my Midseason grades and some of my thoughts of the New Orleans Saints!
Arizona Cardinals (3-4-1) – B+
Atlanta Falcons (1-7) – F
Baltimore Ravens (5-2) – A+
Buffalo Bills (5-2) – A-
Carolina Panthers (4-3) – C-
Cincinnati Bengals (0-8) – F
Chicago Bears (3-4) – F
Cleveland Browns (2-5) – C
Dallas Cowboys (4-3) – B+
Denver Broncos (2-6) – D
Detroit Lions (3-3-1) – B-
Green Bay Packers (7-1) – A+
Houston Texans (5-3) – B
Indianapolis Colts (5-2) – B+
Jacksonville Jaguars (4-4) – B+
Kansas City Chiefs (4-4) – B
LA Chargers (3-5) – D-
LA Rams (5-3) – C+
Miami Dolphins – F
Minnesota Vikings (6-2) – A-
New England Patriots (8-0) – A+
New Orleans Saints (7-1) – A+
New York Giants (2-6) – D-
New York Jets (1-6) – F
Oakland Raiders (3-4) – C+
Philadelphia Eagles (4-4) – D
Pittsburgh Steelers – C-
San Francisco 49ers (7-0) – A+
Seattle Seahawks (6-2) – A-
Tampa Bay Buccaneers (2-5) – D+
Tennessee Titans (4-4) – C+
Washington Redskins (1-7) – D+
Smooth Sailing Saints (Photo Courtesy: Startribune.com)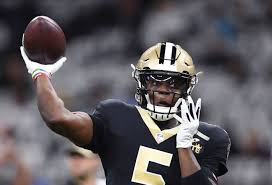 If I were to tell you the Saints would be without their franchise QB Drew Brees for the last 6 weeks, you would think that the Saints would be getting ready for the NFL Draft already. In fact, you probably would have thought the Saints would be trying to even make a trade to save their season. Adversity is something we all hate to deal with. It puts us on the edge of our seats. It makes us lose our hair and we can really get uncomfortable in the midst of things. I got breaking news for you even before it becomes breaking news. Head Coach Sean Payton will win Coach of The Year. The Drew Brees led Saints are known as an offensive threat. As a matter of fact, they have ALWAYS been known as an offensive team.
Drew Brees is a QB that is always taken early in Fantasy Football Drafts. If you didn't take him early this year, shame on you. What we've seen with the Saints this season has been special. Once their offensive leader went down, they learned to beat teams in multiple ways. Rather than simply outscoring you, the Saints shut teams down defensively; ask Dak Prescott and the Cowboys. They also learned about situational situations. That win over the Seahawks in Week 3 was when it all started for them. They played a good team on the road and won in the end. They came up big when it mattered most. The running game has been phenomenal with or without Alvin Kamara. This team is full of depth at almost every position and the right man is leading the charge in Head Coach Sean Payton. He will be named Coach of The Year for the 2nd time in his career.