Ryan Blaney Wins The Coca-Cola 600, Grabs First Win Of The Season (5-29-23)
By: Becca Cottingham Quimby
Headline Photo Credit: Jim Dedmon-USA Today
We were initially scheduled to go racing Sunday night under the lights after a day of remembrance and honor of our troops. The weather in Concord, North Carolina had other ideas. With heavy mist that was not showing on the radar, NASCAR decided to postpone until Monday. William Byron will lead us to green on Memorial Day for the delayed Coca-Cola 600. We will see a competition caution due to all of the weather that has moved through the track even today. William Byron will lead the first several laps, then Denny Hamlin will quickly show up. The Joe Gibbs Toyota seems to be on the fast side as all members of that team have made huge strides on the track. Before the competition caution happens we see even Christopher Bell up front leading the race. While we have up to three wide behind him on the racing space depending on the section of the track. William Byron will win the battle off of pit road and once again bring us back to green, but Ryan Blaney will quickly get under him to get around to the lead. Jimmie Johnson will lose his back end and will go around and bring out a caution. The caution caused at least one pit road penalty and that was for Michael McDowell for vehicle interference. William Byron with the front pit stop wins the battle off pit road and will once again lead us to green in stage one. William Byron will have to battle but he will just edge out Christopher Bell for the stage one win.
We get back to racing in stage two with William leading the way with Christopher Bell right beside him. Christopher Bell will get around William Byron and William will slip back to the fifth position. We now have all three of Legacy Motor Club behind the wall. Most with a mechanical issue or a punctured radiator. We see green flag pit stops some slightly earlier than others which then triggers others. Jimmie Johnson returns to the track after they changed some things around with the suspension. We then end up seeing a red flag just shortly after as a rain shower passes through. Drivers can get out of their cars as they are covered. There is a conversation between Aric Amarillo and Bubba Wallace about contact made in the track. It seems that Aric was not happy and each of them felt like the other squeezed the other. We hardly get back to green and Jimmie Johnson spins again and he will be done for the day. We then see Kyle Busch go around and get a part of Brad Keselowski. When we get back to racing drivers are three wide in most areas. That is until Denny Hamlin and Chase Elliott make contact and wreck. We get back to green and as we battle to the stage break BJ McCloud stalls or has an issue and brings out a caution. Christopher Buscher will win stage two under caution.
We get stage three underway and we are still seeing three and four wide racing. We see at least two accidents in stage three along with different players at the front of the field. We see Christopher Bell spin and go onto pit road thankfully he gets it under control without hitting the wall. We have a huge mess on pit road when we have drivers going four wide down pit road. Brad Keselowski also as an incident similar to Kyle Larson with fire as he left the pit road. Then we see Todd Gilliland and another driver make contact and bring out another caution. Ryan Blaney will go to battle the last several laps with Tyler Reddick. Tyler Reddick comes up just a little short and Ryan Blaney will win stage three.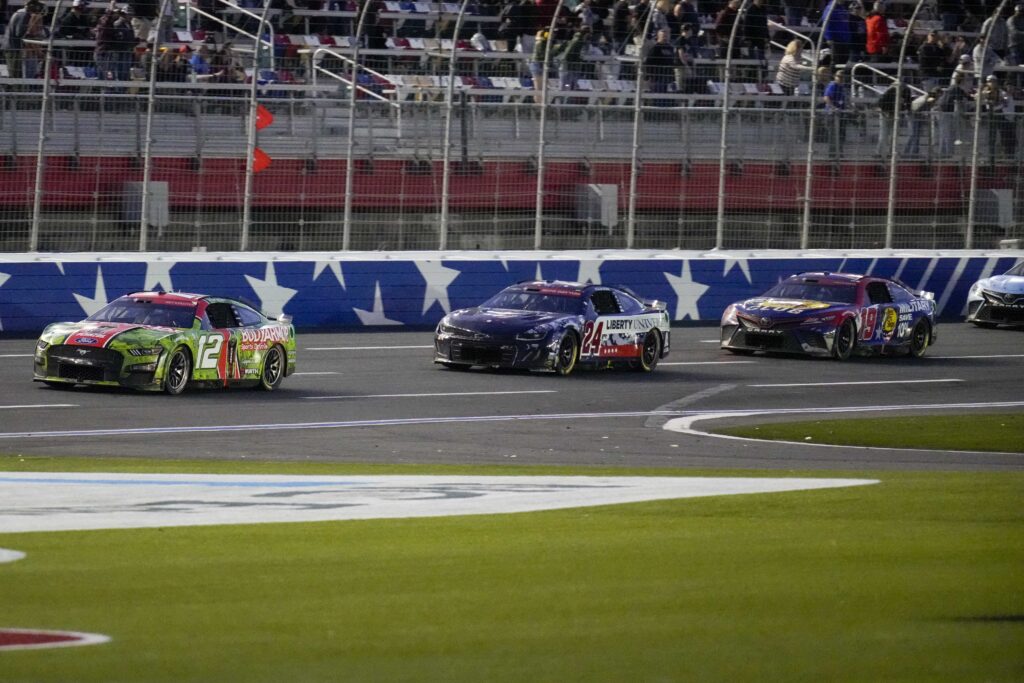 We will start the final stage of the 600. William Byron wins the battle off pit road and will lead us back to green. Ryan Blaney and Tyler Reddick get around him to be one and two. Tyler Reddick has an amazing save. Then, Michael McDowell, has a tire come off. He will be held on pit road for two laps and he will have two crew members placed on suspension for two weeks. We get the green flag once again and Kevin Harvick and Tyler Reddick make contact. Kevin Harvick goes through the infield. The cautions are breeding cautions as we see another one shortly after with AJ Allmendinger. Followed by Austin Cindric spinning and destroying his car. It looks like he may have been tight and his car just got loose and he lost it. We just get back going and almost the exact thing happens to Kyle Larson. The bad news is that he collects more drivers than Austin Cindric. We will finally get a solid green flag race segment. They battle and Ryan places a nice buffer between himself and William Byron. Ryan Blaney will become our unofficial winner of the Coca-Cola 600 on Memorial Day.