But He Has A Chance. . . A Preview of Floyd Mayweather Jr vs. Conor McGregor!
By: Russ Taliaferro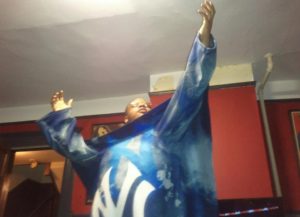 On August 26, the world has a chance to see what I thought was a once in a lifetime opportunity. The chance to see 2 top fighters from 2 different combat sports face-off. Floyd Mayweather, one of the greatest boxers ever, coming out of retirement to face the current UFC Lightweight Champion, Conor McGregor. Mayweather brings in an undefeated record of 49-0, with 26 KO's. McGregor has amassed an MMA record of 21-3, with 18 KO's. This gives new meaning to the term "fantasy sports" & I can't wait see it.
Boxing vs. MMA is a very heated debate in some communities. A lot of talk about how this is a "disgrace" or "embarrassment" is being thrown around. Oscar De La Hoya, a former Olympic Gold Medalist & 6 division champion, has called this a "circus that boxing might not recover from." While I respect his opinion, I completely disagree. I see this as nothing more than a fun spectacle fight. I'm not taking this as serious as some people. I'm here to see to a fight I never thought would happen & enjoy the build-up. As a fight fan though, this will answer the question of whether a MMA fighter can fit into the boxing world. A lot of people would think that he can't. "He's going to take him down like this is UFC!" "He's going to try & clinch with him!" I don't think people realize who Conor McGregor is if they're saying that. I've seen every one of McGregor's UFC fights, & a few Indy fights, & all those comments are nothing more than ignorance.
As I'm sure you all do, you would know that combat sports have weight classes. They aren't just going to throw anybody against anybody. Boxing & MMA weight classes are VERY different though. This fight in particular will be contested at the light middleweight weight class of boxing at 154lbs. The closest weight class in MMA is Lightweight, which is a pound heavier at 155lbs. Mayweather has fought most of recent fights in welterweight division of boxing, which is 147lbs. In fact, Mayweather only has 3 career fights at the light middleweight weight class. Those bouts were against Miguel Cotto, Saul "Canelo" Alvarez, & the aforementioned, Oscar De La Hoya. The De La Hoya bout to this day is contested in the boxing community as a fight that some people scored Mayweather as the loser. McGregor, the current UFC lightweight champion, has fought his career at both lightweight & featherweight. Featherweight in MMA, a weight class in which McGregor has also won a UFC championship, is the closest MMA division to a boxing welterweight at 145lbs. It seems to me that McGregor would have the size advantage here. McGregor (5'9, 74in) also has the advantage in height & reach over Mayweather (5'8, 72in), but as any fight fan will say, it all depends on how you use it.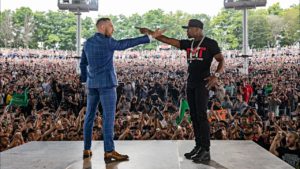 There are many miscellaneous aspects to consider when looking at this fight. Age? On fight night, McGregor will be 29 & Mayweather will be 11 years his senior, at 40. I, personally, am convinced that age is just a number. This will be contest of true skill & a little bit of luck. Where is the fight? The fight will take place at the T-Mobile Arena in Las Vegas, Nevada. The location doesn't really play a huge part in the fight itself but to point out how far the Irish fans will follow McGregor wherever he goes. They have shown nothing but their undying support for one their favorite fighting sons, & considering the reputation of the fighting Irish, that won't change anytime soon. When this fight was originally booked though, there was a scheduling conflict with the event host. The T-Mobile Arena had already booked the Big3 championship game for the same date. Thankfully, after some negotiations, they agreed to move down the street to the MGM Grand Garden Arena. Boxing or MMA? As you've probably figured out by now, this is a boxing match, not MMA. McGregor will only be able to use his hands, which I've already said that I don't think will be a big problem for him. Rules & regulations? As this is a boxing match, this will be contested under boxing rules & regs. It is a match consisting of 12 3min rounds. In MMA, it's 3 5 min rounds, unless it's a title fight, which are 5 5min rounds. It'll be nice for McGregor to fight shorter rounds, but Mayweather has more time spent in his decision wins than McGregor has in his whole MMA career, so Mayweather undoubtedly has the edge in total fight time. It will also take place in a standard size ring, which can be anywhere 16-20ft post-to-post. Sounds just a tad bit different from McGregor's normal place of work. They will wear 10oz boxing gloves. Mayweather has been wearing 10oz gloves for his last couple of fights, so he should be used to it by now, but it may affect the power & speed of McGregor as he used to 4oz MMA gloves. As McGregor has said before, "precision beats power and timing beats speed", so we shall see what kind of precision & timing he has with heavier gloves.
At first look, most people wouldn't think McGregor has a chance in this fight, & most people are predicting just that. Most predictions I've heard say he'll be out by the 4th or 5th round, citing his lack of actual boxing skill, where Mayweather definitely has the advantage. While Mayweather may not be known for his punching power or high offensive output, he is most certainly known as the best defensive fighter in boxing history. He has used the famed "Philly Shell" defense to perfection to counter & parry any offense his opponents have thrown at him. McGregor though, is no slouch when it comes to finishing his opponents. In the UFC, he has amassed a 9-1 record. Of those 9 wins, only 2 have gone the distance. One of those fights being against the current UFC Featherweight Champion, Max Holloway. The other being the Stockton tough bad boy, Nate Diaz. With every one of those KO's, all of it started from classic boxing technique; a straight left hand. Yes, he is a mixed martial artist, but most of his recent victories have been claimed with a straight left hand. It was straight left hand KO'd Jose Aldo in 13 seconds for the featherweight title, which is a record a UFC title fight. It was straight left hand that started the trouble for Eddie Alvarez when McGregor claimed the lightweight title & made history as the first ever dual UFC Champion.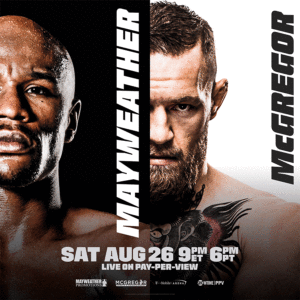 One thing neither of these gentleman lack is confidence. Both will be full to the brim of confidence fight night, they could share some & still have enough to keep going strong. They both are known for their outlandish personalities & expensive lifestyles, & it looks to continue as both are estimated to receive fight purses close to $100 million. McGregor has found magic in a bottle within the UFC with his personality & fighting skill. Who's to say McGregor can't create magic again. Fellow Irish boxers Jack Dempsey & "Irish" Micky Ward sure did in their careers. Dempsey dominated heavyweights with his aggressive, power punching style during his time before the great depression & Ward was known as a relentless fighter that never gave up. He definitely has a little bit of good fighting history on his side. Maybe he can amaze the crowd & score the upset, but Mayweather has some history on his side as well. He is one only 5 undefeated boxing champions history with at least 40 wins. The other 4 retired with a perfect record still intact, as Mayweather looks to do himself, once he permanently stays retired. Look, I'm not saying Conor McGregor will be the 1 in the 49-1 of Floyd Mayweather Jr on the morning of Aug 27, But He Has A Chance. . .