Bowie State Bulldogs vs Virginia State Trojans (Homecoming) #BattleOfTheUnbeatens
By: Tyrone Montgomery Jr.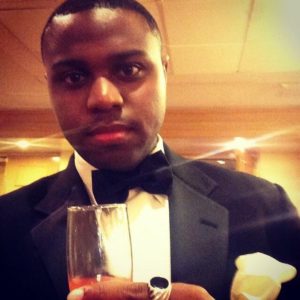 There's been a buzz around the city of Petersburg. The lights are on, music is playing, and people are dancing all over the place! Mike Epps and 21 Savage are just a few of the stars that are here this weekend.. In a small town called Ettrick, lies a HBCU full of students that have hopes and dreams of graduating and having that dream job they've always dreamed about. These students have been working hard this semester, so its time to enjoy the fruits of their labor. It's Homecoming Week, and The Virginia State Trojans are playing the Bowie State Bulldogs. Since it was their Homecoming Game, The Trojans came out on fire, as they stopped the Bulldogs on the opening drive of the game, and then responded with a 3-yard touchdown run from Cordelral Cook to give The Trojans a 6-0 lead over The Bulldogs. Field goals have been a thing for this Trojans team this season, as they failed to make the extra point. So, the Bowie State Bulldogs wouldn't take no for an answer, as they got the ball and got their offense back on the field. The Bulldog's 6'4 QB Amir Hall showed he could air it out as he hit Geordan Clark for the first of his 5 touchdown passes in this game. That gave them a 7-0 lead over the Trojans. VSU responds by doing what they love to do. RB Trenton Cannon breaks off an electrifying 93 YD TD Run as he broke tackle after tackle to give his team a 13-7 lead. From that moment, it seemed like we were in for a treat, as both teams were scoring whenever they wanted to. Even the scouts were impressed with that run as he looked over and smiled as Cannon ran into the in-zone. Bowie State then gets the ball back. After a quick 3 & out, they were forced to punt. With good field position, The Trojans score again on a 2-YD Run by Blair Wynn giving them a 20-7 lead. The Bulldogs didn't pout, they continued to fight and they fought hard as Amir Hall found Lansana Sesay for another TD to trim the lead to 20-14. The Trojans QB showed us not only is he good with his feet, but he's good with his arm too as he threw a 55 Yard bomb to Carlto Cambell to extend this Trojans lead to 27-14. On that very next drive from The Bulldogs, Amir Hall showed much poise as he marched down the field to hit Brandon Britton for a 7-yard laser touchdown that would end the half with a score of 27-21. An interesting first half it was, as both teams were scoring at will.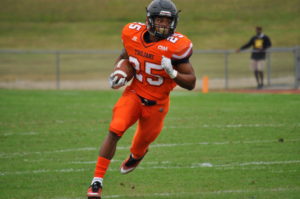 However, the third quarter was the complete opposite as both teams failed to put any points on the board. In fact, both QB's begin to play a bit sloppy as they both fumbled the ball, as Hall lost it, Cook would recover it , giving the ball back to The Trojans going into the 4th Quarter. VA State took advantage of The Bulldogs mishaps,  "CC" (Cordelral Cook) rushed again for another touchdown. Turnovers can make or break you. In Bowie State's case, it broke them. They turned the ball over 3 times while The Trojans didn't commit ANY turnovers. Although, there were a lot of points scored in this game, Virginia State capitalized on great field position and their defense. Those turnovers set them up perfectly to put points on the board and when they got stops on defense, they put points on the board then too. This game wasn't as close as it appeared, as The Trojans won 47-35 after racking up 596 total yards of offense. Virginia State flat out dominated the Bulldogs in almost every statistic.
After the game, Darrell Owens of the LegacyMaker Sports Network caught up with VSU OL Jalen Jones and asked him how he felt about the game and how his team played today. His response…. "We knew we were better than these guys. We just needed to come out here and run the ball. Dominate. That's what we do!" Although 3 kicks were missed to add on to the other 7 FG's missed this season, VA State can celebrate and enjoy this victory on their homecoming week.