Where Is The Brotherly Love In Philadelphia…?
By:Tyrone Montgomery Jr.
Jahlil Okafor was drafted #3 Overall by The Philadelphia 76ers in the 2015 NBA Draft. Okafor had an amazing season with The Duke BlueDevils. There, he averaged 17 PPG, 8 REB/GM, along with 1 Block/GM. He was there for just a year, as he realized he was a man playing amongst boys and was ready for the NBA. His play in the NBA was no different, as he picked up where he left off. During his rookie campaign in The NBA, Jahlil Okafor averaged 17 points per gam,e along with 7 rebounds per game and 1 blocks per game on 50% Shooting. His numbers were almost exactly the same as his lone season in college, only this time he actually was playing amongst men. Jahlil Okafor ran into a peculiar situation in The City of Brotherly Love, as he was starting at Center for Philadelphia only due to injuries from the 2 other Centers, Nerlens Noel and Joel Embiid. Nerlens Noel was drafted #6 Overall in 2013 from Kentucky while Joel Embiid was drafted #3 Overall from Kansas in 2014. That marks 3 consecutive seasons The Sixers drafted Big Men in the draft. This situation was doomed from the start, as 1 of these young centers would have to go due to an overhaul , if not 2.
The Sixers made it very clear that Joel Embiid was their guy, although he has struggled with injuries. The Sixers, however, have "Trusted The Process", as Embiid finally looks like he may actually be able to play a full season now. Nerlens Noel was traded to The Dallas Mavericks last season, and Embiid just signed a max contract of 5 Years, $148 million. This leaves Jahlil Okafor in "No Man's Land", as he has been benched this season. To add on to the frustration, his team option has been declined by the Sixers and they refuse to buy out his contract that would make him a free agent. Bad parenting can make or break a child. Jahlil Okafor has been the good kid that has had bad parenting by the Sixers in this situation. He has been neglected by his parents (Sixers) that are abusive both mentally and emotionally. His team don't love him, and that has clearly been evident.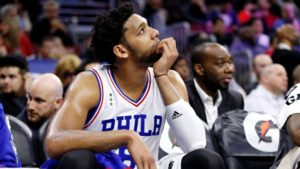 When asked why Jahlil Okafor hasn't been able to play in any games, Head Coach Brett Brown said it was due to defensive and veteran reasons. Okafor isn't a premier defender, however, his offensive game makes up for that and he still deserves to play and can be an effective player on the court. Jahlil Okafor was asked about about everything that has been going on in Philadelphia and here's what he had to say…. "I'm fine with them not picking up my option. I didn't want them to pick up my option. I've been going through alot since I've been here. I just want to play, and that's not happening here." Where is The Brotherly Love In Philadelphia? I feel bad for the young man, especially because I feel like he belongs in this league. Numbers never lie! When he was actually getting playing time he produced, and he produced well! I think wherever he lands, he will be a productive player and will be a key piece to a good team. Look for teams like Boston, OKC, Chicago, and Brooklyn to have their eyes on the former Duke Blue Devil. Also, a dark horse is The San Antonio Spurs. Coach Popovich knows a good player when he sees one.
Whatever happens, we MUST tip our hats to Jahlil Okafor. Despite this drama he has been dealing with, he has been NOTHING but a team player through it all. He hasn't gotten into any trouble, he's cordial with everyone staying a professional, and he continues to say all the right things. That alone, shows that he actually deserve to be a key piece on an NBA Team.