UFC 217 Main Card Preview!
By: Russ Taliaferro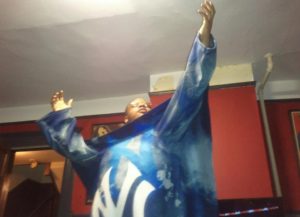 Three titles are on the line in the UFC's 2nd trip to Madison Square Garden. The 5 fight main card gets started in the middleweight division as former welterweight champion Johny Hendricks (18-7) goes after his 2nd win in his new division against the undefeated Brazilian prospect, Paulo Borrachinha (10-0). The welterweight division is up next in a pivotal matchup as #4 ranked Jorge "Gamebred" Masvidal (32-13) takes on 2x title challenger, #2 Stephen "Wonderboy" Thompson (13-2-1). Then the first title is up for grabs as queen of strawweights, Joanna Jędrzejczyk (14-0), defends her crown against the new #1 contender, #4 ranked "Thug" Rose Namajunas (7-3). The 2nd title fight is the highly anticipated grudge match of the year. Reigning bantamweight champion Cody "No Love" Garbrandt (11-0) will make his first defense of his belt against heated rival & former champ, TJ Dillashaw (15-3). In the 3rd & final title tilt of the night, we finally see the comeback of the greatest welterweight champion in UFC history as George "Rush" St-Pierre (25-2) ends his 4 year hiatus to make his long awaited return & challenge current middleweight kingpin, Michael "The Count" Bisping (31-7). This is your UFC 217 Main Card Preview!!
Some say to break a cold streak, a change of scenery is needed & that is what we have in this first fight. UFC 217 marks the first fight for former champ Johny Hendricks since joining the Jackson-Wink gym in Albuquerque. It's tough to say that a former champ is fighting for a chance to keep his job, but that's the case here for Hendricks. He's gone 2-4 since losing the belt in 2014, missing weight three, including one time after moving up to a heavier division. The former hasn't seems to have lost his motivation & is hoping this change away from Team Takedown to New Mexico will provide the spark he's looking for. While there is a lot to lose for Hendricks, the flip side sees a lot to gain for his opponent, Paulo Borrachinha. Being hailed as Brazil's next top prospect of 2017, Borrachinha comes in sporting an undefeated 10-0 record. If we can tell anything from his first 2 UFC fights, Borrachinha will look to finish you & finish you early. Borrachinha has finished 9 of his 10 wins in the first round, with his latest being the lone exception when it took him a little over 1 minute in the second round to stop his opponent. Both men are known for their hard punching power, with Hendricks left hand being compared to Dan Henderson's H-Bomb at times. Even as 1 of only 3 former NCAA D1 champions to win a UFC belt (Mark Coleman & Brock Lesnar), Hendricks became known for his power left hand that saw him KO Martin Kampmann & Jon Fitch. A win for Borrachinha here would make him an immediate threat to the middleweight division.
About a week after 217 will be the 1 year anniversary of the UFC's first trip to MSG. UFC 205 took place last November & saw Stephen Thompson challenge Tyron Woodley for the welterweight belt for the first time. In a back & forth fight that saw Thompson knocked down multiple times, Woodley would retain the belt in draw. Fast forward to this past March at UFC 209, the rematch wouldn't go much better for Wonderboy as he would be on the losing end of a lackluster majority decision. Looking to rebound & stay at the top of the division, he welcomes a fight against Masvidal. The ATT product Masvidal comes in looking to rebound from his own loss to jiu-jitsu ace, Demain Maia. Before the loss, Masvidal was on a 3 fight win streak that saw defeat Ross Pearson, Jake Ellenberger, & the always tough Donald Cerrone. Being one of MMA's true Karate stylists, having earned the rank of 6th degree in Kempo, Thompson will look to establish the rhythm & footwork that make his kicks one the most dangerous weapons in the UFC. Such rhythm saw him score highlight KO's of Ellenberger & Hendricks. Not to be forgotten, Masvidal comes in with the mindset to remind us that he is still one of the best pure boxers in the UFC. With both fighters favoring the standup game, the edge in this fight may go to the fighter with the advantage in wrestling, whether it is to keep the fight upright & establish their own dangerous standup game or control their opponent on the mat.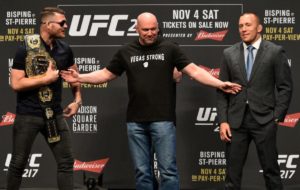 If the old adage of "You aren't really a champion until you defend the belt at least once" were really true, then Joanna Jędrzejczyk would be the only real champion the young UFC strawweight division has ever known. The female strawweight division was introduced to the UFC in December of 2013 when it was announced that the 20th season of the Ultimate Fighter would feature 16 women, including Rose Namajunas, in a seeded tournament vying for the right to be the first champion in division history. Despite being the youngest fighter in the tournament, the #7 seeded Namajunas would eventually make it to the finals in December of 2014 to face #1 seed Carla Esparza. Esparza's experience would prove too much as she would win the belt via 3rd round submission. Her time as champ as would be short lived, as JJ would take the belt in her attempt to defend at UFC 185. Since claiming the title, JJ has defended 5 times, with one more tying Ronda Rousey at 6 for the most defenses in women's history. Her latest defense came in May at UFC 211, where she broke her own record again for the highest significant strike differential in UFC championship history (+142), a record that she holds the 1st, 2nd, 3rd, & 4th place spots. #Dominance. Coming from a highly decorated career in Muay Thai, JJ made her transition to MMA in 2012 & has already made a strong case to be called the best female fighter in history. In a perfect use of the sprawl & brawl fighting style, she keeps the fight standing as much as possible to use every limb to land devastating strikes. To keep her crown this this time though, she will have to stop the momentum of Namajunas. Not short of a game plan herself, Namajunas comes in looking to keep the champ at distance with her long limbs until she can unleash her sneaky submission offense. Namajunas uses her tough upbringing in Milwaukee to keep her motivated to get the belt. After starting her career in the all-female Invicta FC & making it to the TUF Finale, Namajunas has continued to mature & improve her skills with every fight. She comes into her 2nd title opportunity being 4-1 since the loss to Esparza, the lone loss being a split decision to another former title challenger Karolina Kowalkiewicz. Outside of one fight with the very game Angela Hill, all of her UFC opponents are currently ranked in the top 10 of the division, with 3 of her 4 wins being by submission. She gets her second chance believing she has improved & matured enough to take the belt, but will have the toughest test of her career against the current queen of the strawweights, Joanna Jędrzejczyk.
Ladies & Gentlemen, welcome to the most heated rivalry in the UFC; Current bantamweight champion Cody Garbrandt & Team Alpha Male vs. former champion TJ Dillashaw & Duane Ludwig. It all started in December of 2012 when Alpha Male founder, UFC Hall of Famer Urijah Faber, hired Ludwig as the teams new head coach. Under the newly installed "Bang" Muay Thai system, the Sacramento based team would enjoy a good bit of success. Their top UFC fighters (Chad Mendes, Joseph Benavidez, Dillashaw, & Faber) combined for a 11-3 record with 7 of the 11 wins via KO or TKO & 2 of the losses coming in titles fights to then champions Renan Barao & Demetrious Johnson (Faber at UFC 169 & Benavidez at UFC on Fox 9, respectively). The other loss was split decision loss given to Dillashaw against Raphael Assunção in October, a fight in which a lot people scored for him. Garbrandt hadn't even had his first pro fight yet at the time of the hiring, making his debut about 2 weeks after the announcement. Ludwig's final fight as head coach would come at UFC 173 on May 24, 2014. The main event saw TJ Dillashaw challenge reigning champion, Renan Barao. In what was a perfect showcase of everything he had learned under Ludwig, Dillashaw would dominate the fight before ending it midway through the 5th round. Barao came into the fight on a 32 fight unbeaten streak not having lost since his 1st professional bout in April of 2005. With Ludwig leaving after the fight, Dillashaw would split his next 2 training camps between Sacramento & Denver, where Ludwig opened his own gym. It wasn't until his 3rd scheduled title defense against Dominick Cruz that Dillashaw decided to do a full camp in Denver. What happens next is where the tensions build up & the stories differ. Dillashaw has said that when he met with Faber to inform him of his decision, he was met with a negative reaction. He says that he was told he'd have to make a choice between staying with them in Sacramento or going to Ludwig in Denver. With the ultimatum that Dillashaw said he was presented with, he chose to move to Denver as he felt he was being pushed out the team in Sacramento, though he would go on to lose the fight, as Cruz regained the he only lost due to injury. Over time, Dillashaw has maintained his side of the story, with Team Alpha Male seeing a different version of events. While Faber acknowledges a meeting with him took place, he insists that TJ informed him that he quitting the team to follow Ludwig. You may say, "What's the big deal? Fighters switch camps a lot." Consider the fact that Faber recruited Dillashaw to the team not long after he stopped wrestling at Cal State Fullerton, you might be able to see how this could get a little personal. Dillashaw would return to training in SoCal prior to this fight, hooking up with one of his old college wrestling coaches, former UFC fighter Mark Munoz. Dillashaw would be the first in streak of 3 straight Alpha Male fighters that Cruz would fight. After taking the belt back from TJ, his 1st defense was successful in a trilogy fight with Faber. His 3rd was against Cody Garbrandt at UFC 207. Garbrandt entered the fight with 10 pro fights to his name, half of which taking place in the octagon. He had worked his way up to title contention with 1st round KO's of Augusto Mendes, Thomas Almeida, & Takeya Mizugaki leading up to the tilt with Cruz. Garbrandt would win the belt in a 5 round decision, improving to improve his record to 11-0, becoming only the second fighter to defeat Cruz. Garbrandt was able to counter Cruz's constant motion & his in-and-out style with his own head movement & footwork to surprise the champ with his pressure boxing to even knockdown the champ a few times, almost finishing the fight in the 4th. While Dillashaw isn't the only to leave Sacramento, as friends & former teammates Benavidez & Lance Palmer spent some time in Denver, his exit definitely has created the most animosity & makes this one of the biggest grudge matches in UFC history.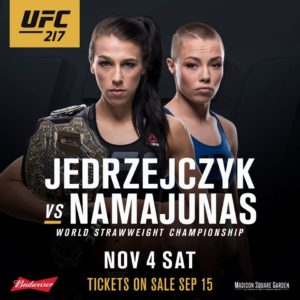 Randy Couture, BJ Penn, & recently Conor McGregor. These are the names of the only fighters to win a UFC belt in 2 different divisions, McGregor being the only simultaneous winner. On Nov 4, former 2x welterweight champion Georges St Pierre will look to add his name to that list. Standing in his way, waiting for his chance to deny history, current middleweight kingpin Michael Bisping. The last time we saw GSP was nearly 4 years ago at UFC 167 where he narrowly retained his welterweight belt against Johny Hendricks. While he did not officially retire, he left no chance for a rematch as he announced his hiatus in the post-fight interview. The constant strain of being champion & nagging personal life issues seemed to be the reason. Even before he left, there had been speculation of him moving up to middleweight for a super fight with then champ Anderson Silva. With his passion for competition reignited, he felt now was the time to comeback & try for the 185 belt. He announced in July of 2016 that he submitted his name for USADA testing & started negotiations for his return, hopefully for UFC 206 taking place in Toronto. It wasn't until February 15, 2 months after UFC 206 that Dana White announced the they had agreed to terms on a multi-fight contract. St Pierre would confirm this the next day, adding that it was a 4 fight contract. His return was originally planned for UFC 213 against Bisping earlier this year. However, he announced on his Instagram page that he wouldn't be able to fight until late October/early November because of an eye injury, causing White to cancel the fight. A fight with current welterweight champ Tyron Woodley was being discussed. White eventually changed his mind after Woodley's lackluster title defense against Demain Maia, & rescheduled the Bisping matchup for UFC 217. GSP's career at welterweight prior to the comeback is widely considered the greatest fighter of all time at 170lbs. His unbelievable combination of every facet of martial arts was something the UFC had never seen before. He was so good that he was considered the best wrestler in the UFC, being picked over former NCAA champions & all americans, without any extensive training in wrestling. The Hendricks win was his 9th consecutive title defense, 3rd most behind Anderson Silva & Demetrious Johnson. He fought in the first, & only so far, champion vs. champion fight in UFC history at UFC 94. His 12 wins in UFC title fights were only recently tied by Demetrious Johnson. His 19 UFC wins has him tied for second behind Bisping. No stranger to holding a few records himself, Bisping will tie the record again for most octagon appearances with this fight & is also 2nd in total time spent in the octagon. He will attempt to defend his belt only for the second time since winning it from Luke Rockhold last June at UFC 199. I'll be the first to admit that his first defense wasn't exactly the toughest test, no disrespect meant towards Dan Henderson. Henderson's right hand is one of the most feared weapons in all of combat sports history, but at the time of the fight, he was definitely at the tail end of his career & the UFC basically rewarded Bisping with a defense in his hometown of Manchester, England. The fact that Bisping got battered so badly & couldn't finish him should speak volumes to the rest of the division when they get their chance at him. Even with the doubts of his path since he got the belt, you cannot doubt the work he's put in to get an opportunity at the belt. While GSP ruled 170, Bisping played the role of the ultimate gatekeeper. He was always fighting the top talent, but never could secure that title shot. He had previously won season 3 of the Ultimate Fighter at light heavyweight, before making his 185lb debut the same night GSP won his second from Matt Serra. He finally earned his as an injury replacement for Chris Weidman at UFC 199. Bisping took the fight on 17 days notice while filming his role in the most recent xXx movie, & he was still able to KO Rockhold in the first round. Even with his doubters & his constant brash style of trash talk Bisping after has finally won the belt he has chased for long