LegacyMaker Sports: Final Four Preview
By:Paul Scofield
We are finally here. Final Four weekend has long been awaited, and we are waiting no longer one side isn't quite what everyone had expected, having Michigan playing Loyola-Chicago. What a matchup that will be. I would normally look at that matchup, pick Michigan and never look back at it, but with how Loyola is playing, it's a bit more to it than that. On the other side, we have 2 powerhouses, Kansas and Villanova. Many people probably had these teams in the Final Four, I did on my second chance bracket after MSU let me down in earlier rounds. Now let's take a look at each game.
Michigan Wolverines and Loyola-Chicago Ramblers is an unexpected matchup, which will feature the obvious underdog in the National Title game on Monday. The 3 seed out of the West Region, Michigan (32-7) may be the first team to ever play in the national championship game having not played a team seeded 5 or higher on their road to the big game. Not something they should get praise for, however, they can help the upsets happening and who they're forced to play. You can't really hold that against them either. Michigan advanced to the 2013 title game, but lost to Louisville in a game which is now vacated due to NCAA Sanctions. Entering this tournament as one of the hottest teams in the country, Michigan went through the B1G tournament, beating two top-10 teams in Purdue and Michigan State during their current 13-game win streak. Loyola-Chicago (32-5) is the 11th seed out of the South bracket. Their road through the tournament included two buzzer beaters to beat Tennessee and Miami in the first 2 rounds, a 1 point victory over Nevada and a route of Kansas State. This year's Cinderella team probably shouldn't surprise you as much as they are. They're a 30+ win team that also came into the tournament hot. This team strives on ball movement, and they're extremely good at it. Michigan is defensively built to stop just that, so it'll be extremely fun to watch this one. My guess will be this game is a slow paced, half-court game. I'm going to say congratulations to the Loyola-Chicago Ramblers and Coach Porter Moser on a fantastic season, but I think the ride ends here.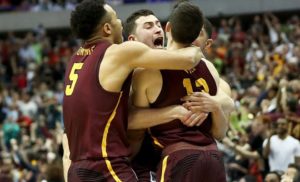 Winner: Michigan by less than 5 points
This one, Kansas and Villanova shouldn't surprise anyone at all. A matchup of top seeds in their respective brackets. Kansas is coming off an overtime win against Duke. Villanova is coming off a solid win against Texas Tech. There was no "coming into the tournament hot" advantage with either of these teams. They've just been that good all season long. Villanova has hit 436 3-pointers this season and need just 6 more to tie the NCAA record set by VMI in 2007. An X-Factor here is Malik Newman, the Sophomore Guard at Kansas. He's been playing extremely well throughout this tournament, and truthfully, might be the main reason the Jayhawks are still dancing. I can't think of many weaknesses, other than if Graham or Brunson doesn't play well, their teams are in for a tough time. I don't expect that at all, however I think Kansas has another guy that will play better than anyone else, and he's my x-factor, Newman for Kansas. This is going to come down to execution, and I think Kansas was tested in the Elite 8, Villanova hasn't been tested in March yet. I'm taking Bill Self to take down Jay Wright in this one.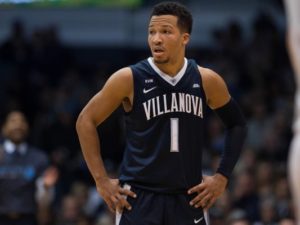 Winner: Kansas by 7