2018 MLB TOP 5 PLAYERS (NON-PITCHERS)
By:Darrell Owens (As of May 9,2018)
The 2018 MLB season has been highly entertaining with a few surprise teams and players. On the team front, The Atlanta Braves are in first place in the NL East and the Washington Nationals are towards the bottom. Not a surprise,  Arizona D'Backs in 1st in the NL West, but a huge surprise the LA Dodgers struggles so far in the young season. Now this season is only a month and a half in, so tons of things can change between now and October, but for this piece I want to give me my top 5 players (Non-Pitchers) as of May 9, 2018.  I base my list on the top five players who have change the outlook for their teams, so let's get started!
#5 Nick Markakis-Atlanta Braves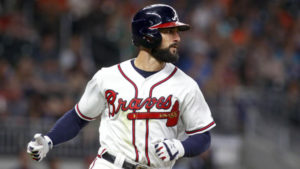 MARKAKIS HAS LED THE BRAVES TO A FIRST PLACE RECORD IN THE NL EAST, AND IS ON PACE TO HAVE THE BEST YEAR OF HIS CAREER, BATTING .333 6 HOMERUNS & 25 RBI.
#4 Dee Gordon-Seattle Mariners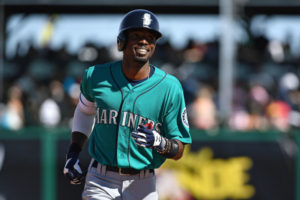 GORDON HAS BEEN AMAZING FOR THE MARINERS. HE'S 1ST IN MLB WITH 15 STOLEN BASES & 49 HITS. 2ND IN BATTING AVERAGE WITH A .353 AVERAGE. CAN HE LEAD THE M'S BACK TO THE POSTSEASON?
#3 AJ Pollock-Arizona D'Backs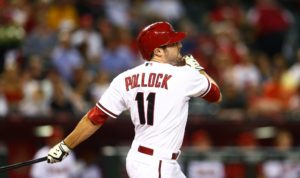 POLLOCK HAS THE D'BACKS WITH THE BEST RECORD IN THE NL WITH A 24-11 RECORD. WITH A .308 AVG, 11 HOME RUNS & 31 RBI POLLOCK HAS THE D'BACKS ON THE TOP NL.
#2 Didi Gregoruis-New York Yankees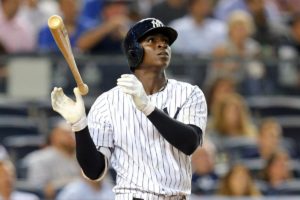 GREGORIUS HAS THE YANKS TIED FOR FIRST PLACE IN THE AL  & THE MLB. WHILE HEAVY HITTERS AARON JUDGE & GIANCARLO STANTON STRUGGLED, DIDI KEEP THE YANKS ROLLING WITH .301 AVG, 10 HOME RUNS & 30 RBI.
#1 Mookie Betts-Boston Red Sox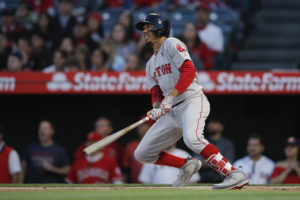 BETTS IS THE CLEAR CUT MVP IN THE AL RIGHT NOW. BETTS HAS THE SOX TIED FOR BEST RECORD IN ALL OF BASEBALL, WHILE HAVING THE BEST BATTING AVERAGE (.360) & LEADS THE LEAGUE WITH 13 HOME RUNS.