"2UP 2Down" Report: 2018 NBA Finals Preview Warriors Vs. Cavs Round 4!
By:Tyrone Montgomery Jr.
The NBA Finals are here! I know this is the same exact matchup for the 4th consecutive season, but this year will be better, and its not going to be easy for The Golden State Warriors either. Do you like wine? I know I do! I'm more of a sweets type of guy, but there are some dry wines that many people like too. As far as sweets goes, I'm a Cooper Hawks kinda guy. Romance Red. Mascoto. Roscato. Pinot! Chardonnay! Oh! And let's not forget about Merlot! The list goes on ladies and gentleman. The Warriors may be without 2015 NBA Finals MVP Andre Iguodala, but they still will be just fine. The Cavaliers are down a man in Kevin Love. But that's okay. Lets just take a moment to see exactly how much stress this team had to deal with this season.
Saying Goodbye to a close friend in Dwyane Wade
Playing without Uncle Drew ( Kyrie Irving)
A serious injury to Isaiah Thomas
Failed Experiment with Derrick Rose
Inconsistent Play by the entire team
A ton of trades at The Deadline
Love Breaks his hand midway into the season
Coach Ty Lue's leave of absence
Chemistry Issues
Will Lebron Stay or Go
Loss of Kyle Korver's Brother
Of-Court Challenges for numerous players on the team
30+ Different Starting Lineups this season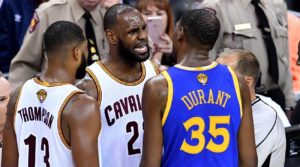 The list goes on. However, They say The NBA is Where Amazing Happens, so let's all be "Witnesses" here. LeBron James is that good bottle of wine. He's been around for awhile. He's sweet on the court! (As millennials will say). He's strong, powerful, explosive, he gets the job done. He gets better with age. James is also persistent. While this is both team's 4th consecutive trip to the finals, this is Lebron James' 8th consecutive year here (2011-2014: Miami Heat) (2015-Present: Cleveland Cavaliers). Last season, Lebron James knew he couldn't beat The Warriors with the addition of Kevin Durant. James has the tendency where he does this thing where he likes to get his feet wet. He likes to get a feel for the game and a feel for what's going on around him in his situation. This will be his second time playing against The KD Warriors.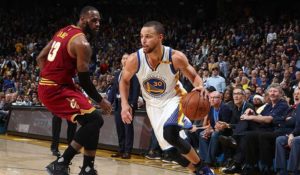 The King will have some tricks up his sleeve, and this NBA Finals will be one to remember. All season long, we all have been trying to figure out where will be LeBron's next stop, his next destination. The 76ers were the favorites, but im sure that changed with allegations of a burner account from GM Bryan Colangelo. Then there were the Houston Rockets. 1 win away from beating the Defending Champion Warriors. Perhaps, if Chris Paul was there, many can argue that they would be in The Finals playing Lebron and The Cleveland Cavaliers. And then there's Los Angeles, The LA Lakers. Lonzo Ball! The entire Ball Family actually. A former Golden State Warriors coach, who knows how to stop them. Young talent such as Brandon Ingram, Julius Randle, Kyle Kuzma, to go along with a ton of cap space maybe to even add another star to play with. Lebron is changing the narrative. What if they beat The Warriors? There's no way he will leave then! Another narrative is this. If he beats The Warriors, with this roster he has now, there is no question he is the "Greatest Of All Time." Lebron wants to be the best! He also wants to win. The Rockets were close to beating The Warriors. I can argue Lebron has a better team than Harden and The Rockets. Houston proved that Golden State can be beat, and Lebron will prove that they will be beat. I have The Cleveland Cavaliers beating The Golden State Warriors in 7. LeBron James is already The Goat in my eyes.