The Disrespect of Alex Smith
By:Darrell Owens
(Headline Photo Credit:Washington Redskins Twitter Page)
Richmond, VA-When former NFL Commissioner Paul Tagliabue walked on to the stage at the 2005 NFL Draft and announced this …."With the 1st selection in the 2005 NFL Draft, the San Francisco 49ers select Alex Smith, Quarterback, Utah". The San Francisco 49ers felt they had the first building block that would get the Niners back to their winning way and possibly their franchise quarterback for the next 10-15 years. Unfortunately, Smith struggled through his first 6 seasons in the NFL, compiling a 19-31 record as a starter. Smith also had to deal with 3 head coaching changes, multiple offensive coordinators and critics that were labeling him a bust mainly because of the success of fellow 2005 NFL Draft Class Member, QB Aaron Rodgers of the Green Bay Packers. Smith showed some flashes of how good he could be, but was never able to put it all together in his first 5 years in San Francisco.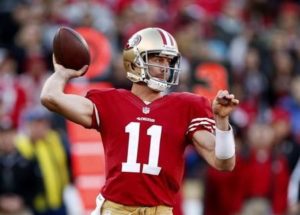 In 2011, Smith finally had the breakout season everyone was waiting for. Under the tutelage of new Head Coach Jim Harbaugh, Smith and the 49ers had an impressive season going 13-3 leading San Francisco back to the playoffs. The Niners were one game away from the Super Bowl, losing to eventual Super Bowl Champs, the New York Giants in the 2012 NFC Championship Game. After hitting free agency in 2012, Smith returned back to 49ers on a 3-year, 24 Million Deal. For the first time in Smith's career things were looking up. The 2012-13 season, Smith and 49ers would continue their winning ways starting the season off 6-2, but after a concussion caused him to miss action, Coach Harbaugh handed the keys over to back up QB Colin Kaepernick and Smith never got them back. In my opinion, this is were the disrespect of Alex Smith truly began. Smith was having a career year before the injury. Smith was 1st in the NFL in Completion percentage & Top 5 in QB Rating.
In 2013, the next chapter in the Alex Smith's career begin. San Francisco traded their former #1 pick to the Kansas City Chiefs for future draft picks. Chiefs Head Coach Andy Reid was looking for a starter he could trust and he would find that in Alex Smith. In their first season together, the Chiefs would make the playoffs, losing in a thriller to the Colts 45-44 in the Wild Card Round. Smith posted good numbers in his first season in KC going 11-4 as a starter. Throwing for 23 touchdowns with only 7 interceptions and on top of that, throw for over the 3,000 yards capturing his 1st Pro Bowl in the process. Over the next 3 seasons, Smith showed that he was one of the most reliable quarterbacks in the NFL. Smith was 30-16 as starter with two 11 Win seasons over that time span in Kansas City including the Chiefs first playoff victory in over 20 years. Also his numbers were consistent, throwing over 3,000 each season with at least 65% Completion percentage each season. Smith's 53 touchdowns with only 21 interceptions showed that Alex Smith would no longer be a punching bag for his critics.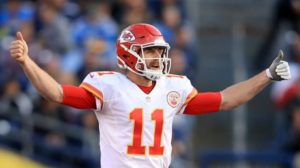 Just when you thought the disrespect of Alex Smith was coming to an end, Kansas City made a move in the 2017 NFL draft that would change that. Rumors started to spread that the Chiefs wanted someone more dynamic at quarterback. Well, the rumors were true, Kansas City would traded up in the 1st round of the draft to selected Texas Tech QB Patrick Mahomes. The 2017 NFL season would put Alex Smith in a tough position. Smith looked to be on borrowed time after KC drafted Mahomes, but Smith would not give up his starting job easily. Smith help lead the Chiefs to an 5-0 record to start the season including a 42-27 victory over the defending Super Bowl 51 Champs, the New England Patriots in New England. Smith threw for 4 touchdowns with 368 yards passing. This was the beginning of what look to be a MVP season for Smith. He set the NFL record for most passes to start a season without throwing an interception (287), that first interception would not come till Week 9 vs. Dallas. Unfortunately, Week 9 would start a 4-game losing streak for Smith and the Chiefs where the offense could not get things going. Smith would help the Chiefs bounce back winning his last 3 starts clinching a playoff berth before Week 17 with a 9-6 record. Mahomes would start for KC in Week 17 to give Smith some rest before the playoffs, but also to see if Mahomes would be able to handle things at the next level. Mahomes performed well in that final game of the regular season passing for 284 yards, as well as showing off some of the talent that Kansas City was looking for in him for the future.
Despite putting up great numbers in the 2018 Wild Card Game vs the Tennessee Titans (2 TD's 0 INT 116.2 QB Rating and 264 yards passing), it wasn't enough. Smith and the Chiefs would lose 22-21 in a heartbreaker, which would ultimately be Smith last game as a Kansas City Chief. So for the second time in his career, Smith would be traded after making huge strides in his career and once again to a team looking for a solid Identity at the quarterback position. In January of this year, the Chiefs traded Smith to the Washington Redskins for a 3rd round pick in the 2018 NFL Draft and talented young cornerback Kendell Fuller.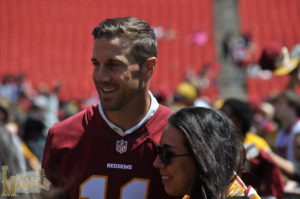 As the 2018-19 NFL season is upon us a few questions are…Will Alex Smith show the NFL that he is an elite? Can Alex Smith get the Redskins back to the top Of NFC East? To me the most important question is…Can Alex Smith end the disrespect that comes his way from his critics? Every year since 2011 season, the 3-Time Pro Bowler has improved his game every year, especially last year when he posted career best in: Passing yards, Passing Average, Touchdowns and QB Rating (League Leader QB Rating). With this being said, I believe Alex Smith is ready to show the NFL that you will not "Disrespect" him anymore!