Mystics struggle vs Dream, lose 106-89 (July 11,2018)
By:Darrell Owens
(Headline Photo Credit:Darrell Owens-LMS Network)
Washington D.C. (July 11, 2018)-Washington Mystics jump off to an early 12 to 4 lead in this contest in first two minutes.The Atlanta Dream fired back with 14-8 run making the score  20-18 with 3:38 left in the first quarter, bringing the Dream with in two points of the lead. The rest of the 1st quarter would be a back and forth affair ending with Atlanta's Alex Bentley hitting a buzzer-beater at the end of the quarter putting Atlanta up 29-27 going into the second quarter. Bentley made an immediate impact for the Dream in this game after being traded on Monday to Atlanta from Connecticut. This is Bentley's second stent with the Dream, she was drafted by Atlanta in 2013 with the 13th Pick Of The WNBA Draft. Washington's Kristi Toliver made history with her 1,000 career assist in the first quarter! The nine year veteran and 2016 WNBA Champion continues to have a great year for the Mystics averaging 14.2 points per game with 4.1 assist per game.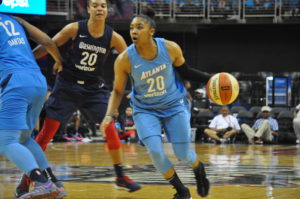 At the beginning of second quarter, The two teams continue to battle, but with 7:17 left on the clock, Atlanta would take the lead for good. The Dream biggest lead was 20 points and the Mystics had no answer. Atlanta's defense was just too much for Washington in today's contest. Dream Win 106-89.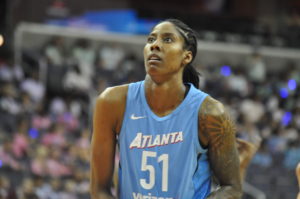 Atlanta had 4 starters with 20 plus points. 4-time WNBA All-Star Angel McCoughtry led all scorers with 24 points and 6 assists.  Jessica Breland was deadly from midrange for the Dream all game, she finished with 23 points 10 rebounds and 7 assists. Former All-Stars Tiffany Hayes & Renee Montgomery both had 21 points respectively for Atlanta.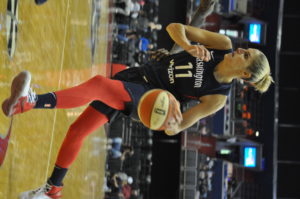 Washington Point Guard Natasha Cloud lead the Mystics with 17 points. Mystics superstar Elena Della Donne chipped in with 16 points & 9 rebounds and Tayler Hill dropped 10 points for Washington. The lost move the Mystics record to 12-8 on the season dropping them down to 5th in the overall standings. Atlanta, on the other hand, with the win moved up to 7th in the standings with a 10-9 record on the season. Both teams hope that they can continue to get better as the season goes along with hope of bringing an WNBA Championship to their cities.