Washington Redskins: Next Man Up! A Training Camp Recap
By:Tyrone Montgomery Jr.
Headline Photo Credit:Darrell Owens-LMS Network
The Washington Redskins had a fairly good summer. They drafted DT Da'Ron Payne from The University of Alabama. Soon after, they decided to draft RB Derrius Guice from LSU. Both picks were positions of need. Payne will be great in a division with exceptional QB play, particularly QB Carson Wentz/ Nick Foles (Philadelphia Eagles) and Dak Prescott (Dallas Cowboys). To add, while The Eagles and Cowboys ran the ball extremely well last season, while the The Redskins struggled to run the ball mainly due to injuries. This year doesn't help and the road to glory will be even more difficult. The Giants will have a much improved running game from adding former Penn State RB Saquon Barkley and former Carolina Panther RB Jonathan Stewart. But are injuries just a part of the game, or are some teams plagued more than others? I mean this seems to happen to them every year. At some point, you have to question the training staff. So is it their fault, or is it just a part of the game? DT Da'Ron Payne has been banged up all of training camp with an ankle injury. He should be fine, and the sense around the team and coaching staff seems to be precautionary. Things seem to have gotten worst for The Redskins. In their first preseason matchup against The New England Patriots, Guice was injured on a run up the middle. Have you ever been sick and decided not to go to the doctor? You know, you roll out of bed feeling bad, but you don't make much out of it. You still decide to go to work and around lunch time you're feeling even worse. That was Derrius Guice. When he left the game, we all thought it was maybe a sprain, just a small tweak, which would only keep him sidelined for about a week or two. The kid was still smiling and didn't appear to be disgruntled at all. That next day, we learned Guice has torn his ACL and will miss the entire season. This was demoralizing to a team who needed a playmaker as him, especially to take some of the pressure from newly acquired QB Alex Smith. Can bad news get any worse? WR Robert Davis is now lost for the season too with a knee injury. In wake of this injury, they have signed WR Dan Williams lll. Injuries can be frustrating at times. The New York Jets have been practicing with The Redskins this week and tempers flared as 3 scuffles broke up, with 1 including the fans. To add, Redskins FS D.J. Swearinger got into it with Jets WR Terelle Pryor at camp Tuesday as well.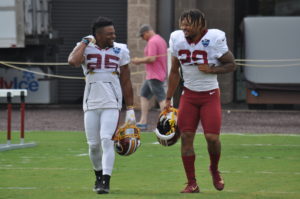 I always say basketball relates to everything in life, even football ironically. The Redskins are the Philadelphia 76ers, so we must Trust The Process with them as well. The Sixers suffer devastating injuries every season to key pieces, and The Redskins are getting familiar with that now. Behind every storm, comes a rainbow, and the NFL is all about "The Next Man Up." The Philadelphia Eagles won The Superbowl last season without their best player and leader, a guy who many thought would win MVP, Carson Wentz. The Patriots experienced timeless success despite the absence of TE Rob Gronkowski. And let's not forget about Kurt Warner and The Rams in 2000. And the icing on the cake is Former Redskin QB Doug Williams. He was a backup too. Through it all, he won a Superbowl with the Redskins and was named MVP. Even with injuries, The Redskins have been here before, so this is nothing new for them and they know how to win even with trials. The Redskins have what it takes to win. Defense will lead them, along with a flurry of different RB's attacking each team on a week to week basis. The Redskins are so confident in their defense, they decided to cut CB Orlando Scandrick because the younger defensive backs have been so impressive in camp, they simply don't need him. Coaching will play a huge part as well. With Alex Smith, you have more flexibility to throw different formations as the opposing defenses. He may be forced to throw the ball 30+ times a game, but he is more than capable of doing so, as he showed that last season in Kansas City. They will rely heavily upon their TE's as they hope to have the talented Jordan Reed healthy. Smith loves his TE's; Vernon Davis became a star with him. Perhaps running a double TE formation will help too.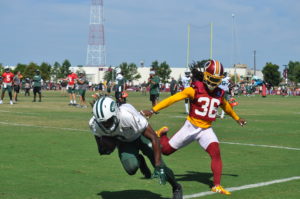 Either way, this team is filled with depth and "The Next Man Up" mentality will get them through the season. Even if Smith suffers an injury, QB Colt McCoy has proved he belongs in the league, as he earned a contract extension with The Redskins. Injuries are a part of the game, and if this team gets hot at the right time with this coaching staff and QB Alex Smith who is a proven winner everywhere he goes, this team could be a team nobody would want to see in the playoffs.  The Washington Redskin have finished camp in Richmond, VA at the Bon Secour Training Facility and will host The New York Jets back home at FedEx Field for the Preseason Week 2 Game August 16, 2018. Look for this one to be a testy one, they been at it all week at practice. It's just preseason, so hopefully no more injuries will occur. The Redskins will start their regular season Sunday, September 9th at The Arizona Cardinals at 4 P.M.