NFL Preseason Week 3: Broncos vs Redskins Dress Rehearsal, Notes and Observations for Starters
By:Robb Johnson Headline Photo Credit: Darrell Owens-LMS Network
Redskins receiver the ball first:
Adrian Peterson looks strong on his first run for seven yards.
Line breaks down and Alex Smith is sacked for five yards.
Smith escapes pressure throws the ball to Vernon Davis, but Davis drops the football that could have given the Redskins a first down.
Broncos receive the ball after a 62-yard punt
Devontae Booker gets a first down on a third and three.
Broncos run the ball twice, get the ball to Phillip Lindsay, for a first down.
Case Keenum is 3 for 4 so far for 34 yards.
Denver is 2 for 3 so far on third downs on their first drive.
Broncos get on the board with a field goal.
Observations of the first possessions:
Washington needs to run the ball when they get seven yards on first down, they need to use their backfield once healthy. Smith cannot run for his life all season, it is too early in the preseason for Redskins fans to get nervous about Smith getting hit.
The Redskins defense broke down in some of their assignments. However, they showed up when it mattered to cause the field goal.
The Broncos defense and offense looked strong when they were on the field, the offense needs to find a way to finish drives. They must not drop passes, and the running has to continue to improve.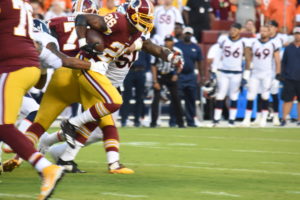 Redskins second drive:
Adrian Peterson runs the ball for 13 yards.
Broncos get a personal foul for lowering of the head.
Redskins are riding Peterson.
The Redskins are 0 for 2 on third down so far.
Redskins go for it on 4th down and do not convert, the pass to Vernon Davis was short of the marker.
Broncos second drive:
Keenum throws a horrible ball to Demaryius Thomas.
Courtland Sutton with a long pass over Josh Norman.
Norman gets beat twice in a row, this time by Thomas.
Redskins secondary is not looking too good right now.
Royce Freeman goes for 24 yards and the touchdown. The Broncos look ready to start the season, while Washington is struggling in this dress rehearsal game.
Observations on Second Possessions:
The Broncos look like they are making a statement, they are ready to start the season. The Washington Redskins should have taken the points, instead of 10-0, this game could have been 10-3.
The Redskins need to show something on their third drive, receivers need to get some type of separation.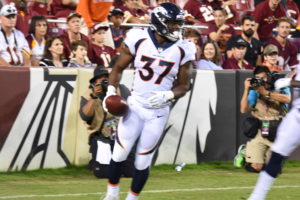 Redskins third drive:
Smith had Davis open, but threw a bad pass.
Redskins are now 0 for 3 on third downs.
Broncos defense came to play.
Broncos third drive:
Redskins defense looked energized on that drive. Quick three out and out for Denver.
Observations: The Redskins finally stepped up on defense. Now the offense must step up.
Redskins fourth drive:
Paul Richardson finally joins the party, catching his first pass for ten yards.
Adrian Peterson is ready to go.
Redskins offense is finally waking up, Richardson catches his second pass of the drive for a first down.
Redskins are 0 for 4 so far on third downs, now 0 for 5. Smith took a nasty hit to the knee on a read option.
Redskins get a field goal now 10-3.
Broncos fourth drive:
Broncos lose five yards, on two runs.
Broncos get fifteen yards to Emmanuel Sanders.
Sanders goes for another 33 yards, no pressure by the Redskins line.
Sanders get the hand off and goes for twenty-seven yards and the touchdown. Sanders dominated that drive.
Observations on 3rd & 4th Possession:
Washington better hope they bring a better effort into the regular season, they do not look good right now. This is preseason, so they are able to workout their problems before the season starts.
The Broncos look tough, they look like a team with speed and athleticism that could be dangerous in the AFC West.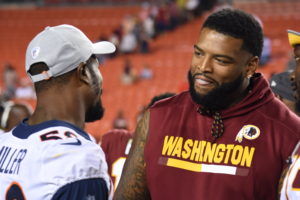 Final observations On Starters Play:
The Redskins have a lot of work to do, they need to work on all parts of their football team. The secondary needs to improve immediately The only good thing that happened in the preseason game was the fact that Adrian Peterson looked strong and healthy.
Peterson had 11 carries for 56 yards, while Alex Smith was only 3/8 for 33 yards.
Keenum looks like he is in mid season form. He is showing that his season in Minnesota was no fluke. Sanders looks like he has fresh legs, he looks like he is ready to have a huge season for the Denver Broncos.
The Redskins look like a six win team, while the Broncos appear to be ready to challenge for the division. Final Score Broncos 29 Redskins 17.