2018 Fantasy Football Draft Rankings & Sleepers
 By:Paul Scofield (NFC) & Jay Quimby (AFC)
Headline Photo from Blakkpepper.com
  Everybody knows what time it is. It's football season, time for the NFL and fantasy football. People go insane for this time of the year to get here. I, for one, am an avid fantasy player. This is one contest where the player matters, not the team they play for or the division they're in, for the most part at least. If you're looking to draft a wide receiver , you're paying attention to who their quarterback is. If you're looking at a running back, you're looking at their offensive line and the team passing game.  It's not necessarily ONLY about the player. Draft position is pivotal on how you're going to draft. People win/lose leagues within the 45 minutes or so that a draft lasts. I've been playing for about 10-12 seasons now, I feel comfortable to say the least. These are my NFC fantasy football draft rankings by position.
NFC Fantasy Rankings & Sleepers (Paul Scofield)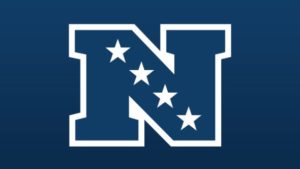 Quarterbacks
1)
Aaron Rodgers-Green Bay Packers
Aaron Rodgers is usually in the conversation for top overall quarterback in the NFL. That doesn't change this season, even without Jordy Nelson.
2)
Carson Wentz-Philadelphia Eagles
    I'm going to get a few eye rolls for this, and I'm okay with that. Carson, before his injury, was not only in the running for NFL MVP, but he was leading the race. He was still in the running for the award even after his injury. With the loss of only Torrey Smith, the Eagles added another TE threat in Dallas Goedert. That seems to be a huge addition to this passing attack so far, keep an eye on him in later rounds as well.
3)
Drew
Brees-New Orleans Saints
    I feel like you could flip a coin on whether Wentz or Brees should be 2, but I chose Wentz because of the Saints superior running attack. Brees is a spectacular talent, one we likely won't see for a very long time. If a quarterback passes for 5000+ yards, we go nuts as analysts, but it's become a regular coming for this man. It wouldn't surprise me if he did so again. You could make an argument for the 1st spot for Brees as well. I probably wouldn't argue with you much about it either  
4)
Matt Ryan-Atlanta Falcons
    I didn't want to put Ryan on this list. I really didn't, but he has so many weapons at the helm that it's hard not to add him. He has 2 pass catching running backs and Julio Jones. What do you want me to do, just ignore those weapons. I'm NOT a "Matty Ice" fan whatsoever, but he's been performing with the best of them the last couple years. 2 seasons ago, he finished as the #1 fantasy quarterback. Last year, he was close to the top of the list again. You can't just ignore the consistency.
5)
Cam Newton-Carolina Panthers
    I'm not sure if he should be here. There's a few names I wanted to put here instead, but I chose Superman because of his legs. You could have added Jimmy G, Russell Wilson or even Jared Goff. I would draft Cam over those guys though, you have more upside here.
Running Back
1)
Ezekiel Elliott-Dallas Cowboys 
    This man is a freak. He is a power back that can catch. Dallas' offense runs through this man and that's what you want from your RB1 in fantasy. End of story, if he plays all 16 games, he is your guy.
    Man this list has some huge names on it. Gurley could go as high as 1 or as low as 4 in my opinion. Gurley isn't a guy that's going to catch a lot of balls, but that's not who he is. He's going to have a monster season, so if you can somehow get him on your roster, do it.
3)
David Johnson-Arizona Cardinals
    If David Johnson is healthy, he's an asset. There's no doubt about his ability to carry a backfield. Arizona is extremely fortunate to have him on the roster. He's going to finish top 5, even with an injury. Too 2 or 3 as being healthy. He can beat you in every way imaginable. I'm just worried about his health, it bothers me a little bit and scares me at the same time. If he's on the field, he's putting up numbers though.
4)
Devanta
Freeman-Atlanta Falcons
    I know he splits reps with Tevin Coleman, and I'm okay with that. He's a guy that could yet you 100 yards on the ground, 60 yards through the air and 3 touchdowns on any given Sunday. I love the talent he brings to the table, he's only this low because if splitting touches.
5)
Mark Ingram/Alvin Kamara-New Orleans Saints
    If there's any backfield that you want to drop both RBs, its these guys. They're both assets and can both score at will. Especially with defenses not being able to stack the box against them. You have to respect Drew Brees.
Wide Receivers
1)
Odell Beckham Jr.-New York Giants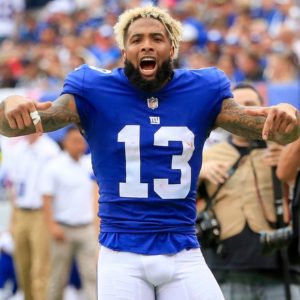 Is there really anyone else you'd rather have out of the NFC than this man (maybe Julio).  Seriously, he's a freak athlete, fast, athletic with great hands. He's almost the poster child of the perfect wideout.
2)
Julio Jones-Atlanta Falcons 
    Yea, go ahead and say it. You'd swap OBJ and Julio for 1 and 2. I really don't care if you do. Like I said before, you could make that argument and it would be a good one  Personally, I think OBJ had more upside than Julio. We will revisit this topic throughout the season.
3)
Mike
Evans-Tampa Bay Bucs
    A big body that isn't afraid to run a route in traffic with big hands. This guy is a great asset to anyone's fantasy team. He has a speedster in DeSean Jackson opposite him, which takes some pressure off him.
4)
Michael Thomas-New Orleans Saints
    I really only have 3 things to say about this man, and you can't argue them. He's fast, good hands, and he has Drew Brees throwing to him. Do I need to say more than he's the WR1 for Drew Brees? End or discussion.
5)
Stefan Diggs-Minnesota Vikings
    I was really skeptical about this pick, until I remembered Case Keenum isn't at the helm in Minnesota anymore. Adam Theilen would be a great pickup here as well, but Diggs is obviously the better pickup for upside mainly. Minnesota upgraded at QB and Diggs is set up to have a career year.
Tight End
1)
Greg Olsen-Carolina Panthers
    He's been a top tight end for years and he won't let up in the 2018-2019 season. This is an interesting target because he's capable of WR numbers at the TE position. However, he was plagued with injury last year that caused him to finish the season on a lot of waiver wires. Tight end usually isn't a position I would go all in on, but Olsen is worth the risk.
2)
Zach Ertz-Philadelphia Eagles 
    He emerged as a top prospect at the position last year. I don't think he'll let up a bit this season either. Especially since the Eagles will probably be running some 2 tight end set with Goedert and Ertz, and don't forget about Celek either. The crew is lethal, and Carson Wentz loves his tight end.
3)
Jimmy Graham-Green Bay Packers
    Jimmy Graham has been shaky, but not irrelevant at the position. If his chemistry with ARod is even in the same chapter, he's due for a great season. If they start out on the same page, someone is getting a steal at the right end position.
4)
Kyle Rudolph-Minnesota
 Vikings
    I remember saying he's going to be a great pickup and everyone asking the same question, "Who is that?" Well I love saying "I told you so" when it comes to this guy. Kirk loves utilizing his tight end as well, and Rudolph is no slouch.
5)
Evan Engram-New York Giants/Jordan Reed-Washington Redskins
    I'm torn here. I love Engram and his upside, however, I know what Alex Smith does with his tight ends and Jordan Reed is amazing when healthy. That word, though, has me on the fence with Reed. His health. Take the chance if you'd like to, but I think the safer or these two players is Engram.
Defense
    Yes, I said it. It's now in writing and published, but remember this is from a fantasy perspective. They're run defense is amazing, they get the turnovers and are able to score. Also, you're taking into consideration Special Teams in most leagues as well. I think they focused on what they needed to during the offseason and poised for another great year.
    Swap 1 and 2, that's fine by me. Minnesota didn't necessarily get better on defense, but they were already pretty dominant and they upgraded on the offensive side of the ball. A good offense is a great help to already great defense. Watch out for the purple guys.
    Have you seen this roster on paper??? They are absolutely insane. Marcus Peters and Talib as additions to an already top tier defense? Yea, go ahead and grab them if you're able to.
Kicker
1)
Dan Bailey-Dallas Cowboys
    He's only considered one of the most accurate kickers of all time. And the offense is going to be in the red zone often.
2
)
Matt Bryant-Atlanta Falcons
    High scoring offense means a high scoring kicker in fantasy football. Matt Bryant can also murder a football with his leg.
3)
Mason Crosby-Green Bay Packers
    Again, you have a high scoring offense and an accurate kicker. It's a match made in fantasy football heaven.
Sleepers
 Quarterback- Dak Prescott-Dallas Cowboys
          I don't know if a lot if people would consider this a sleeper pick of not. I don't expect a lot of people to be all over this guy though simply because how run heavy the offense is. Don't let that fool you though. He tends to get into slumps, but I think he'll be perfectly fine this year with Zeke back.
   Running Back – Corey Clement-Philadelphia Eagles
          Why Clement? Focus on Ajayi for a moment. His injury history, Clement sharing snapsalready. His pass catching and big play abilities. It wouldn't surprise me if Clement gets more of the workload for Philly than a lot of people think. A great handcuff, maybe a top 3 handcuff in the NFC.
Wide Receiver – Paul Richardson-Washington Redskins
           A fresh start with a fresh quarterback, who also is on a fresh team. There won't be any favoritism shown because Alex Smith can't have a favorite target just yet. He already came in with a 40+ catch 700+ yard season with 6 touchdowns. Just think about it for a second.
  Tight End – Cameron Brate-Tampa Bay Buccaneers
           Yes, Cameron Brate. He's going to have a solid year, however, there will be NO double teaming him at all this year. There's too much risk in it. He's going to be single covered by an OLB most of the season. That screams mismatch. Maybe not as many big plays as you'd like, but he can beef up some stats with yardage and catches, a dream in PPR leagues.
AFC Fantasy Football Rankings & Sleepers (Jay Quimby)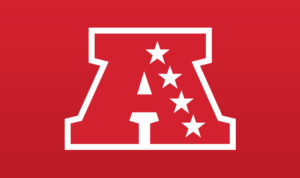 1. Tom Brady-New England Patriots
He's the goat. He seems to be hiding from Father Time. Weather he's got elite targets or you average joes, guaranteed top 3 QB. Last year at 40 over 3,500 yds and 30+ TDs
2. Deshaun Watson-Houston Texans
In a small sample size last year, still throwing 19 TDs. With his mobility and if he stays healthy, he will be a top QB and a MVP candidate.
3.Philip Rivers-LA Chargers
He lost Hunter Henry. But with Rivers you know what your getting. Last year he only threw 10 INTs, his lowest total since 2009. With that amazing defense he will have plenty of opportunities to aim at 30+ TDs this year
4.Marcus Mariota-Tennessee Titans
He struggles last year but will have a bounce back year. Only 13 TDs with 15 INTs. Matt LaFleur comes in has the new offensive coordinator, help bring Matt Ryan his only MVP. And with a healthy Corey Davis look for big numbers from him.
5.Ben Roethlisberger-Pittsburgh Steelers
He has so many weapons around him, I could put up 15 fantasy points a week with this group. And he always seems to get hot towards the end of the season witch helps fantasy owners.
Sleeper- Pat Mahomes- Kansas City Chiefs
His ability to throw a deep accurate ball with Tyreek Hill and Sammy Watkins is mouth watering. Then not to mention his security blanket Travis Kelce. He is high risk, very high reward QB. Top 10 fantasy QB at seasons end.
Running Backs
1.Kareem Hunt- Kansas City Chiefs
Sophomore slump I think not. More like sophomore jump!!!!! He will be the face of this offense and you can expect big numbers from the leagues leading rusher.
2.Leonard Fournette- Jacksonville Jaguars
The Jags might need to trade for new QB. But I expect to see a decline in Fournette's numbers and hey they play the Steelers again.
3.Le'Veon Bell- Pittsburgh Steelers
Everything depends on when or if he sees the field this year. That being said the man missed 4 games to start last year and still managed 1,300 yds and 9 TDs.
4.Melvin Gordon-LA Chargers
His usage around the goal line makes him very valuable. 3rd in rushing att. In the red-zone and 10th in RB red-zone receiving targets. I hear the fantasy points racking up.
5.LeSean McCoy- Buffalo Bills
He could start the season suspended. But coming off 1,600 yds and 8 TDs at 30, I don't see him slowing down.
Sleeper-Royce Freeman- Denver Broncos
Booker has yet to prove he's a NFL running back. And at 6'….230 lbs. He's got goal line monster wrote all over him.
Wide Receiver
1.Antonio Brown- Pittsburgh Steelers
Posting five straight seasons with 100 catches and turning 30. I don't see him slowing down. Leading the NFL with 1,533 and avg. 15.3 yds a catch in only 14 games. Take him at any pick is a safe bet.
2.DeAndre Hopkins-Houston Texans
How many years did he not have QB and with his small sample size with Watson… look out. Oh and he lead the NFL with 13 TDs receptions. So I look for great things with a full season of Hopkins to Watson.
3.Keenan Allen-LA Chargers
Led the league with red-zone targets(26). Rivers loves throwing his way 159 targets last year. With Hunter Henry out for the season and as long as he plays another full season… I see top five guy right here!
4.AJ Green-Cincinnati Bengals
Mr. Green and the Red throwing machine love to hookup. Averaged 9 targets a game last year. 75 catches, 1,000 rec yds, and 8 TDs. He's still the number one guy, and if Ross can live up to first round expectations. Green will shine.
5.Tyreek Hill-Kansas City Chiefs
This man is fast!!!! Almost 1,200 rec yds and 7 TDs, he became a true number one last year. With Mahomes taking the reins, with his rocket arm and gun slinger mentality. Look for a lot more big plays from Hill.
Sleeper- Mike Williams- LA Chargers
He should be the best number 2 receiver in the league if he can stay HEALTHY. Being 6'4 also helps when Rivers is in the Red-zone. Oh did I mention that Rivers doesn't have a proven tightend.
Tight Ends
1. Travis Kelce- Kansas City Chiefs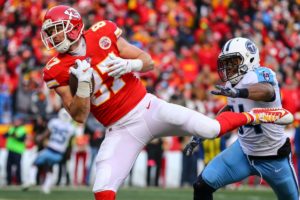 I know he's above Gronk. But he's gone two season in a row over 1,000 yds and he had 8 TDs. And Pat Mahomes is at the helm, Kelce will provide the best security blanket ever.
2.Rob Gronkowski- New England Patriots
He's here because when he's on the field he can be the best end zone target in the game. But his problem is staying on the field. Look for him to be the number one option in New England. Almost every other pass Cather from last year is gone or suspended.
3.David Njoku- Cleveland Browns
Njoku is my breakout player of the year. He's had a great preseason and looks to building great chemistry with both QBs. The receiving yds out side the 20 might not be there with Gordon and Landry on the outside. But those end zone trips will get plenty of looks. I expect double digit TDs for him this year.
4.Charles Clay-Buffalo Bills
Clay is very valuabe receiver and saw 12 red zone targets last year. But depending on who's playing QB will decide his value. McCarron is deep ball guy. If Allen don't get destroyed behind this line. He will become best friends with Clay.
5.Tyler Eifert- Cincinnati Bengals
Since being drafted he played 39 games out of 80 possible. He might worth a waiver to see if can stay on the field. Tightend depth in AFC is not what it once was.
Sleeper-Mike Gesicki-Miami Dolphins
Last year he was the best Tightend in the country. Now he's on the Dolphins, which to say is Bad. But from a fantasy
Defenses
1.Jaguars
They led all defense in fantasy points last year. 55 sacks, 21 INTS, and 8 TDs scored. Only player they lost was Paul Poluszny. Enough said!!
2.Chargers
They have some injury questions, but getting Derwin James in the draft and still having Joey Bosa don't hurt. 43 sacks, 18 INTS, and only 6 TDs. I look for them to challenge the Jags for the best defense in the league.
3.Houston Texans
JJ Watt and Whitney Mercilus are back. They added the Honey badger and Aaron Colvin to the secondary. This a make or break year this once amazing defense. They seem to have the other side of the ball figured out. Oh and if Watt can't stay healthy does this tarnish the once shoo-in hall of famers career?
Kickers
1.Justin Tucker-Baltimore Ravens
The Ravens can't seem to find the end zone. Tucker looks like he will score tons of points this year for the Ravens.
2.Stephen Gostkowski- New England Patriots
Tom Brady lead offense Need I say more?
3.Harrison Butker-Kansas City Chiefs
Look for the Chiefs to put up major points this year.