Tales Of The Week! NFL Week 4, 2018
By: Tyrone Montgomery Jr.
Headline Photo Credit: ESPN
Patience Pays Off!
It's no secret Jared Goff had a terrible rookie season. Drafted Number 1 Overall back in 2016, many people considered him a bust just after 1 season. In his rookie season, appearing in only 7 Games, he threw for 1,089 Yards to go with 5 TDs and 7 INTs. He only completed 55% of his passes and had a 63.6 QBR. That rookie season, he also was coached by a coach who holds the most regular season losses (165), Jeff Fisher. Coach Fisher may have the most losses by a coach, however, he still was a fairly descent coach. Yet, there's a reason why he's no longer coaching and why he holds that record. The next season (last season), the Rams relieved Fisher of his duties and replaced him with Sean McVay. This was his first time ever being a Head Coach in the league, and he made the most of his opportunity. Becoming the youngest head coach in NFL History, McVay lead The Rams to the playoffs and was rewarded the AP NFL Coach of the Year Award. The important thing here is that he fixed Jared Goff. Last season, Goff threw for 3804 Yards, 28 TDs, and only 7 INTs with a Completion Percentage of 62% and a QBR of 100.5. This season, Goff is on track to an even better season. In just 4 Games, Goff already has 1,406 Yards, 11 TD's and 2 INTs with a completion percentage of 72% and QBR of 127.3. His numbers are going up every season.
This week, Goff did something special. Jared Goff done something that hasn't been done since Tom Brady did it back in 2013. Goff threw to 3 different WRs for over 100 Yards each in just a single game. I'm not saying Goff is Brady, but one day, he may very well be even better than The GOAT. A lot of credit goes to Coach McVay too. This country loves a good movie. We watch them all the time. Back in the day, we couldn't wait until they were available to purchase. Well back then, when Fisher started coaching, DVDs didn't exist. There were only tapes or VHS Cassettes. Jeff Fisher was the tape. He couldn't skip anything, there was only fast forward and rewind. The VHS Cassette's tape used to get wrinkled up. I guess you can say it had a flaw. Old school things like that have no business in the game today. Head Coach Sean McVay is the Blue Ray DVD playing in a lovely 4K resolution. Close to being flawless, almost perfect, we don't need to purchase the protection plan and he fits the era. The Rams handled their business and are now reaping the fruits of their labor.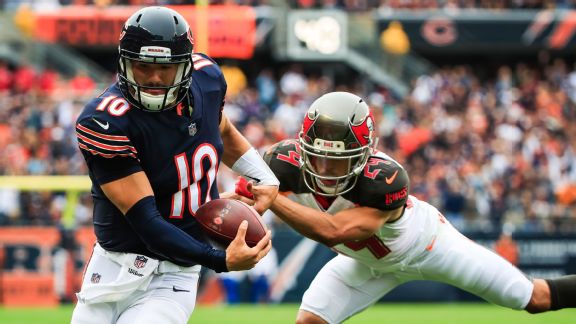 New Kid on The Block
We all have been waiting for Chicago Bears QB Mitch Trubisky to break out. We finally got a glimpse of it in Week 4 despite it being against a cupcake defense in Tampa Bay. Trubisky broke a franchise record with 5 TD Passes in just the first half as he finished the game with 6. This wasn't just a franchise breaking day, but it was also a career high day for Trubisky. The young QB previously had a career high of only 2 TDs in a single game. He was supposed to be a breakout star last year, as Chicago gave him the keys to the car coming out the gate. Last season, Chicago did not do much to help him be successful. The O-Line hasn't great and you have to have a solid O-Line to thrive. His offensive weapons were scarce and this had them normally playing catch-up, that makes a great RB as Jordan Howard hard to be effective. It also will keep his usage rate down too. So the verdict on Mitch Trubisky is still to be decided on Mitch. Chicago still has a lot of work left to do in building this team so the lack of success doesn't fall on Trubisky at all. At least this Chicago brought in a little bit of help with Allen Robinson, Taylor Gabriel, Trey Burton and the biggest piece is not even on the offensive side if the ball..Kahlil Mack! With that being said, the Bears love him and they wouldn't have made him the franchise cornerstone if they didn't.