College Football Playoffs: Sooners grab 4th spot over Dawgs, Buckeyes!
By:Ryan Fowler
Headline Photo Credit: NBC Sports
Georgia's loss was Oklahoma's gain.
The Sooners, who won the Big 12 title Saturday over Texas, claimed the last spot in the College Football Playoff over Ohio State and Georgia, which lost to Alabama in the SEC championship game. Georgia had been No. 4, followed by Oklahoma and Ohio State.
The next three teams announced Sunday weren't a big surprise. The No. 1 Alabama Crimson Tide, No. 2 Clemson Tigers and No. 3 Notre Dame Fighting Irish held onto their spots for the semifinal games to be played Dec. 29. The National Championship game will be played Jan. 7 in Santa Clara, California.
"In the end one-loss conference champion with their only loss being on a neutral field to a ranked team, which they avenged in their conference championship," selection committee chairman Rob Mullens said on ESPN. "Every combination was vetted, looking at their full body of work, their resumes side-by-side. In the end, what we decided was amongst the group of three, Oklahoma, Georgia, Ohio State, the committee voted that no one was unequivocally better than the other so then we leaned on the protocol. So we went with the one-loss conference champion."
Alabama will play Oklahoma in the Orange Bowl in Miami, while Notre Dame faces Clemson in the Cotton Bowl in Arlington, Texas.
Alabama has opened as a big favorite over Oklahoma and Clemson was also favored by double digits against Notre Dame in the CFP semifinal games.
Here's a team by team look at the entire College Football Playoff and bowl lineup for 2018-19:
Georgia finished No. 5, with Ohio State No. 6 in the final CFP rankings.
Oklahoma is making its third appearance in the five-year-old playoff. Alabama has played in them all. Clemson is making its fourth straight appearance. Notre Dame is in the playoff for the first time, making it 10 teams in five seasons to participate in the playoff.
Heading into the weekend, Oklahoma, Georgia and Ohio State all had some numbers to support a spot in the CFP. Georgia had the best strength of schedule of the three. Ohio State had the best strength of record, a stat which measures how strong a team's record is given its schedule. But Oklahoma, which had a better strength of schedule than Ohio State, did what Georgia couldn't do: get a conference championship.
OKLAHOMA SOONERS
Kyler Murray had another Heisman Trophy-worthy performance, Oklahoma's battered defense made some big key plays and the Sooners beat No. 9 Texas 39-27 in the Big 12 championship game Saturday, avenging their only loss.
The Sooners (12-1) won their seventh consecutive game — and became the first Power 5 team to win four outright conference titles in a row since Florida in the SEC in the mid-1990s. Clemson matched them by winning its fourth ACC title in a row later Saturday with a win over Pittsburgh.
Georgia (11-2) entered the SEC title game at No. 4 in the CFP, but the Bulldogs again couldn't get past Alabama.
ALABAMA CRIMSON TIDE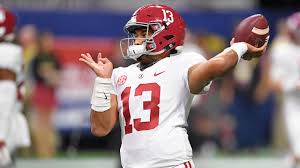 Jalen Hurts came off the bench to rally the No. 1 Crimson Tide past the Bulldogs 35-28 to win the Southeastern Conference championship game. Hurts threw for one touchdown and ran for another with just over a minute to go, a stunning twist on the scenario that played out less than 11 months earlier on the very same field.
In last season's national title game at Mercedes-Benz Stadium in Atlanta between these same two teams, now Heisman hopeful Tua Tagovailoa replaced an ineffective Hurts at the start of the second half with Alabama trailing Georgia 13-0. Tagovailoa threw three touchdown passes, including a 41-yarder in overtime that gave the Tide a stunning 26-23 victory. Tagovailoa won the starting job outright heading into this season and performed brilliantly before Saturday, throwing 36 touchdown passes with only two interceptions. But he was picked off twice and finally went down with an injury Saturday to open the door for Hurts.
Hurts calmly guided the Crimson Tide (13-0) to a game-tying touchdown with a 10-yard pass to WR Jerry Jeudy, capping a 16-play, 80-yard drive.
After Georgia was stuffed on a surprising fake punt near midfield, Hurts took matters into his own hands for the winning score. Spotting an opening up the middle, he took off on a 15-yard TD run with 1:04 remaining.
The Crimson Tide is headed back to the College Football Playoff, looking for its second straight national title and the sixth of the last decade under Nick Saban.
GEORGIA BULLDOGS
Georgia's only other loss this season was to then-No. 13 LSU, 36-16 on Oct. 13. Georgia coach Kirby Smart said Sunday he still wasn't sure if the committee selected the best four teams or the four most deserving based on results.
"Do I have any clarity? I don't think I have clarity," Smart said after Georgia was selected to play in the Sugar Bowl in New Orleans against Texas. "I do think eventually there's going to be a two-loss team to get in. There was a lot of thought last year that, had Auburn beat us, they would have been the first to do it."
OHIO STATE BUCKEYES
Like Oklahoma, Ohio State did its part Saturday to make the CFP, and quarterback Dwayne Haskins stated his case to win the Heisman Trophy. He threw five more touchdown passes, the defense of the No. 6 Buckeyes fended off a second half charge from No. 21 Northwestern and coach Urban Meyer put his hands on a third conference championship trophy in five years with a 45-24 win.
The Buckeyes have won five straight overall, piling up 107 points in the past two games against two stingy defenses. Haskins was lights-out again Saturday, finishing 34 of 41 with 499 yards and one interception and was an easy choice as the game's MVP.
Clemson (13-0) did nothing to lose their No. 2 ranking Saturday. Sophomore RB Travis Etienne ran for 156 yards and two touchdowns, while true Freshman QB Trevor Lawrence threw two short scoring passes to Tee Higgins and the Tigers beat Pitt 42-10 on a rainy night to become the first team to win four straight Atlantic Coast Conference championship games.
"You can't be the best ever if you don't do things that have never been done," triumphant Clemson coach Dabo Swinney said after the game.
NOTRE DAME FIGHTING IRISH
Clemson's opponent Notre Dame wrapped up its first undefeated regular season since 2012 with a win over rival USC on Nov. 24. It sat out conference championship Saturday confident that it was in the playoff. The Irish bolstered their case with a 36-3 rout of then No. 12 Syracuse at Yankee Stadium on Nov. 17. Notre Dame's inclusion means for the second straight season two of the Power Five conferences were left out-and for the second straight season it was the Big Ten and Pac-12.
Pitt coach Pat Narduzzi has faced Clemson and Notre Dame this season and said there is "no comparison" between the two teams.
"Clemson is the best football team we have faced this season, and they will probably win a national championship, in my opinion," Narduzzi said.
Swinney said if the Tigers wind up facing No. 1 Alabama in the College Football Playoff for the fourth straight year, he would consider it a rivalry.
"I think four would make it a rivalry," Swinney said, whose team is 1-2 against the Crimson Tide the past three years. "And we need to beat them more, too. It ain't much of a rivalry when you are losing, so we gotta win more."
UCF GOLDEN KNIGHTS
One team keeps winning but can't get into the playoff. Despite playing without injured quarterback McKenzie Milton, UCF ran its winning streak to 25 games Saturday and, like last year, was left out.
The eighth-ranked Knights (12-0) posted a come-from-behind 56-41 victory over Memphis in the American Athletic Conference title game.
The Knights proclaimed themselves national champions last January after finishing as the only undefeated team in the FBS.
"Our football team has now won 25 straight games. They deserve to be in this playoff, and I hope that's a decision that's made [Sunday]," UCF athletic director Danny White said Saturday. "If that does not occur, I think that's another pretty glaring example a four-team playoff is not adequate for the postseason."