2 UP 2 DOWN REPORT (December 2018)
By: Tyrone Montgomery Jr.
Headline Photo From: SI.com
UP
James Harden
Over the summer, the Houston Rockets did some reshaping of their roster. Last season, James Harden led the way for Houston to have the best record in the West. He was also named MVP. It was a bit of a rough summer for The Rockets. After losing to Golden State in the Western Conference Finals, they lost Trevor Ariza and Luc Mbah a Moute in free agency. To save the day, Houston looked to F Carmelo Anthony to replace defense with offense. Things went from bad to worst with Anthony. In just 10 games, they decided to cut the 10X All-Star. Houston climbed from 13th in the West to 5th place ever since his departure. Now, ridding themselves of Anthony plays a part. But a huge part to this turnaround is James Harden. Harden has been playing out of his mind the last 11 games averaging 40 PPG. Harden has elevated his game time and time again. He very well may win yet another MVP Award this season. His numbers are up. He's averaging the most points ever throughout his career with 33 PPG this season. He's been criticized for his defense and rightfully so. Last season, we all noticed a change with him. He looked like he actually cared about playing hard on the defensive end of the floor. This season, He's also averaging the most steals throughout his career with 2.1 SPG. Houston seems to be clicking on all cylinders at the moment. They made a deal to get G Austin Rivers so now they're a bit deeper in depth at the Point while they await CP3 to return from injury. James Harden is leading the way and we can expect Houston to compete in the Western Conference Finals yet again if they continue this play.
Denver Nuggets
The Denver Nuggets is a team that gets overlooked. They had a decent year last season. They missed the postseason by just a single win. Denver and Minnesota squared off on the final game of the regular season last year. That game determined who would get the final playoff spot in the West. It was a heartbreaking loss to say the least, especially to lose in OT the way that they did. Ultimately, they missed the playoffs and had a lot to think about over the summer. With such a defeat, they put in a lot of work over the summer, and now they find themselves in 1st Place in the West. Yes, they have the best record in the West, even better than the Golden State Warriors. What's been impressive is that they've been able to sustain the best record in the West for the whole season thus far and we're already close to All-Star Break. Another thing that's been impressive with this team is that they're deep. Injuries are a part of the game. Despite losing 2 Starters (Paul Millsap & Gary Harris) and they're 6th man off the bench (Will Barton), they still have been able to win. Additionally, their 2018 1st Round Pick (Michael Porter Jr.) has been out for the whole season too and there's no timetable for his return. Porter was expected to be the #1 Overall Pick; however, injuries have impacted his draft position. Not to mention, former All-Star Isiah Thomas is still out as well for this team as he recovers from a hip injury. This team is DEEP! The goal is to dethrone the Warriors. I'm not sure if the The Warriors will be able to handle this Denver Nuggets team at full strength. They're well coached, there aren't any egos on this team, they play hard, and they play together.
DOWN
Washington Wizards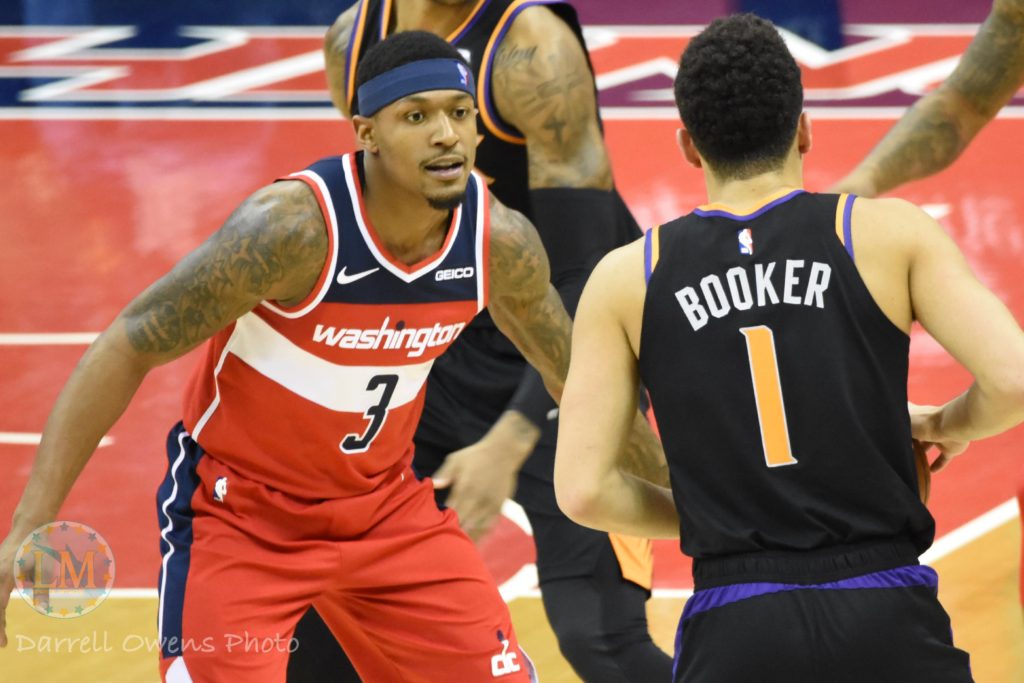 The Washington Wizards are suffering what the Washington Redskins suffered from the last 2 seasons, Injuries. John Wall missed a great amount of games last season, and now he's out for the remainder of this season already. Last season, it was his knee. This year, he seems to be having some trouble with his Left Heel. That Left Heel will require surgery that will sideline him for at least 6-8 Months. To add to the pain of injuries, newly acquired Center Dwight Howard has missed most of the season with a Gluteal Injury. He too is sat to have surgery as well that probably will cause him to miss the rest of the season. Otto Porter, an important piece to the team, has been in and out of the lineup as well as he is dealing with a bad knee. He also had a toe injury earlier in the season too. Markieff Morris may be out for a long length of time too now. He is scheduled to see a specialist for a neck injury he suffered on December 16th vs. the LA Lakers. The Wizards may be in the Zion Williamson Sweepstakes. It appears they are on their way to tank the rest of the way. If I'm the GM, I would trade Bradley Beal and try to get a nice package of young talent and draft picks in exchange. I mean his career is rotting away at this point since the Wizards aren't winning at the moment. I would make a draft night trade of John Wall once he's healthy too. And try to get rid of Otto Porter's massive contract too. I would do a complete overhaul of this team and roster and start from scratch. That would be the wise thing to do at this point.
New Orleans Pelicans
The Anthony Davis Sweepstakes is officially in effect. With AD set to hit the market this summer, he becomes a hot commodity and teams are already lining up to negotiate. In fact, NBA Commissioner Adam Silver issued a warning to the league for tampering with the soon to be free agent Anthony Davis. Many GM's believe LeBron was tampering when he was asked how he would feel if AD came to play with him. I'm no prophet; I can't see or tell the future. But I can say 100% in my mind and heart that Anthony Davis will not be in New Orleans next season. He already said that winning and legacy is more important than money. The Pelicans are the only team that can offer him the Super Max Contract of 5 Years that's worth $70 Million more than any other team can offer. Davis is an amazing talent. Early in his career, we all considered him to be fragile and a bit frail. Over the years, he has become tougher and more sustainable to injury. And now, he is a talented big man that fits well with any offense. As good and talented Davis has proved to be, he also proved that he can't do this alone. The Pelicans have let Anthony Davis down as they currently have the second-worst record in the West. Losing Boogie Cousins and Rajon Rondo has hurt this team. While Julius Randle and Nikola Mirotic are nice players, that's not what this team needs to be successful. Nor do they complement AD very well. It's up in the air where the 5X Allstar will land, but I won't be surprised if he lands in Golden State. That will surely be a move to reshape the league once again in the Warriors favor yet again.