"2 Up 2 Down" Report (March & April 2019)
By: Tyrone Montgomery Jr.
Headline Photo Credit: ESPN.com
Up
NBA Lottery Teams
Some things are worth waiting for. I always say basketball relates to everything in life. So let's use the example of a house. Something I'm currently going through now. Something we all want in life is a house, especially wives. A dream that we all have is to start a family, get a puppy, and get that 3 story house with the garage. A nice garden will suffice too. Sometimes, we have to take the apartment before we get that dream house we've always dreamed of having. The NBA Draft is coming, and Zion is the house! Zion Williamson has proved that he will be the real deal in the NBA and that he is worth tanking for. Not only will he bring talent to the team, but he will bring wins, drive attendance sky high, and plenty of revenue and money to the franchise. We all want that house, but not everyone can get it. Maybe the timing isn't good, perhaps we got some other finances to care to before we can get the house. So in the meantime, we settle for an apartment. Unless, we go something just as good as that 3 story home, a townhouse, rancher, or condo. The good thing is there are plenty of Townhouses, Condos, and Ranchers in this draft too. RJ Barrett of DUKE may not bring you the immediate impact that Zion Williamson may bring you, but in the long run, he has a chance to be better than Zion. There are even other players in this draft that will reward these NBA Teams through the lottery. Another Duke Player, Cam Reddish would be the home that's a fixer-upper. He has face value, but plenty of teams would love to have him. Or even Ja Morant from Murray State. And there may even be your foreclosed homes. College players who were supposed to be early picks in the draft, however, due to injury, it caused their stocks to drop. Bol Bol from Oregon and Darrius Garland out of Vanderbilt could change things for franchises too. And even Johntay Porter, the big man from Missouri. In the end, we all want a house, but sometimes we may have to settle for an apartment or maybe even a townhouse. Either way, something is better than nothing and it will be a stepping stone to reaching our ultimate goal.
Bradley Beal
I can do bad by myself! That has to be going through Bradley Beal's head as he is keeping the Wizards above water in the absence of the face of the city, John Wall. The Wizard's backcourt has been said to being 1 of the best backcourts in the league. They're in good company, from Portland with Damian Lillard and CJ McCollum, Houston with Chris Paul and Reigning MVP James Harden to Golden State with Steph Curry and Klay Thompson. Not only have they been missing John Wall, but they've also been without Starting Center Dwight Howard too. The roster isn't the best at the moment in Washington. However, All-Star Bradley Beal has proven he can carry a load and put the team on his shoulder. So that raises the question which may be the elephant in the room. Should the Wizards explore trading John Wall? Let's just look at the facts. Bradley Beal is averaging career highs across the board this season and is by far having his best season as a pro. From Points, Rebounds, Assist and even steals. (26 PPG/ 5 RPG/ 5 APG/ 1.5 SPG). Unlike John Wall, the team really seems to like Bradley Beal. John Wall and Bradley Beal are both great individual talents. They both were drafted Top 3 in their draft classes. Ironically, Bradley Beal is having his best season without John Wall. That raises another question. How good of a fit is John Wall and Bradley Beal? CP3 and Harden work. Dame and CJ are a real threat. The Splash Brothers out in Golden State are legit and have won titles already. It may be time to turn this team over to Bradley Beal and build around him. You can get a lot of good pieces for John Wall. This Bradley Beal lead Wizards team will work with the right complementary pieces around him. 
Down
Luka Doncic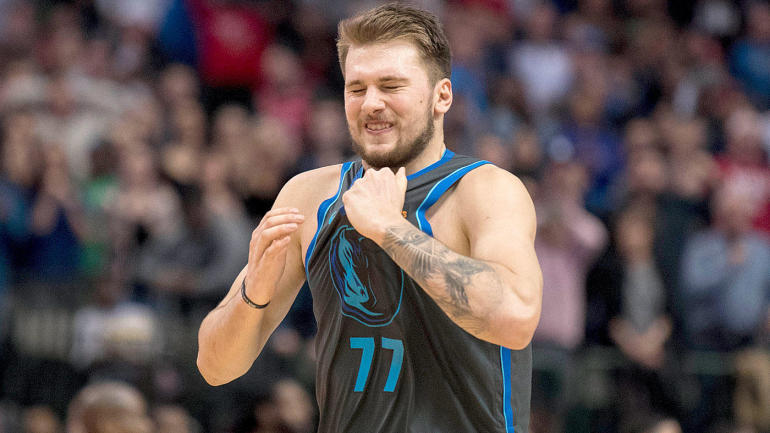 Every year, NBA Rookies start the season off with a bang. From Jayson Tatum, Ben Simmons, Kristaps Porzingis to Joel Embiid and Blake Griffin. Luka Doncic now joins the conversation as he is already putting up All-Star numbers. Many of us already expect him to be named Rookie of The Year. But the key word here is rookie. Although he plays like a grown man, he is still a kid. Just think, every time we all take that family trip where we're driving several hours to reach our dream destination, the wife is being a trooper helping us husbands stay awake. Windows and loud music don't always do the trick. Especially coming back home from vacation. It's dark, you're worn out, and it may even be cold or rainy. But a nice sweet gentle conversation with our mate helps out tremendously. We look in the back seat and the kids are knocked out. Even the dog is sleep. They're exhausted! They can't hang. The same can be likened to being a rookie in the NBA. They get tired. It's expected. They still have a lot of energy and they still play hard. But over time, we all see that they're getting worn out and the fun is starting to take a toll on them. Luka is tired, and rightfully so. Not only is he an NBA Player, but he devotedly plays for his country every opportunity he gets too. Before he came to the Dallas Mavericks, he was already playing professionally in his home country. Doncic will be named our KIA NBA Rookie of The Year. But I'm sure he is quite excited to see this NBA Season coming to an end.
The NBA
This season will be the first time Lebron James won't be in the playoffs, yet alone, The NBA Finals. No matter how dominant the Golden State Warriors are, no matter which stars like Anthony Davis demands a trade, Lebron James will still be the talk of the league. There are lots of great players in the NBA, however, NBA Playoff Ratings will hit an All-Time Low this year. Teams like Houston and maybe even Denver will make it interesting for the Warriors. But they still won't get it done. The Warriors greatest threat will be 1 of 3 Teams out West (Toronto, Milwaukee, and Boston). Darn, I'll even throw in a sleeper team, The Philadelphia 76ers. So they are the Warriors biggest threat. The NBA's biggest threats are The Absence of Lebron from the playoffs and The NBA Big 3 League. Ice Cube initiated The Big 3 Basketball League back in 2017. The first year was something we all had to get a feel for. Some liked it, a few people appreciated it. Last season, a lot of people tuned in and watched it regularly. But this season, everyone will love it! Gilbert Arenas, Lamar Odom, Greg Oden, Daniel Gibson, Kendrick Perkins, Jason Terry, Joe Johnson, Josh Smith, Eddy Curry are just a few of the names highlighted to join Ice Cube's Big 3 League. The ratings are going to boom far beyond the NBA Playoff Ratings. It will be something for us to enjoy on an evening before returning to work drinking a nice cold one. The league bashes Lebron James. Some of it, he does rightfully deserve. But, you have to ask yourself, Could MJ put up the numbers he's putting up in this era of basketball? We always wonder how would Lebron do in Jordan's era. No, let's change the narrative. How would Jordan fare in Lebron's era? This year, we will see how much of an impact Lebron has on this league once the playoffs start. It's best to appreciate him while we can because the clock is ticking for The King. That raises another question. Who will carry the league once Lebron calls it quits…..?