Panthers fall short 30-27 to Rams, host Bucs on Thursday night (9-8-19)
By: Lamonte Thomas
Headline Photo Credit: Carolina Panthers
If someone told me that Jared Goff's statline would read 23 of 39 for 186 yards, one touchdown and one interception in his week 1 debut vs Carolina, I would bet that the Panthers would come out victorious. It's a good thing that I'm not a betting man.
Though Cam Newton was sacked three times on the day (Clay Matthews, Dante Fowler Jr x2) the Panthers O-line successfully kept the Rams' Aaron Donald from dominating the game. Newton finished the game 25 for 38 for 239 yards passing and one interception. Christian McCaffrey had a remarkable performance with 209 total yards– 128 from the ground with two scores; he also had 81 yards receiving on 10 receptions.
The game started rather sloppy for both teams, as DJ Moore lost a fumble within the first few minutes of the game. The first few Panthers drives stalled and kicker Joey Slye missed a 53-yard field goal near the end of the first, as neither team had yet to score.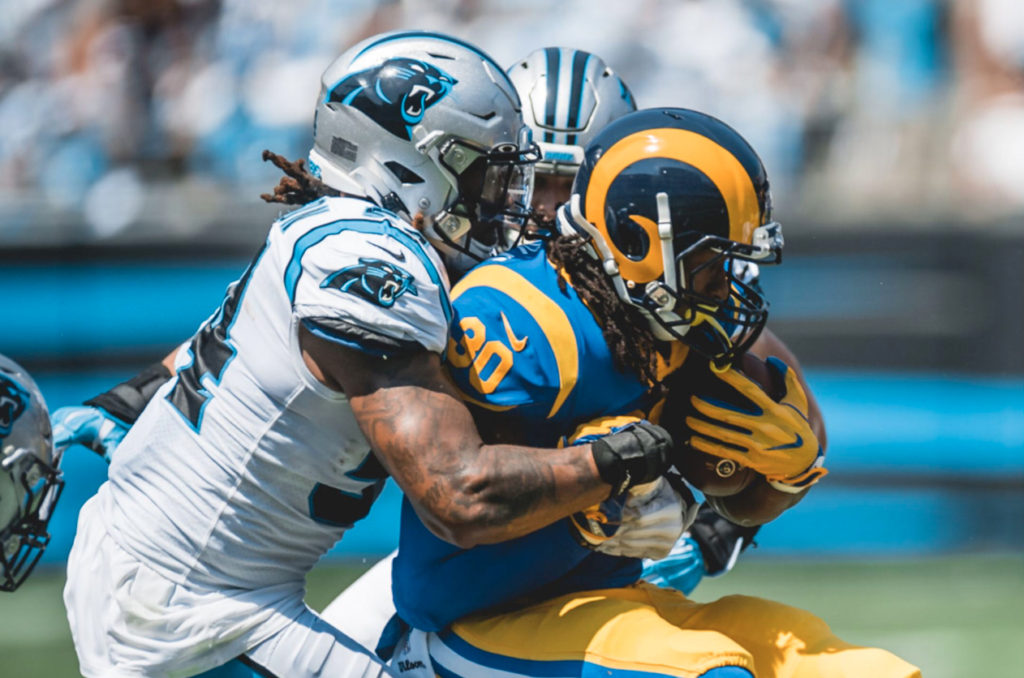 The Los Angeles offense came alive in the second, as they jumped out to a 13-0 lead behind some strong yards running from the backfield and also from receivers after short passes. Carolina suffered another offensive setback when a lateral pass from Cam was tipped at the line of scrimmage and recovered by the Rams.
Down 16-3 in the second half, the Panthers kept pounding until the end. McCaffrey's two touchdowns and a Slye field goal (52) closed the LA lead to three at the start of the fourth quarter. The Rams went up ten before a 9-play 70-yard Panthers drive that ended with a 1-yd Alex Armah score made it 30-27 LA with just over two minutes to play. Two plays that gave Carolina sparks came from a blocked punt by Jermaine Carter and an interception by James Bradbury. Ultimately Carolina fell to the Rams with by the final score of 30-27.
Next week Carolina will play the Tampa Bay Buccaneers on Thursday night at Bank of America Stadium, who was defeated by the 49ers 31-17 in week 1.