Tribe Survives Pirates Bay defeats Hampton 20-14 
By: Joe Dillard Jr.
All Photo Credit: William & Mary Athletics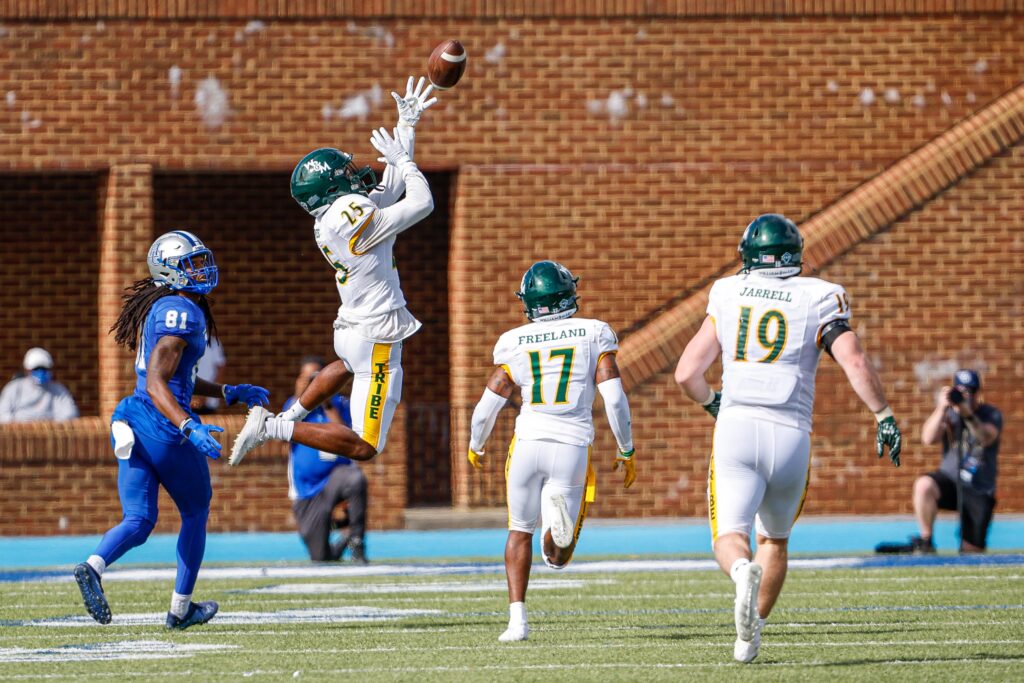 The Tribe has started to gain an identity, and this came to Hampton today as the defense and the rushing game started to establish why the Tribe is ranked top ten and has improved to 8-1. Bronson Yoder led the way with another 100-yard game on 16 carries for 117 and a touchdown. Malachi Imoh had 10 carries for 93 yards and a touchdown with Donavyn Lester also gaining 80 yards. This offensive line might just be one of the best in the conference and has led the Tribe to average over 300-yards per game.
The Tribe has posed their dominance when it comes to stopping the run and getting ahead early however this was an even matchup by the stats as both teams turned the ball over twice amounting to over 375 yards of total offense, time of possession and first downs mirrored one another. Perhaps this was the game to give credit to Ethan Chang who has been consistent all year hitting a pair of 35-yard kicks to prove to be the difference in the battle of 2 teams on the peninsula. The Tribe looks like they have won multiple ways this season which is a great sign for the postseason run. Believe in all three phases of the game and you will learn to win in multiple ways.
This is a great sign as the Tribe has 2 more games left with a possible sleeper with Villanova coming to town this week before heading to Richmond which could ultimately be for the Colonial Athletic Association title and a possible home path for the playoffs which will be huge for a deep run. The Tribe's only loss this year came at home so with 2 games left this last regular season's home game needs to be a statement game so they can prepare for what would be essentially the conference championship. The tribe will host Villanova Saturday at 1:00 pm at Zable stadium