No BS Writing Zone: Quarterbacks Rankings For the Teams Being Covered (6-14-20)
By: Robb Johnson
Headline Photo Credit: Multiple Media Outlets
Today's article deals with the four NFL teams that I cover for the LegacyMaker Sports Network. Those teams include the Cleveland Browns, Dallas Cowboys, Jacksonville Jaguars, and the New Orleans Saints. I will give an overview of the quarterbacks for each one of these teams. The situation under center for these franchises can be quite interesting at times. My goal today is to rank the quarterbacks and give you my feelings about them going into the 2020-2021 season. This includes stats, predictions, analysis, and even If some will keep their job?
Let start with number #4 Gardner Minshew of the Jacksonville Jaguars. Minshew at only 24, is coming off a decent season with the Jaguars. The Washington State product finished the season with 21 touchdowns, and six interceptions. He did not do so bad in the yards department either with 3,271 yards. His QBR however was 42.6 which was 26th in the league. Minshew's biggest passing day came in a loss to the Carolina Panthers when he passed for 374 yards, while throwing two touchdowns with no interceptions. My outlook for Minshew is simple, he must continue to grow as a quarterback.
He cannot hang is hat on the games from last year. This is a new year and with that comes new responsibilities as an NFL quarterback especially with the unprecedented effects of the Coronavirus that has not been felt since last major pandemic of 1918. Minshew should also have weapons in the backfield and at receiver. In the backfield Leonard Fournette is looking to prove himself as he has struggled to prove he is a true #1 back in the past few years with injuries and inconsistency. He also has a Chris Thompson, that when healthy can provide a dynamic back who can run, but more importantly catch the ball out of the backfield and create dynamic plays.
His three top targets in DJ Chark, Dede Westbrook, and Chris Conley should give the young quarterback the weapons that he needs to see success. The Jaguars also took a chance with Tyler Eifert, formally of the Cincinnati Bengals. The tight end has dealt with injuries over his career, but again If he can stay healthy, he is a huge addition to a team that could be downlow scary on offense if they have everything clicking at once.
So, what are my stat predictions for Minshew this up coming season? I have him throwing 28 touchdowns, with only seven interceptions. He will have 3,400 yards passing.
My #3 quarterback is Baker Mayfield/Case Keenum.
In the 2019-2020 the Cleveland Browns and quarterback Baker Mayfield completely wet the bed with their performances on the football field. The three-year pro only accumulated 22 touchdowns, while throwing 21 interceptions. The quarterback welcomed the addition of Odell Beckham Jr. who was supposed to help the team become more dynamic. It was later revealed that he was dealing with a core injury that required surgery in the off season. Mayfield did have his moments including an upset of the Baltimore Ravens when he threw for 342 yards, with one touchdown and one interception in a 40-25 victory in Baltimore.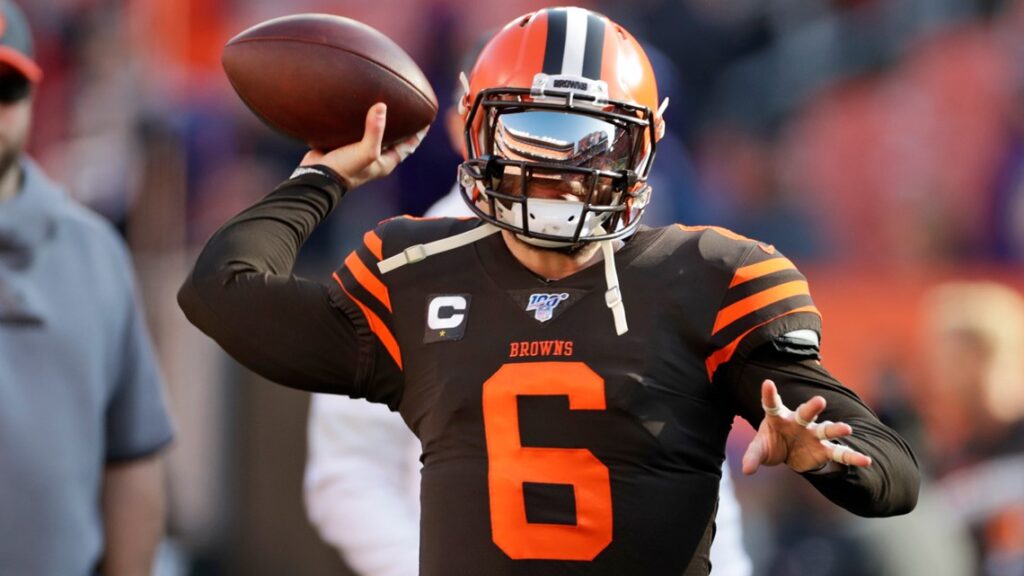 He also had 325 yards with one touchdown and one pick in week 2 against the Jets in a 23-3 beat down in East Rutherford New Jersey. His worst performance came in week 3 at home against the Rams where he passed for 195 yards, with one touchdown and three interceptions. His team only lost by seven, 13-20. Mayfield for all his talent, has a problem with consistency. This issue could cost him his job during the season. Case Keenum is a journeyman quarterback who got a raw deal the last two years with the Broncos and Redskins. Keenum after leading the Minnesota Vikings to the NFC Championship he was again looked at just a backup in waiting for an incumbent starter.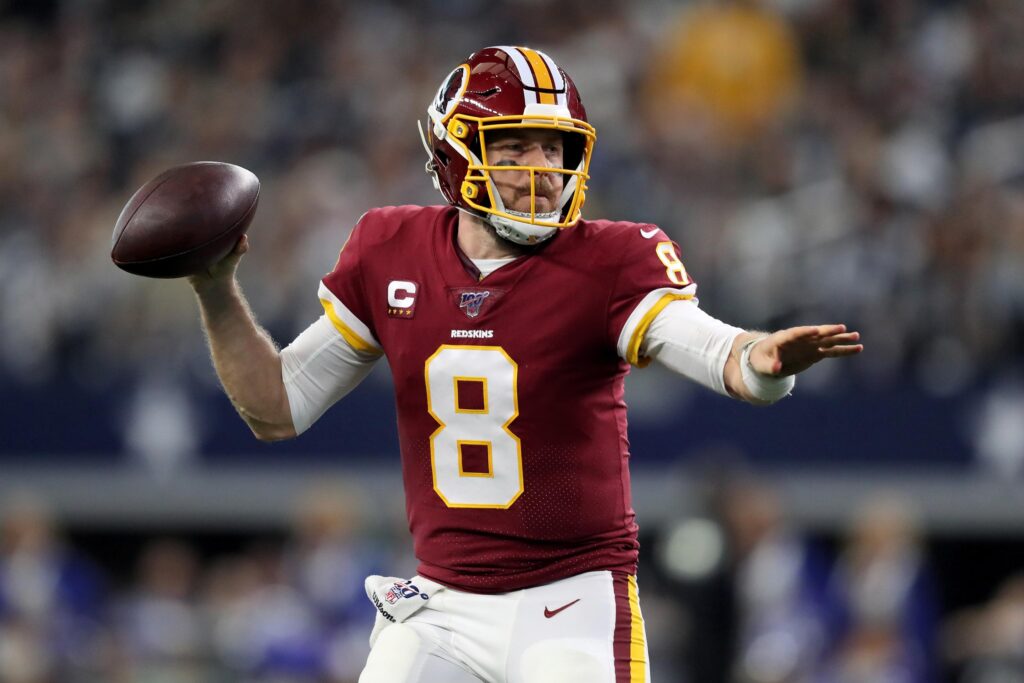 Keenum has starting abilities, and with the weapons in Cleveland being as deep as they are in every position. I am predicting by week 3, that Mayfield gets pulled and Keenum helps led this young group to the brink of a playoff spot. This could be Mayfield's last year in Cleveland, or maybe it is his year to regroup knowing that his leash like other players is short with a franchise that is quite simply tired of losing.
So, what are my predictions for both quarterbacks in the 2020-2021 season.
I have Baker Mayfield throwing for two touchdowns and five interceptions before he gets pulled. I have Case Keenum coming in throwing for 28 touchdowns, five interceptions and getting 3,300 yards.
My #2 quarterback is Dak Prescott from the Dallas Cowboys. In the 2019-2020 season Prescott threw for a career high 4,902 yards with 30 touchdowns and 11 interceptions. His best game came at the Detroit Lions where the young stud threw for 444 yards with three touchdowns and zero interceptions. The Cowboys signal caller who is currently looking for a new contract added a new weapon in CeeDee Lamb from Oklahoma in a surprising twist to a team that already had two 1,000 plus yard receivers. Prescott often had trouble getting started last season, that was the case often with the Cowboys. They would fall behind in some games and it would be too late for them to comeback. They underachieved as a team, but many can say with confidence that with a struggling Ezekiel Elliott coming off his off-season holdout it hurt Dallas. The Cowboys would have been barely .500 if it were not for Prescott making up for games where the line was inconsistent, or days his receivers did not have things going early. The bottom line is the top two quarterbacks do not need much said about them. They are both great and their teams will need them to perform differently to have the ultimate team success.
What are my predictions for Prescott in 2020-21, I see Prescott taking a back to let Elliott run the ball more, I can see Prescott throwing for an efficient 3,500 yards with 27 touchdowns and only four interceptions has keeps his arm for the playoffs and lets the running game create easy down field throws to his many weapons.
My #1 quarterback going into the 2020-2021 season is quite simply one of the greatest quarterbacks to ever do it, that being 41-year-old Drew Brees. Brees missed five games last season and still passed for 27 touchdowns, and only four interceptions. He also passed for 2,979 yards. This means that he would have been close to 5,000 passing had he not suffered the hand injury In Los Angeles in week 2. The future Hall of Fame quarterback has a lot to be motivated about.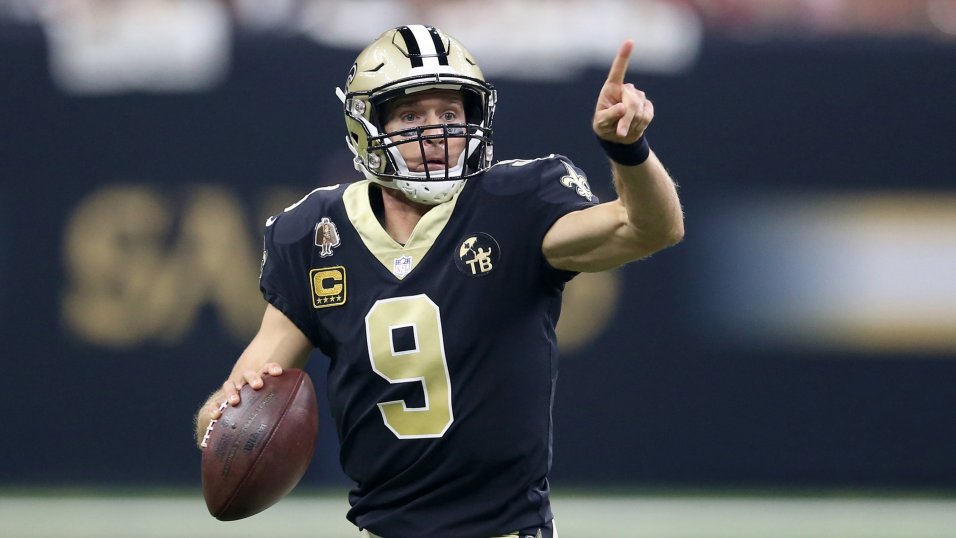 He has dealt with controversy away from the field dealing with his stance on the flag, he has had to deal with the entire off season being focused on a Tampa Bay team that now yes has Tom Brady, but a team that has not tasted prosperity in a very long time. He also has the young former #1 pick Jameis Winston behind him now who is eager to learn and soak up everything going into his next opportunity.
Brees has weapons at every position, he even has one at his own position. Taysom Hill is so dynamic at the quarterback position, because not only can he throw, but he can split out and do damage to defenses. In the backfield you have Alvin Kamara, Ty Montgomery and Latavius Murray who brings even more of a boom to the backfield.
The receiving core could be scary with Michael Thomas coming off a 149-catch season, then you add Emmanuel Sanders along with an underrated pick up Maurice Harris from the Washington Redskins. When given the right chance, Harris might not go to any Pro Bowls, but he can contribute big time.
So, what are my predictions for Drew Brees going into the 2020-21 season?
I predict that Brees will rip the league apart, he will throw for 5,500 yards passing the previous record by Peyton Manning in 2013, that stands at 5,477 yards. I also believe he will pass for 45 touchdowns, and only have eight interceptions.
Make sure you lookout for the NO BS SPORTS ZONE PODCAST coming very soon to the LegacyMaker Sports Network on You Tube and Facebook.