2021 NCAA Tournament Sweet 16: #12 Oregon State defeats #8 Chicago-Loyola 65-58 advancing to the Elite 8 (3-27-21)
By: Lamonte Thomas
Headline Photo Courtesy: NCAA
This matchup between Oregon State and Loyola may be unexpected to most, but the Beavers have been red hot in March and there is an undeniable presence of Sister Jean. Loyola caused Big 10 champion Illinois to turn the ball over 17 times (including 10+ steals) in the second round, stamping their defense as one of the feistiest in the country.
Oregon State not only validated their Pac-12 tournament championship, but they are representing the conference well in the big dance with wins over Tennessee and Oklahoma State (and possibly the number one pick in Cade Cunningham)
After Loyola jumped out to a 9-3 lead, their elite defense was on display as they held Oregon State scoreless for three minutes of play. That drought ended with an Ethan Thompson three. The Beavers, however, would end the half on a 11-0 run of their own, bringing the half time score to 24-16 Oregon State over Loyola. Ethan Thompson led all scorers with 10 points.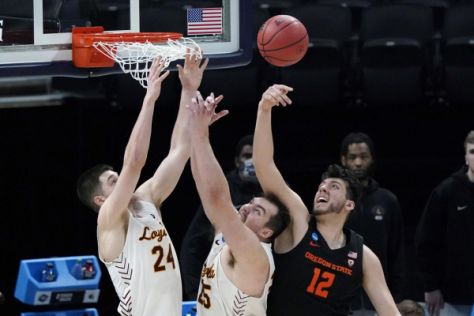 Loyola would attempt to shoot its way out of the defecit at the start of the second half; they continued to struggle with another three minute scoring drought while the Beavers would roll. Ethan Thompson was physical and brilliant- scoring from the post and breakaway inbound plays. Loyola would cut the lead to six several times before a three by Kennedy would cut it to four. Though Marquise Kennedy played tough Chicago defense and Braden Norris would storm back, Oregon State would hold on to win 65-58. Loyola is now 4-13 all-time against the Pac-12 conference, as Oregon State will take on the winner of Syracuse vs Houston.