William Byron Grabs A Win At Phoenix With Help From Tyler Reddick (3-12-23)
By: Becca Cottingham Quimby
Headline Photo Credit: USA Today
We head to Phoenix for our last race in our West coast swing. This will also be where the championship is determined at the end of the season in the fall. Kyle Larson gets on the gas early and drivers go four wide just before turn one. William Byron gets around his teammate and has pulled away from his teammate. We have some contact between Joey Logano and Martin Truex Jr. It does not look like it was intentional. The track is just slick from the heat in the desert. Joey Logano even gets lapped himself. The rest of stage one overall will allow William Byron to pull away from the front group. He will win stage one.
We enter stage two and Kyle Larson gets out front. This is after AJ Allmendinger is caught speeding during that stage break. So he will have to start at the rear of the field once they go back racing. We get back racing and they are once again three to four wide until turn one. This time Kyle Larson getting the lead. BJ McCloud will come down and have his day ended due to a fuel pump issue. There will be pitstops in this stage as it is a longer stage. Drivers will have to be cautious to not make any mistakes on pit roads. Major mistakes did happen on pit road. Kyle Busch, Erik Jones, and Michael McDowell all were speeding on the pit road. Followed by Christopher Bell had a bad pit stop. Then Austin Cindric was caught speeding on pit road. Once everyone got back out everything was going well until Aric Amarillo had a tire blow a physically came off the car. This resulted in them holding them for two laps on the pit road. We will have to wait for NASCAR to determine via video if it was improperly mounted. The two laps the team is being held are not included in the damage clock. This allowed teams to come down and refuel and get fresh tires to end the stage. Kyle Larson will keep the lead and will win stage two.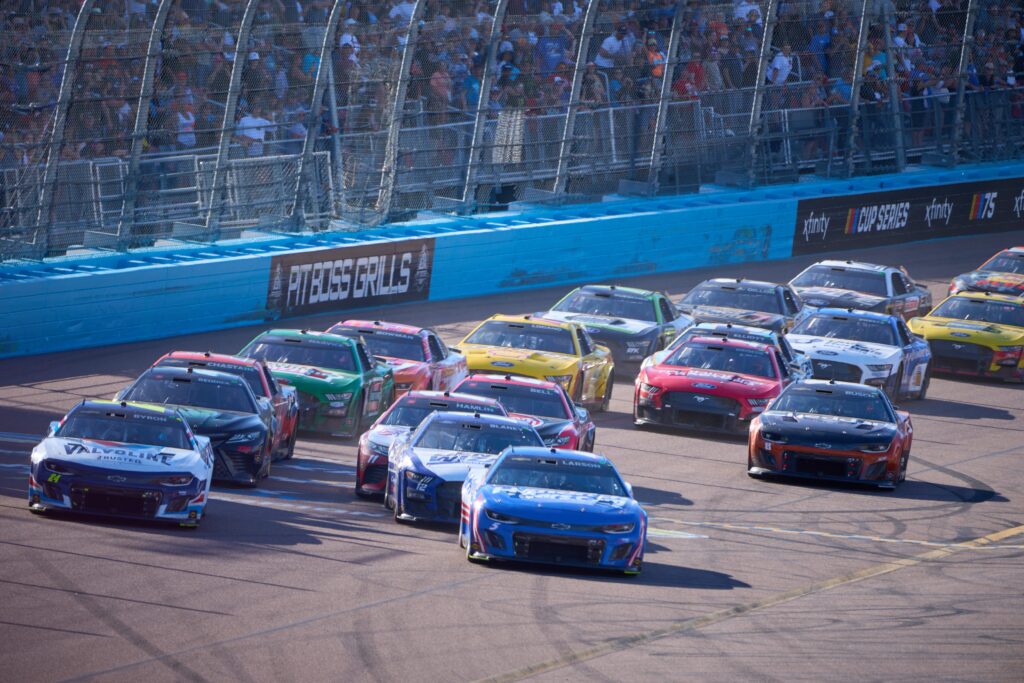 We start the third and final stage and Ty Gibbs will start at the rear due to speeding. This race went green for the first section of the final stage. Kyle Larson will lead that section and will go into the green flag pit stops. Daniel Suarez has not one but two speeding penalties and has to do pass-throughs. Erik Jones holds out to see if a caution comes out before eventually making his stop. Roughly twenty laps in after the green flag stops Kevin Harvick takes over the lead from Kyle Larson. It looks like this could be Kevin Harvick's race to win. That is until we have a caution for Harrison Burton spinning and the tire coming apart. This brings us down to just three to go. They get back and Ty Gibbs along with AJ Allmendinger makes contact bringing out an additional contact and sending us into overtime. Crew chiefs make the call with code words up and down the pit road. Some for two tires and some for four. William Byron and Kyle Larson go back to battling for the lead and possible win. They almost appeared to be locked together. This gave Ryan Blaney a chance to try and make a run. Then Tyler Reddick gave William a needed bump push and sent him forward. William will keep the lead and become the unofficial winner for the second week on a road.