Jay Quimby's Top 10 NFL Mock Draft 1.0 (3-13-23)
By: Jay Quimby
Headline Photo Credit: USA Today
NFL Draft season is upon us, and it will be a wild ride until April 29. I plan on bringing you my Top 10 Mock Draft each week heeding into the 2023 NFL Draft. So let's get started!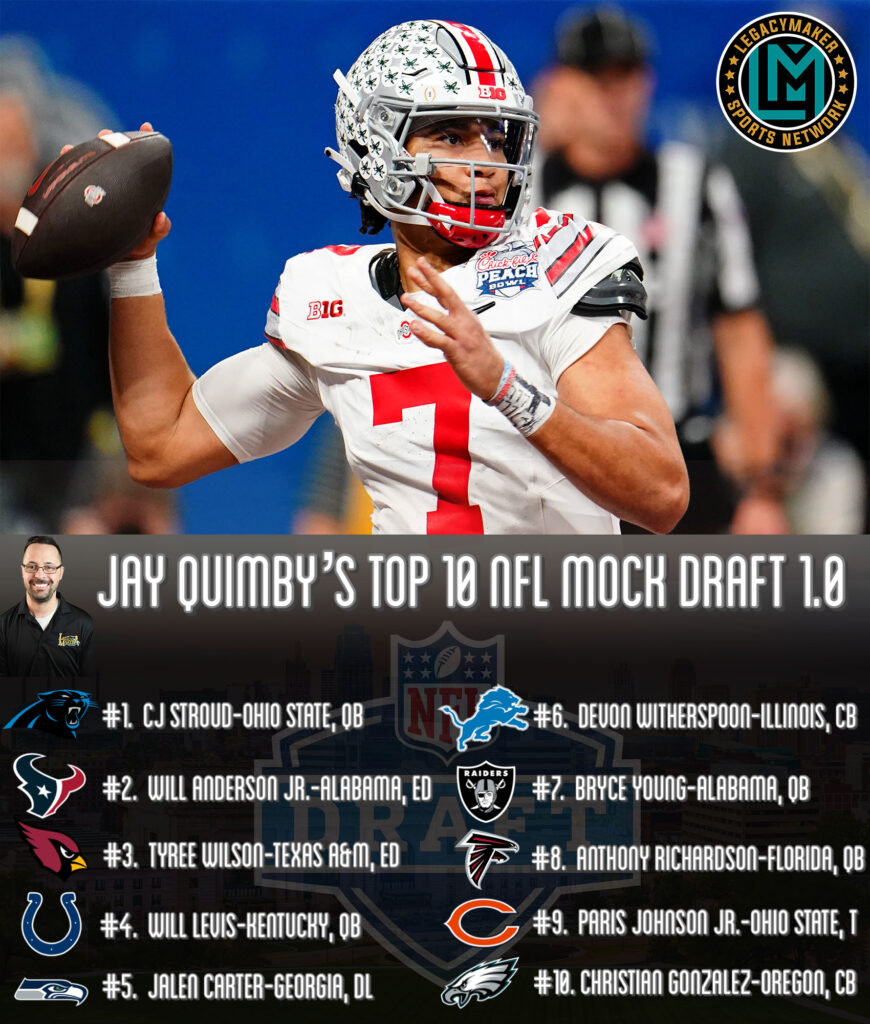 Panthers: QB, CJ Stroud, OSU… Let's believe the chatter coming out of Charlotte and he's their guy. Now they do have more power if someone else wants to throw more picks at them. Especially if they like the talents of other QB prospects.
Texans: Edge, Will Anderson, Alabama…. Mills was not Bad last year. New HC Ryans is a Defensive minded man. So you go with the second-best Defender in this draft. After DeShaun Watson's situation, I don't see them going after Jalen Carter now.
Cardinals: Edge, Tyree Wilson, Texas Tech… They paid Murray and then fired the coach that drafted him. Honestly, they hold the most power because a QB-needy team might give them picks and players. Plus I believe they trade D Hopkins before the start of Training Camp.
Colts: QB, Will Levis, Kentucky… they got the line and RB. I feel they go with the most pro-style guy here. I know the new head coach Shane Steichen helped Jalen Hurts become the QB he is. But don't forget that he showed Justin Herbert the league, and the results speak for themselves.
Seahawks: DL, Jalen Carter, Georgia…. Hope this young man gets his legal troubles behind him. But we look at this spot for him because coach Carroll has made picks like this before and turned them to Frank Clark.
Lions: CB, Devon Witherspoon, Illinois…. This fills a huge need. They took a pass rusher in the Top 5 last year. James Houston was out of Jackson State last year & came out of nowhere late in the season. This hurts but Okudah is a bust, they need to get younger and healthier in the secondary.
Raiders: QB, Bryce Young, Alabama… I know Richardson is still on the board but Josh McDaniels is back as HC. Only god knows why!! He'll like Young's accuracy and mobility.
Falcons: QB, Anthony Richardson, Florida…. They need a lot of things and I know they took Ridder last year. But Arthur Blank loves mobile QBs, and he still runs this team. Richardson is great on film, but can he read NFL Defenses? Time will tell.
Bears: LT, Paris Johnson Jr, OSU… The Bears got a hall of picks and DJ Moore by moving back in the draft. Some will say WR here, but Moore put together some good years with questionable QBs. Imagine what Fields can do when he's not running for his life in every play.
Eagles: CB, Christian Gonzalez, Oregon…. This could easily be a tackle as well. I went with Gonzalez because Slay is getting old and has been the topic of trade rumors, plus Bradberry and Johnson are free agents. With some of the cuts made so far, Smith (TB) or Brown (KC) could be had. They must be smart because they are still in their Super Bowl window.