5 Must Watch Games of the 2022 NFL Season (5-13-22)
By: Cody Stewart
Headline Photo Courtesy: LA Times
What if I gave you the equation " 5 divided by 272" and asked you to answer it? You may simply pull out your phone, go to the calculator app, plug it in, and get "1.8%". Now, what if I told you the answer you got was more complex than just typing in numbers on a calculator? Let me explain.
272 represents the number of games that will be played in the 2022 NFL Regular season. The number five represents the number of games that are on this list. 1.8 represents the percentage of those five games relative to the entire NFL Schedule.
To find the Top Five matchups of any season, you have to use the earlier equation, while also factoring in storylines, players, off-season moves, the NFL Draft, rivalries, etc. After going into the lab and formulating all of those variables, here are the five must-watch games this upcoming NFL Season.
5: Los Angeles Chargers at Las Vegas Raiders (Week 14)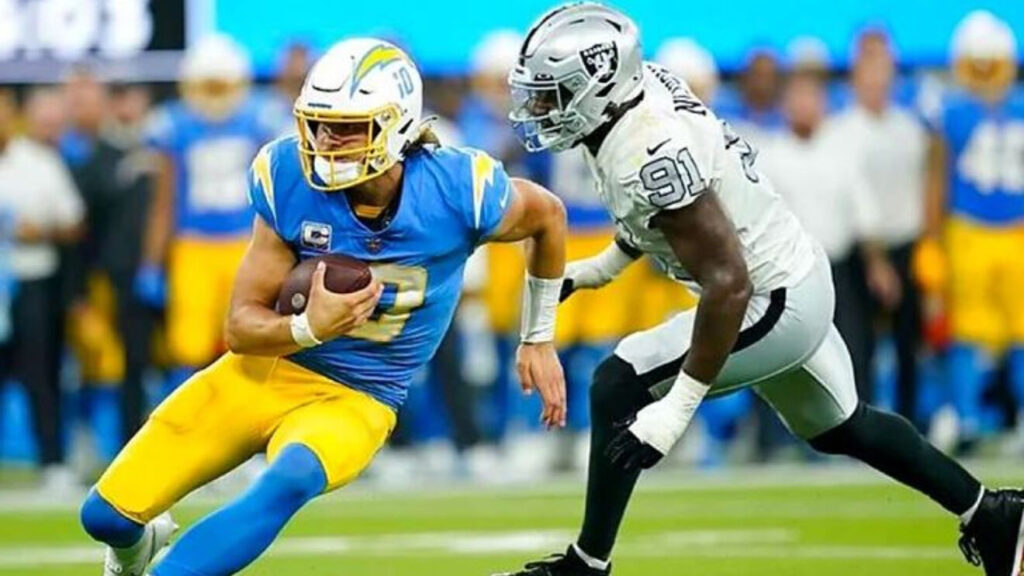 While these two teams open up the 2022 season against one another, their second matchup is the one that makes this list. Why you may ask? Well, I'll give you two reasons, Location, and Depth.
The 2021 regular season ended on Sunday Night Football between these two teams with one simple concept, "Win and In". The winner of that matchup would grab the last AFC playoff spot, which happened to be the Raiders in a 35-32 victory. Their week one matchup this season is in LA, but the site of their 2021 finale and Week 14 matchup this year is in Vegas.
A week one matchup is good. Hell, any football matchup is good. The thing that sets this game apart from their early-season meeting is the fact you are putting two Divisional Rivals against one another late in the season, where a lot of jockeying for position in a loaded AFC West/Conference is going on. Will Derek Carr and his new playmaker Devante Adams unplug the Chargers, or will Joey Bosa and his new partner in crime Khalil Mack wreck Havoc in Sin City? Only time will tell.
4: Cincinnati Bengals at Cleveland Browns (Week 8 – Monday Night Football)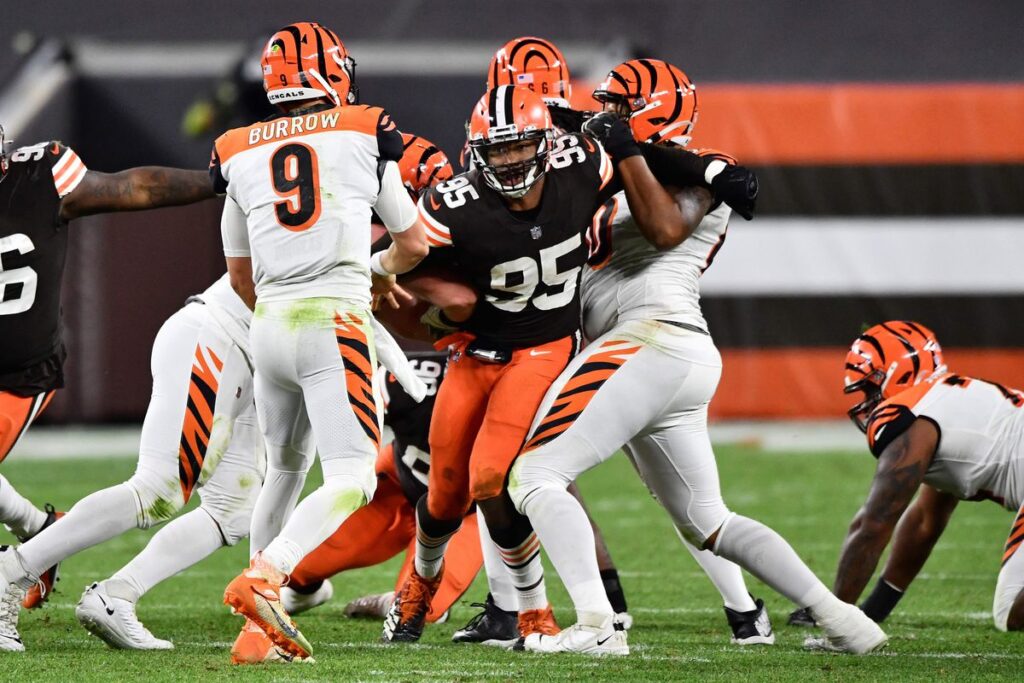 The Cincinnati Bengals not only sat atop the AFC North in 2021, but they were also atop the whole AFC Conference. The Super Bowl runner-ups will have a big target on their back in 2022, especially when it comes to their three divisional mates. Joe Burrow and company are out to show everybody that last year was no fluke, but with success comes enemies.
Last season, the Cleveland Browns just missed out on a playoff berth with an 8-9 record. Two of those eight wins though came against the Bengals by a combined score of 62-32. To take it a step further, Cleveland is 7-1 against Cincinnati in the last four seasons.
Quarterback play held the Browns back in 2021, that's why they traded for Deshaun Watson this off-season. Nobody knows what's going to happen with Watson regarding a suspension, but if he's playing, this early matchup could decide who reigns supreme in the AFC North.
3: Kansas City Chiefs at Denver Broncos (Week 14 – Sunday Night Football)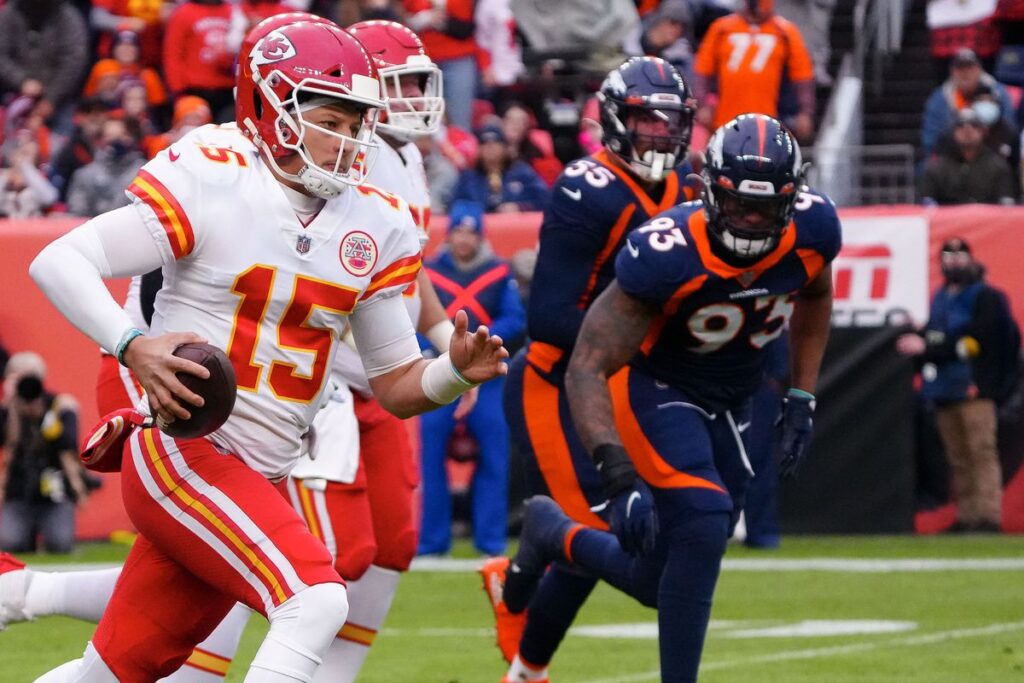 If we are being honest, this whole list could be about the AFC West alone. Every team in that division got better this off-season, which is scary for the rest of the league. The biggest acquisition came from Denver when they traded for nine-time Pro Bowler, Russell Wilson.
This week 14 matchups will be the first between Kansas City and Denver. That late into the season means the stakes are going to be at an all-time high, and the two QBs at the helm are used to that.
Wilson and Patrick Mahomes have only met one time in their NFL Careers, which resulted in a 38-31 Seahawks win in a Week 16 matchup in 2018. The two gunslingers combined to throw for over 500 yards and six TDs. You bring that intensity to a game that features divisional foes, I'd advise everybody to get their popcorn ready.
2: Green Bay Packers at Tampa Bay Buccaneers (Week 3)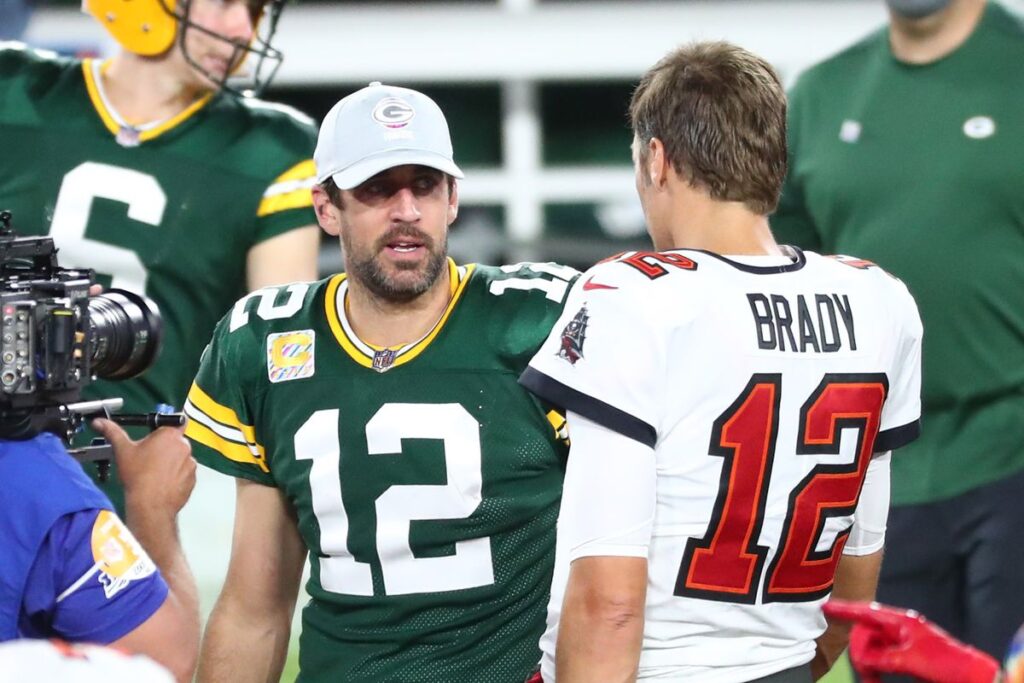 The NFL World believed they were witnessing the unthinkable when QB Tom Brady announced his retirement. A player who even at 44 years old, was playing at the top of his game. Brady's retirement lasted about as long as it took Kansas City to score against Buffalo in the playoffs last season. With Brady "unretiring", and news of him signing a 10-Year/$375M deal with FOX Sports to become their lead NFL analyst when he finally does decide to hang up the cleats, everybody is wondering if 2022 will be his final year.
The odds on favorites to play in the 2021 NFC Championship game were Green Bay and Tampa Bay. That didn't come to fruition as both franchises were knocked out in the divisional round. Can the two teams meet each other there this season? Sure. There is only one caveat: the NFL season, year in and year out is unpredictable. Week 3 of the 2022 season could be the last time we see Aaron Rodgers face off against Tom Brady, and if that's the case, pull up a seat and enjoy the ride.
1: Buffalo Bills at Los Angeles Rams (Week 1 – 2022 Season Opener)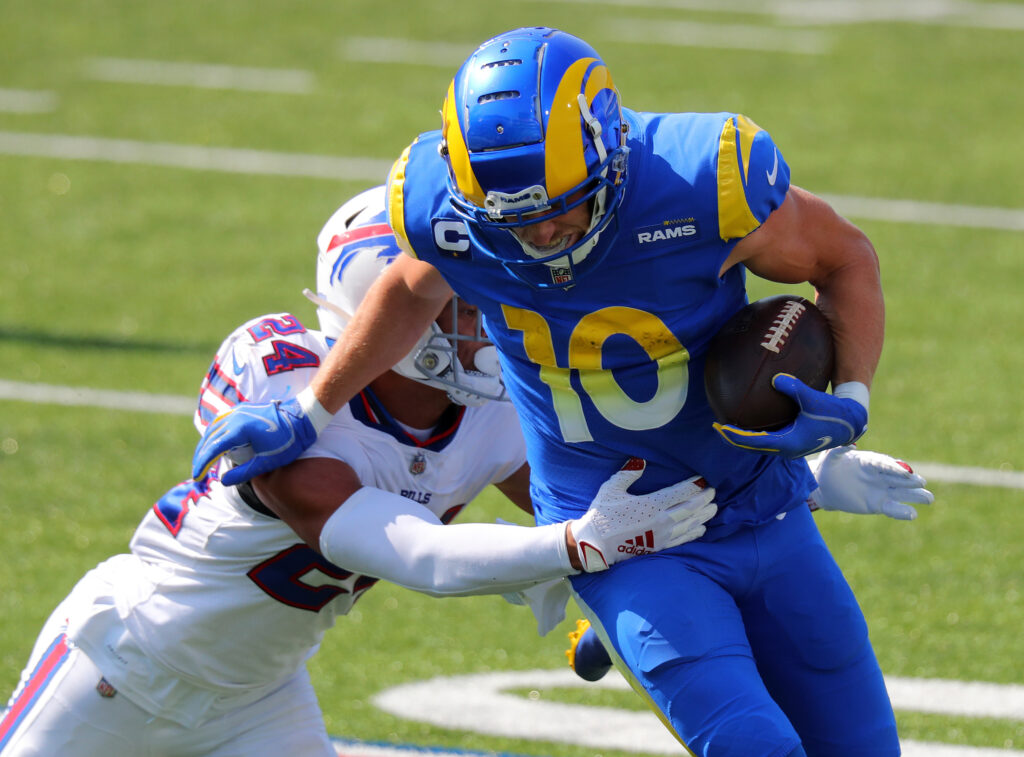 As mentioned earlier, there will be 272 regular-season games played this upcoming season, and the first one out of the gate is my top game to watch. There are several reasons for that, but I'll give you two that are simple: Von Miller's return to LA and a Super Bowl Preview.
Von Miller was a staple in the Los Angeles Rams' defense last season and helped them prevail against the Cincinnati Bengals en route to the franchise's second career Super Bowl. One of the most ferocious pass rushers the game has ever seen, Von was acquired by LA from the Broncos mid-season. The Rams had hoped to retain Miller this off-season, but their pockets weren't big enough. Von signed a six-year, $120M deal with the Buffalo Bills on March 16th, and the team from upstate New York is ready to put the league on notice starting week one.
Buffalo was 13 seconds away from beating the Kansas City Chiefs in the AFC Divisional Round, but Patrick Mahomes and company had other plans. Had the Bills been able to hold on, they would've faced the Cincinnati Bengals in the AFC Championship Game, with a shot to reach the Super Bowl and play the Rams.
There has never been a year where the first game of the season and the last game of the season featured the same two teams, but my early predictions say it's a first time for everything. So when the 2022 season opens with these two incredible teams, take a mental note of what you see, because something tells me you'll see it again on February 12, 2023, in Glendale, Arizona.