Hokies Blunder in Norfolk, ODU ties overall series 2-2 (9-2-22)
By: James Brown
Headline Photo Credit: Corey Allen-LMS Network
​The Pry era is off to an abysmal start with the Hokies falling to the Monarchs of Old Dominion University 20-17. Pry and Hokies entered Friday night's matchup the unquestioned favorites and proceeded to lay an egg. Despite winning the starting QB job Marshall transfer looked overwhelmed at times leading the Hokie's offense. He ended Friday's game with 193 passing yards, 1 passing touchdown and he found the endzone on an 18 yard scamper in the first quarter. Wells also happened to throw 4 interceptions including the game sealing one.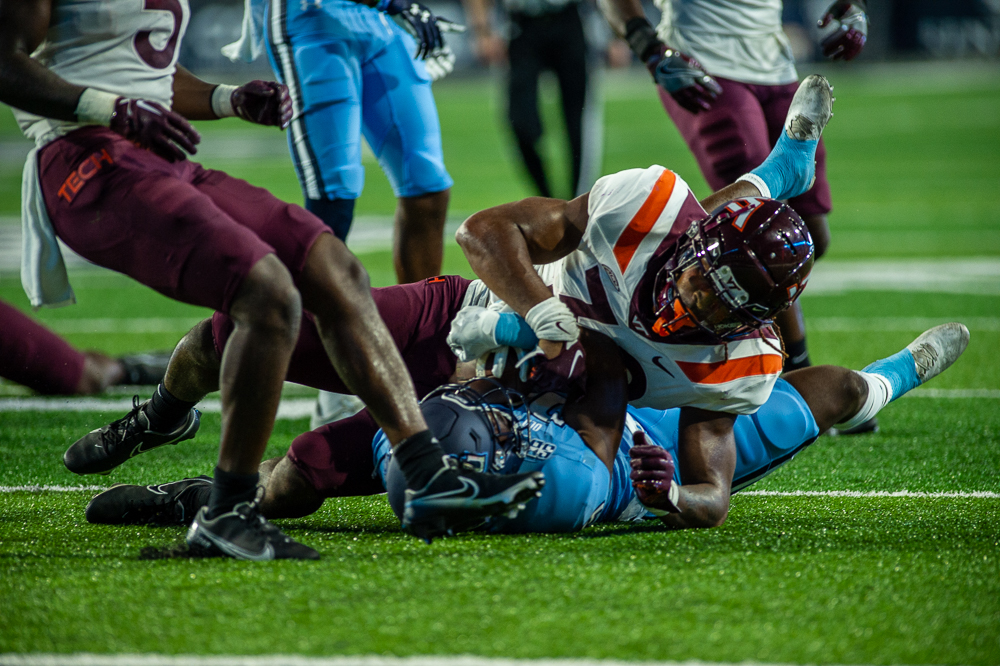 ​On the defensive side of the ball the Hokies looked in control for most of the game. Led by Senior LB Dax Hollifield the Hokies were flying around the field. Generating pressure on ODU signal caller Hayden Wolff and racking up 7 tackles for loss. Despite a mostly impressive night the Hokie defense eventually wore down in the 4th quarter allowing ODU to score their only offensive touchdown of the game and squandering a 7 point lead. The Hokies showed their Special Teams unit could use some more work as well as a high snap that sailed over the Holder and the Kicker led to a Monarch touchdown which kept ODU in the game prior to the half.
​While many expected there to be some growing pains as the Hokies move on from the Fuente era this was not the start they imagined. Coach Pry needs to get back to the drawing board and quickly figure out what needs to change and how his team can improve before the Boston College Eagles visit Lane Stadium this Saturday night.