Kyle Larson wins at Homestead, Ross Chastain takes playoff lead (10-23-22)
By: Becca Cottingham Quimby
headline photo credit: USA Today
We head to Homestead-Miami Speedway for what appears to be a beautiful day of racing. We will start the race two by two but quickly go three and four wide. We will see multiple drivers go to the top next to the sea-foam-colored wall. William Byron starts up front and keeps that lead. His teammate Kyle Larson will eventually catch him and pass him for the lead. John Hunter Nemechek in his first race will bring out the first caution due to losing the back end of the car. This will be a perfect time for drivers to come get fresh tires and fuel. Denny Hamlin has issues on the pit road as they could not get the gun to change rotational directions. This caused Denny to drop to twenty-third place. He will be aggressive to get back to the front. Drivers are making necessary moves to try to get needed points. Kyle Larson however had a rocket and could not be caught. He will have almost a nine-second lead. He will win stage two as his teammate William Byron battles Martin Truex Jr.
We get back to racing in stage two and this restart is very aggressive as drivers are trying to fight for positions. Kyle Larson will get the lead and man he stays out front. We will see green flag pit stops. Green flag pit stops were very dangerous for some drivers. Denny Hamlin almost collected two drivers. Noah Gragson got hit with a speeding penalty and had done a pass-through. Things are smooth going until Chase Briscoe hit the wall and brought out a late caution. He was not able to fix his car on the pit road due to the damage. Stage two will end under caution with Kyle Larson winning stage two.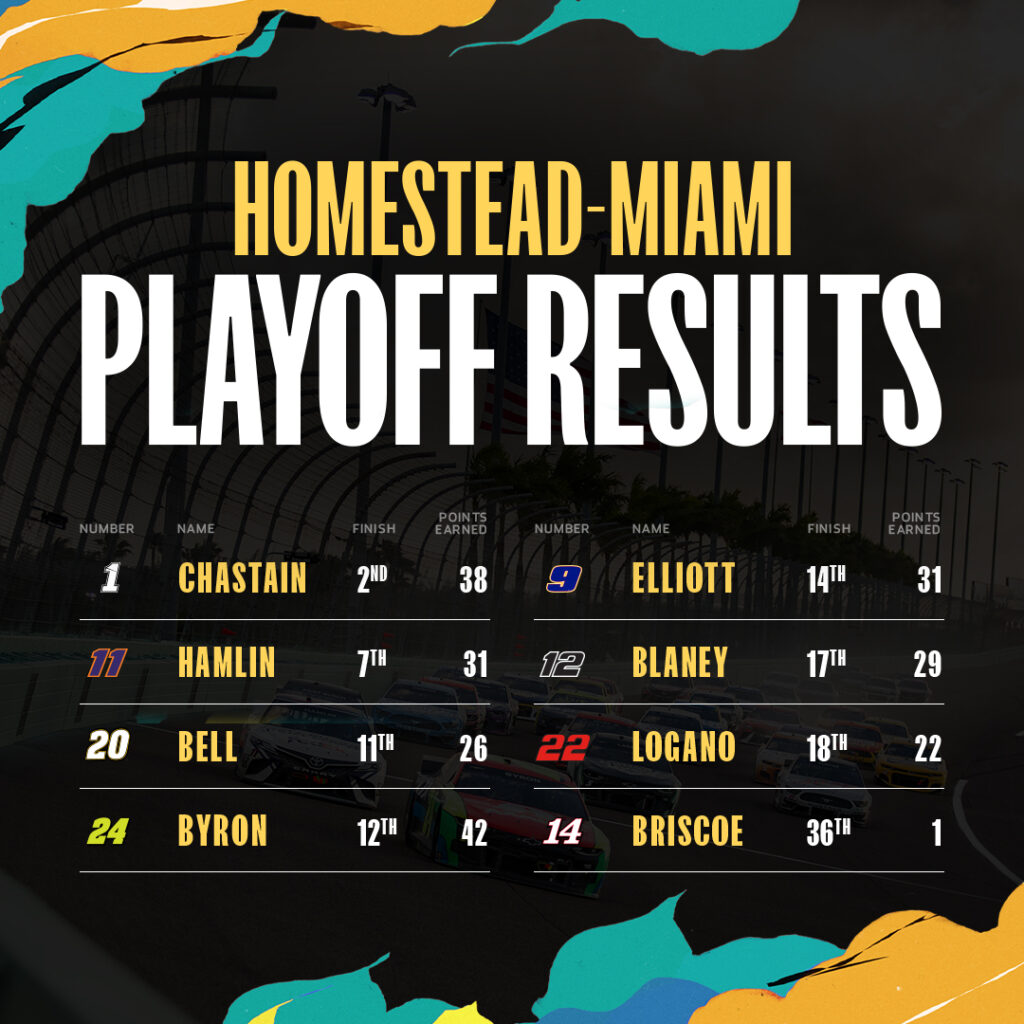 We get back to racing and once again Kyle Larson takes off while everyone else is three and four wide to get spots. We start to see green flag pit stops and things were going over all well until Ryan Blaney spun out. NASCAR called a caution afraid he would come up onto the track off the access road. We get back to the race with different drivers up front for the first time this race. Martin Truex Jr will get the lead over Denny Hamlin. All the while Kyle Larson is back charging through the field. We will get another caution when Tyler Reddick hits the wall hard. There is a huge incident on pit road between Martin Truex Jr and Kyle Larson. This gave Kyle Larson the lead and he did not look backward. Kyle Larson is the unofficial winner at Homestead-Miami. Ross Chastain's strong 2nd place performance moves him into the top spot in the playoff race.