Washington Falls to the Giants on Sunday Night (12-18-22)
By: Russ Taliaferro
Headline Photo Credit: Washington Commanders
Coming into Week 15, the NFC East had the last 3 wild card spots in the conference. After Sunday night's game, well they still have those last 3 spots, just the order has switched up. Dallas still has that number 5 spot, but the Giants & Commanders have switched to #6 & #7, respectively, after the Giants eked out a 20-12 victory on Sunday Night Football. For now, there's still a chance for the entire division to make the playoffs, for now.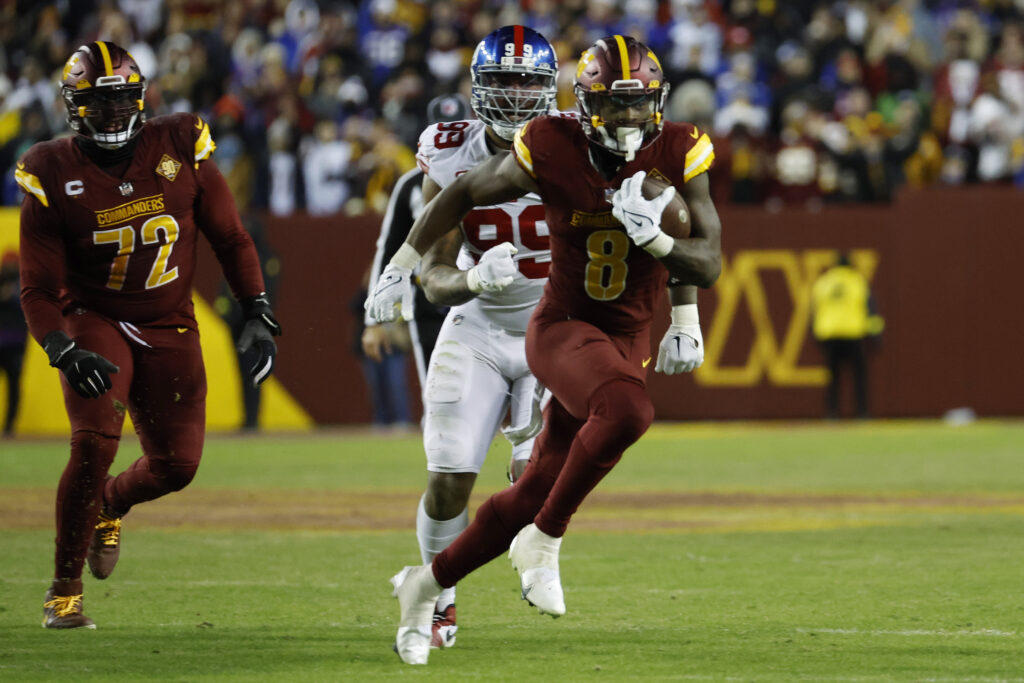 In his 24th career start, QB Taylor Heinicke (17/29 249yds, 1TD & 2 lost fumbles) just couldn't seem to get a complete drive going. The first one for example stalled out after feeding the rookie Robinson early & they decided to punt it from the Giants' 37, a decision coach Rivera later attributed to the wind not blowing in their favor. A strip-sack & recovery for a TD by Kayvon Thibodeaux to put the Giants up early in the 2nd quarter didn't help them gain any momentum. Most of the time it looked like they could figure out something, 3rd down came calling & would be the bane of their existence. They wouldn't convert a 3rd down try until the 4th quarter & finished 1-10 in the game.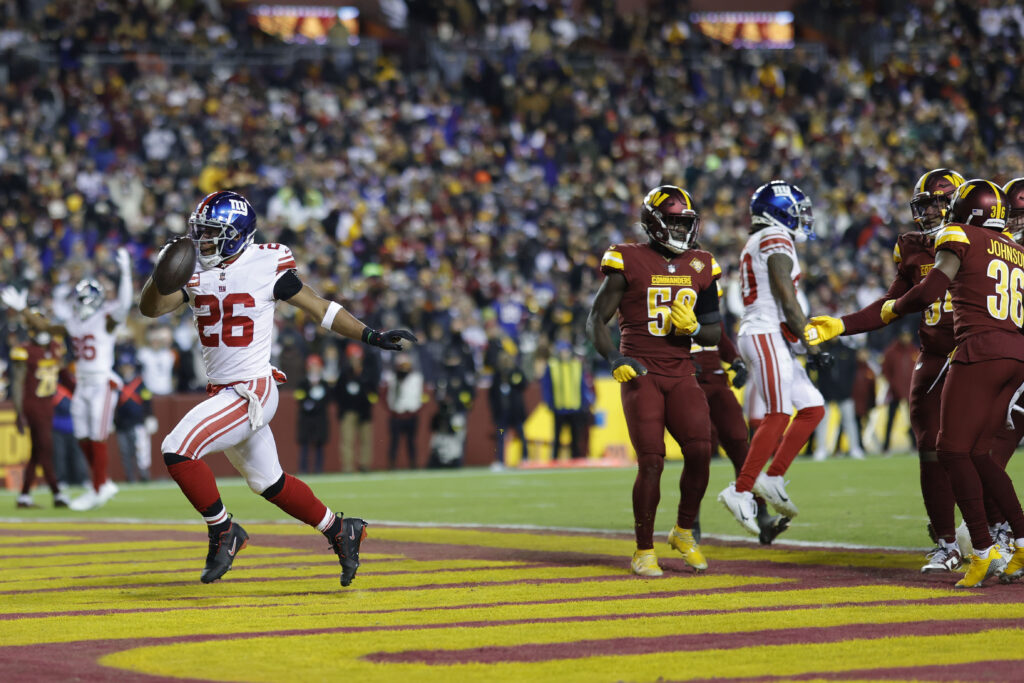 Neither team looked good on 3rd down, to be honest as they combined for a dismal 3 for 20. Most of Heinicke's backfield didn't fare much better against a game New York defense. With Heinicke's 33yds on 3 separate carries, the run game of Washington racked up 159yds on 26 carries, most of which came from Robinson Jr (12car, 89yds). This marks the 4th straight game that a Washington running back has failed to cross the goal line, which isn't all their fault in this game. Their last rushing touchdown came from receiver Curtis Samuel against Houston 3 games ago.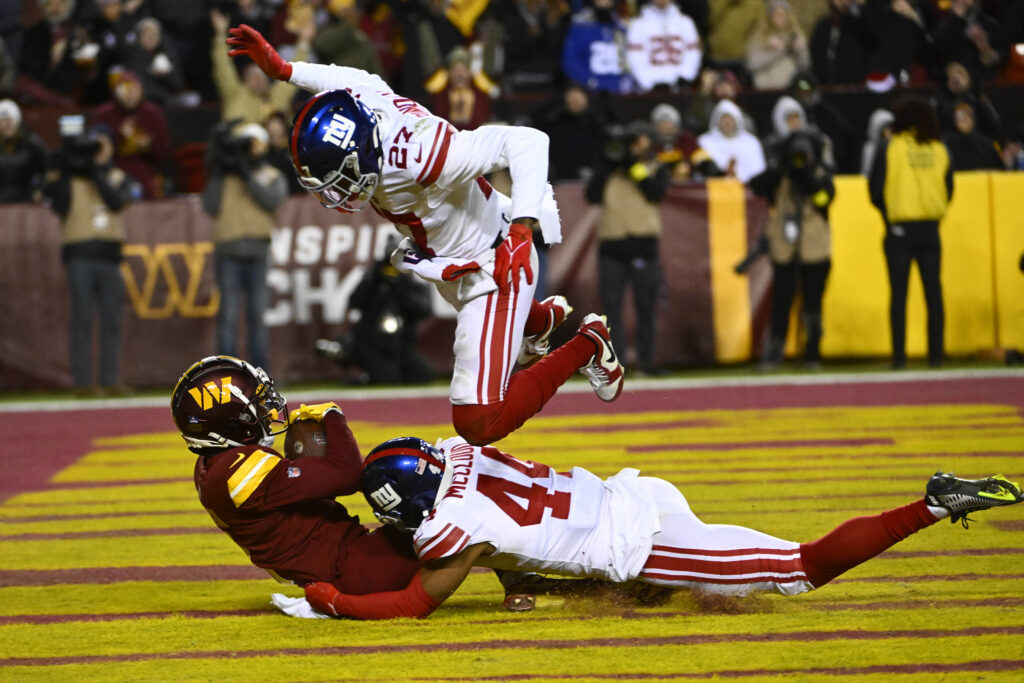 One thing that did stand out on their offense, that is until the second half, was the lack of focus on their top 2 weapons in scary Terry McLaurin (6rec, 70yds) & rookie Jahan Dotson (4rec, 105yds 1TD). McLaurin only had 2 catches in the first half & Dotson had nothing until the second half. They did most of their work on the team's first drive of the second half when Dotson hauled in the team's only offensive points, aside from 2 Slye field goals. With most of New York's top defensive backs out with injuries, it looked like Washington could've taken advantage of a ragtag group of a back 7, but the front line of the Giants didn't let that happen. Aside from Thibodeaux's (12 total tackles, 9 solo, 1 sack, & 3 TFL) absolute monster game, they finished with 3 total sacks as a team & 8 total QB hits to keep Heinicke under constant worry.
As far as defense goes, Washington's defense wasn't horrible, but it wasn't great either. They kept Jones (21/32 160yds) under 200yds passing but didn't produce any sacks or any hurries. Seems like a definite sign that they miss Chase Young upfront. Young was expected back for this game, but his return was pushed back, for what most hope is only one more week. They kept Saquon Barkley (18car, 87yds 1TD; 5rec, 33yds) under 90yds, barely, but he still managed to tally his 7th game this year with over 100yds from scrimmage. Already mentioned how they held the Giants to 2 for 10 on 3rd down, so it was a very bend, don't break mentality, for both defenses. It's kind of been the signature for most of the Giants' wins this year. Play hard & find just the right thing to stay on the right side of the scoreboard when the clock hits zero. I'm sure most Washington fans (and their staff for that matter) would say that the right
😉
the thing was a random illegal formation call that negated a Robinson TD that would've put them within 2 close to the end of the 4th quarter.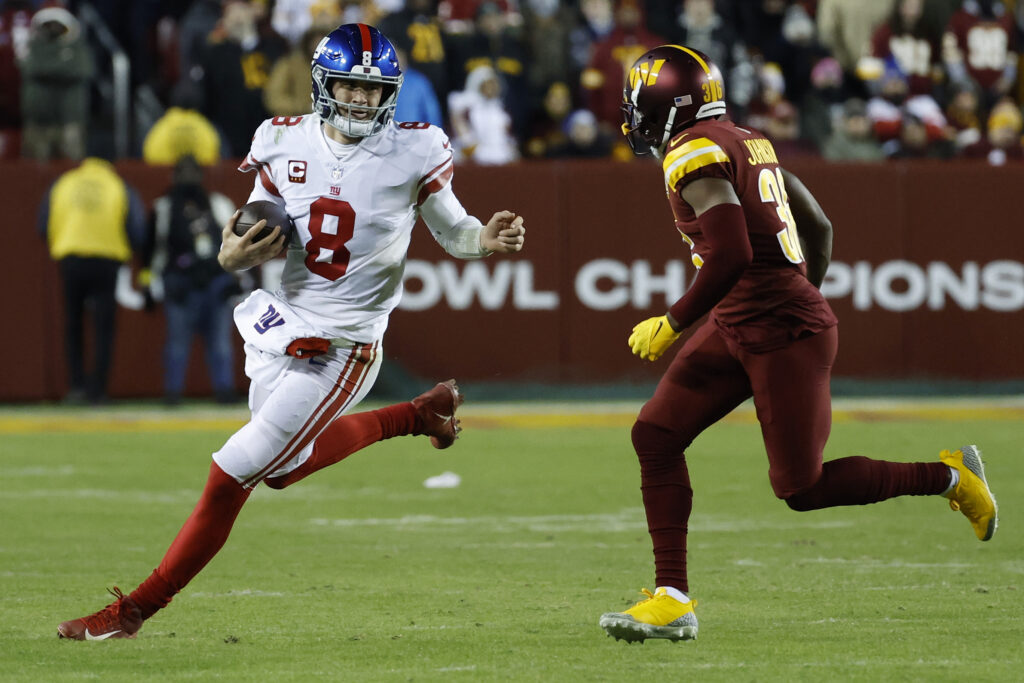 I'd argue Heinicke's 2nd lost fumble the drive before at the Giants' 9yd line did not help their momentum, especially when that drive started with a BOMB from Heinicke to Dotson for a 61yd gain to put them at the New York 30. Even after that fumble, they still managed to mount something after a 43yd kickoff return from Gibson put them in a good position again. Then "The Penalty" happened and that was that. To say they were a little salty about that call, among others, is probably a bit of an understatement. Coach Rivera made his feelings clear post-game saying, "Don't ask me about the refereeing because I can't answer the question" after confirming with the room what he saw from McLaurin on the play. No time to dwell on this one for Washington though, as they travel to San Francisco to take on the 49ers this Saturday, who have won 7 straight games since losing to Kansas City back in October during Week 7. The road to the playoffs isn't closed yet after this loss, but it doesn't get any easier.