Ricky Stenhouse Jr Wins The 65th Running of The Daytona 500 (2-19-23)
Headline Photo Courtesy: USA Today Sports Network
We start the 65th anniversary Great American Race with a beautiful day full of a lot of anniversary items. The Thunderbirds celebrated their 70th Anniversary with their flyover and did a special show for the fans. They also had a special group of Grand Marshalls. All former Daytona 500 winners and Championship winner combinations. We started the race two by two and everyone seems to be staying in that position with Hendrick's camp leading the packs. Most of the three wide racing is happening in the middle of the pack while the front of the pack is staying in two. Christopher Bell and either Alex Bowman or Kyle Larson and switching back and forth on who is going to lead the race. While Jimmie Johnson and Kyle Busch have made huge progress forward. Ty Dillon has an issue but was able to get off the track. He does have smoke coming out of his pipes, which could mean an engine issue. They did push him behind the wall. They will confirm he will be out for the rest of the race due to an issue with the engine. The Fords were first to hit pit roads with a group of eleven cars to start pit roads sequenced for everyone. The field depended on where they were on the track they went with the group that they could go with to stay with a draft. We saw a huge battle at the front with Bubba Wallace surging toward the front and then a bump draft went completely wrong. This pushed Bubba into the wall. It did not collect anyone else thankfully. So he was able to safely make it to pit road with no issue. We will come down to the last ten laps and it looks like Martin Truex Jr is not going to have any competition. Most of the traffic is angry with AJ Allmendinger as he was working to get the lucky dog, but what he was doing almost wrecked a large portion of the field. That quickly changes as they come up on lap traffic and Brad Keselowski times it just right to make his move forward. He gets to second right behind Martin Truex Jr. This will place him in a prime spot to make a move at the last moment to win stage one. He waits until the last moment on the last lap to make his move to win stage one.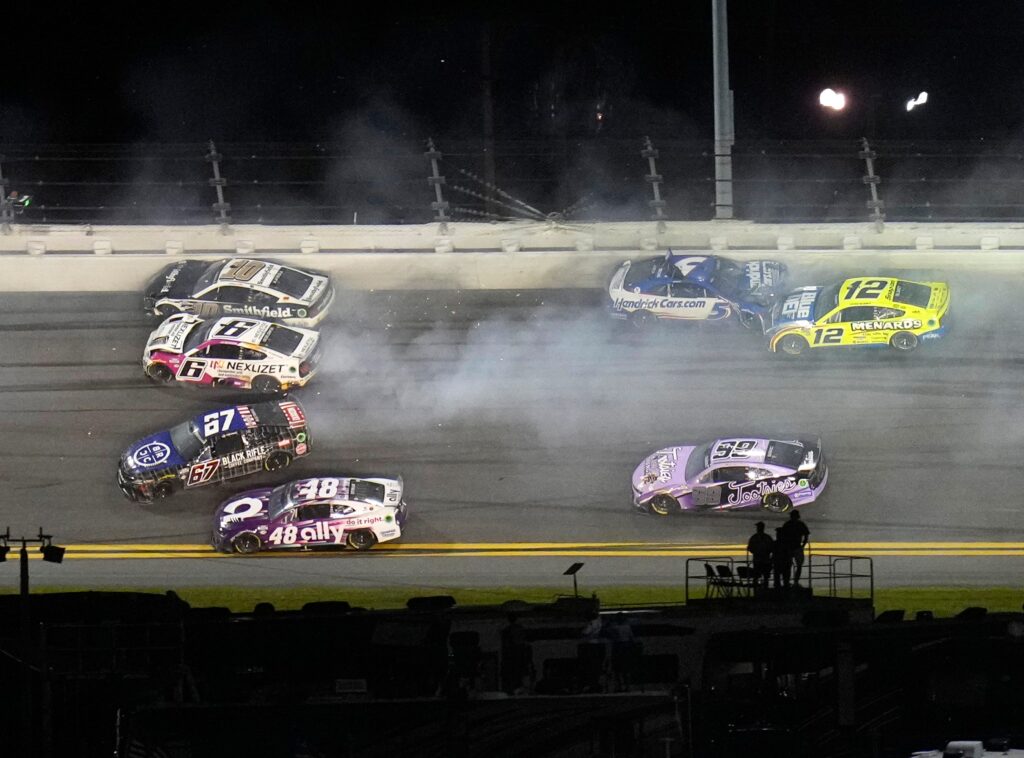 Brad Keselowski will bring us back to the green flag for stage two. Brad Keselowski and Aric Almirola are battling back and forth on who will lead in stage two. We leave the side-by-side car lineup until midway through the field to just one solid lane led by Brad. The outside line is trying to organize but so far it has not had enough luck. Some drivers such as Kyle Busch and Jimmie Johnson had made their way up from the last two starting spots into the top ten. Depending on where they got caught in the draft depended on where they ended up later in making progress. The next big issue will be pit stops as drivers will need to not make mistakes on green flag pit stops. Kyle Busch will be the first one to make a mistake on a pit road too fast pit road. He will have to do a pass-through penalty and will drive down the pit road while the Toyatos get the needed services. With green flag pit stops completed we have three wide racing in sections and that spices the race up a little more in stage two. Kevin Harvick gives Tyler Reddick a bump in the rear as a dump draft and this sends Tyler Reddick into the wall, bringing us our first multi-car crash. This will bring us to a six-lap shootout for the drivers to determine the winner of stage two. Both Ross Chastain and Alex Bowman will push their cars to get everything possible out of them. Leaning on the cars behind them to get the needed push to shove them to lead. Ross Chastain got that final push right when it was needed to get the stage two win by sheer inches. Ross then made a mistake on the pit road by speeding and he will have to pay the penalty.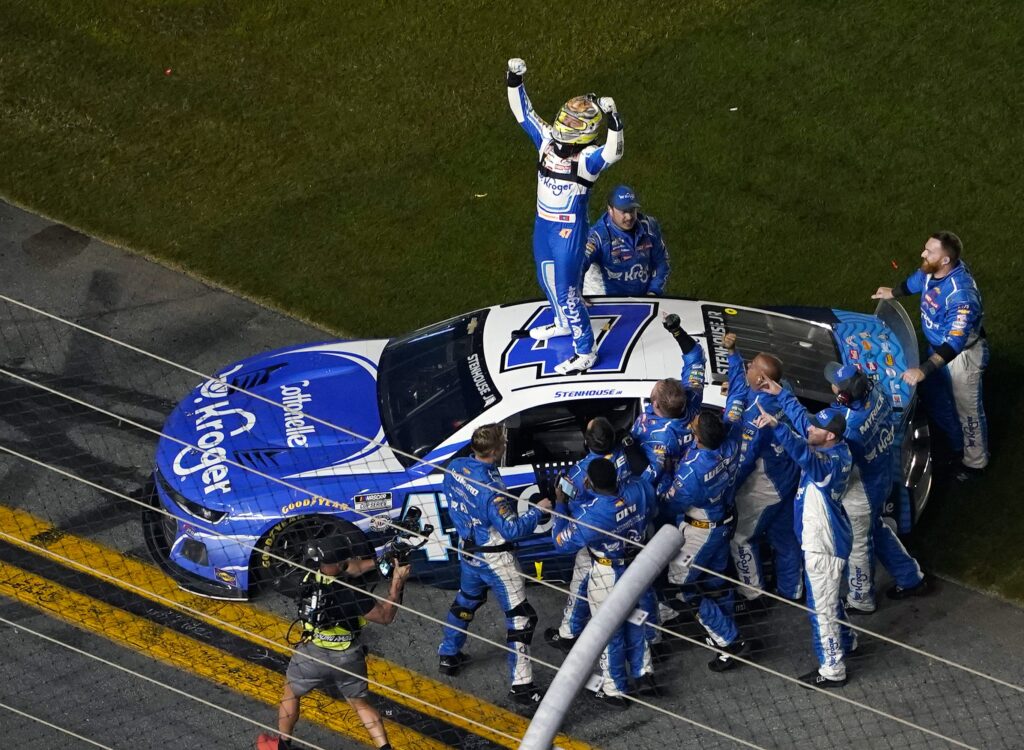 We head back to racing for the third and final stage of racing. We hardly get back to racing and we get a caution due to debris. We get back to racing and drivers do not look backward. That is until we get some back-to-back cautions almost due to on-track accidents. We get things settled down for a fifteen-lap shootout it seems with Kyle Busch taking the lead. That was until Daniel Suarez spins out and sends us into overtime. This of course changes everything! We will get a two-lap shootout with Teammates in the front row. Overtime led to a huge wreck involving multiple drivers. Which lead to another overtime to maybe determine the Great American race. Ricky Stenhouse Jr and Joey Logano go to battle. The white flag is displayed and the field starts crashing behind the leaders. At the time of caution, Ricky Stenhouse Jr is leading the field. He will come to the yellow checkered as our official winner of the Daytona 500.