2023 ACC Women's Tournament: Virginia Tech & Duke Advance To The Semis 
By: Joe Dillard Jr.

Headline Photo Credit: William Howard-USA Today
The first game of the second half of games for the quarterfinals matched up the tobacco road rivalry as both teams went to war you would think as it was a 44-40 win by Duke due to rebounding and defense by the Blue Devils. It's hard to win three in a row and especially when you're the lower seed but this is an example of why the women's NCAA bracket will be filled with talented teams from the ACC as they seem to have all 8 teams that played today in the NCAA tourney regardless of the outcome.
However, this doesn't keep the bragging rights out of the equation as Duke's fourth-quarter 10-4 run proved to be all they needed as UNC went cold all of the fourth quarter after having a lead throughout the game. Guards Elizabeth Balogun (11) and Reigan Richardson (10) both went for double figures in points while only Deja Kelly was in double figures for the Tarheels.
Duke will need more than 44 points to win in the next round however that fourth-quarter closeout effort can stay in a team's bag to hardware whether ACC or National Championship.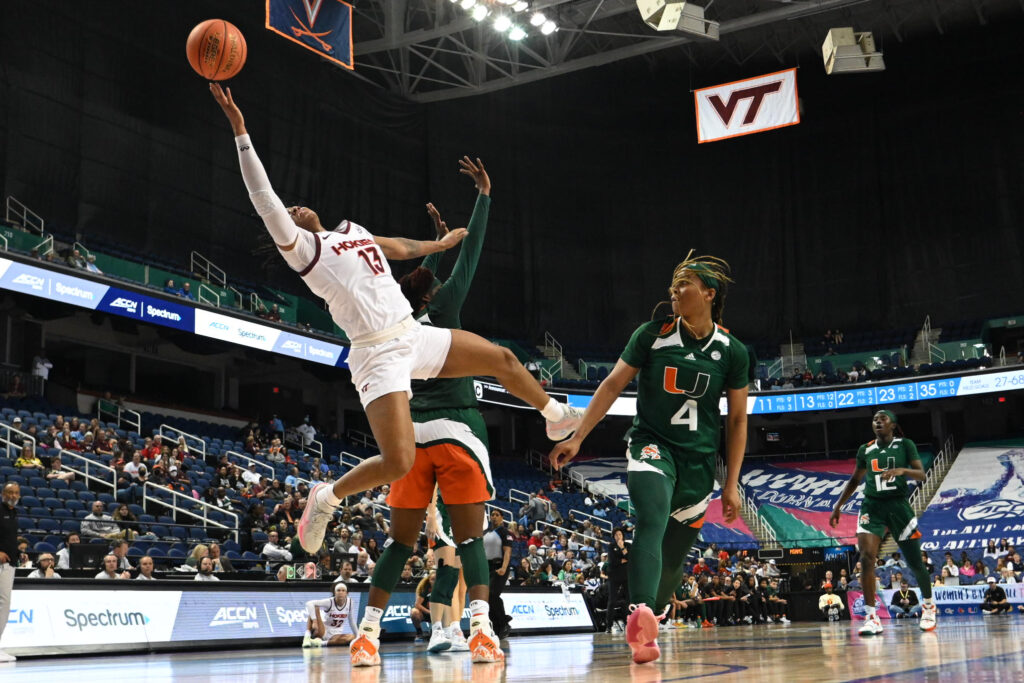 The nightcap final game of the quarterfinal round was a like a metro subway stop where you get two minutes of it and you just know what the result was going to be.  In the first quarter the Hokies came out and went on a 20-5 run for the first quarter just dominating the boards and collecting defensive stops with a trio that might have outdone 4 of the 7 other teams playing in the quarters as Elizabeth Kitley, Taylor Soule, and D'Asia Gregg combined for 44 points (Duke, UNC, Miami, Wake) and 33 rebounds as they cruised by Miami 68-42 with the head of the table Elizabeth Kitley leading the way with 22 points and 10 rebounds. Georgia Amoore had consistent guard play to go along with the front court's dominant performance with 16 points 4 assists and 2 rebounds. 
So what started 5-0 in the first half of the article flipped completed as the higher seeds claim revenge and go 4-0. Duke will take on Virginia Tech at 2:30 pm today as they will see who will earn a chance to earn an ACC tournament championship.