Defenders Fend Off The Vipers To Stay Undefeated (3-12-23)
By: Darrell Owens
Headline Photo Credit: Darrell Owens-LMS Network
WASHINGTON DC-The fourth week of the 2023 XFL finished up this past weekend. In the first game of the week, we saw The Houston Roughnecks defeat Orlando Guardians 44-16 to move to 4-0 on the season. With the loss, the Guardians remain the only team to be winless so far this season. The Seattle Sea Dragons took down the San Antonio Brahmas 15-6 at home for win number two. The St.Louis Battlehawks defeated the Arlington Renegades 24-11 to move to 3-1 on year. Lastly, the DC Defenders took on the St. Las Vegas Vipers in Washington D.C. at Audi Field. DC won the first matchup in Vegas 18-6 and looking to sweep the regular season series.
Just like in the first matchup this season between the Defenders and Vipers it was a rainy affair. Unlike the first contest, DC would start with the early lead. After a Brett Hundley fumble on the first play of Vegas' first possession of the game DC would take advantage of a D'Eriq King 5-yard touchdown run to give the Defenders an early 6-0 lead. Late in the 1st quarter, Bailey Giffen would put Vegas on the board with a 37-yard field to make it a 6-3 game heading into the 2nd quarter.
With 10:42 left in the 2nd quarter, D'Eriq King would score his second touchdown of the game on a 2-yard touchdown run. Then Jordan Ta'amu finds Chris Blair for a two-point conversion giving DC a 14-3 lead. Before the end of the half, Bailey Giffen knocks in another field goal to close the gap 14-6 at the half.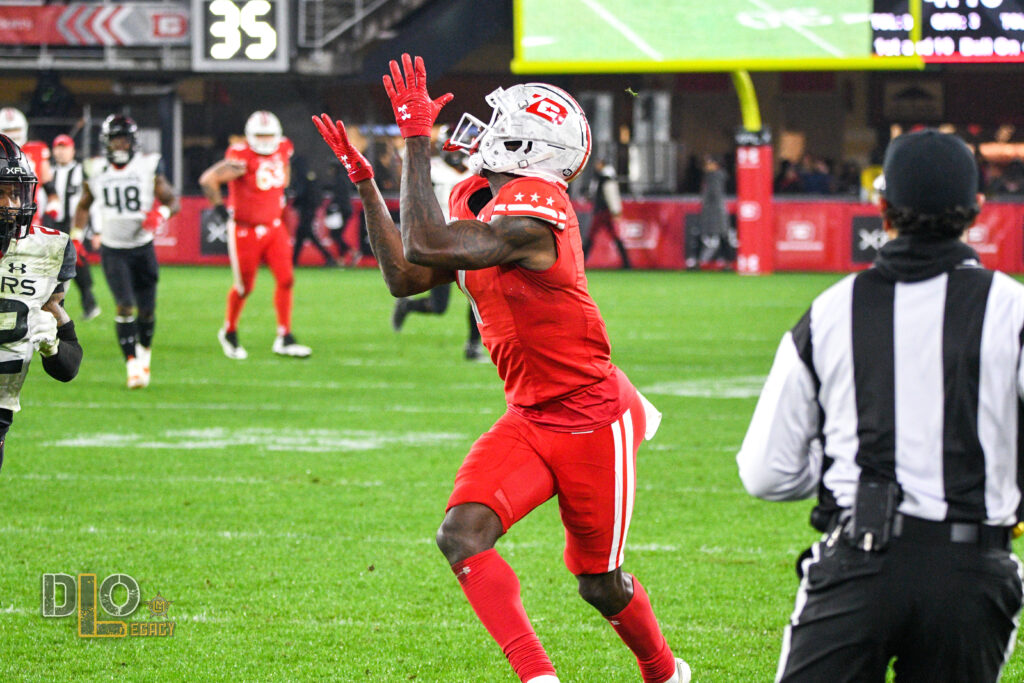 In the 3rd quarter, Defenders kicker Matthew McCrane scored six points on two field goals for DC stretching their lead to 20-6. Early in the 4th quarter, Vegas would get a little closer on a 26-yard touchdown reception from Cinque Sweeting making the score 20-12 after a failed two-point conversion.
The Defenders would add on another Matt McCrane field goal in the 4th quarter and then D'Eriq King would throw a 32-yard touchdown to Jequez Ezzard putting DC up 29-18 late in the 4th quarter. Vegas would get another touchdown and DC knocked in another field to finish the game off and DC would stay undefeated with a 32-18 win over Vegas.
The DC Defenders (4-0) will hit the road to take on the St.Louis Battlehawks (3-1) on Saturday, March 18th at 7 pm from The Dome at America's Center.