Kyle Busch Wins Again, Takes Talladega (4-23-23)
Headline Photo Credit: USA Today
We head to the Super Speedway in Alabama known as Talladega. We had one superspeedway earlier this year with Daytona and a mini superspeedway with Atlanta. Just like the other two races this track is still very unique. Denny Hamlin will bring us to the green flag, but will quickly move backward while Aric Almirola moves straight to the lead. Michael McDowell has something happen to a right rear tire and he spins out on his own. This brings out a caution just with two laps having been run. We get back to racing and Chase Briscoe and Bubba Wallace start trading the lead back and forth. We head into green flag pitstops and Tyler Reddick spun out and thankfully did not do serious damage to his car. So no caution and they were able to bunch back up and get back out. A part of the Chevy team then made it down the pit road without major issues other than a slight separation. The Fords then start coming down pit road and Chase Briscoe spins out and bas a right front go flat to the point he cannot get the car going again. This will bring out another caution. This caution changes everything about this stage. It brought almost all of the drivers who had not pitted to the front and Team Chevy took control of the lanes. Teammates Chase Elliott and Alex Bowman battle back and forth on who will lead the race. Just as we are coming to the end of the stage drivers do try to take it three wide to try to advance positions. However, Chase Elliott will get his first stage win of the season and the first one since being back from his injury.
We start stage two with four pit road penalties and four drivers heading to the back. Denny Hamlin and several others only opted to get fuel and no tires. Denny Hamlin will bring us back to the green flag. The battles will be between Martin Truex Jr, Joey Logano, and even Denny Hamlin. We see mostly two car racing with three wide towards the back. Brad Keselowski did not like how things were going up front with drafting and he went to the back to collect his teammate. The cars will start making pit stops with just under twenty laps to go. As long as cars do not spin the tires this will be a fuel-only stop for pretty much everyone. As one of the groups comes off of the pit road another set is going onto the pit road. Joey Logano will be caught speeding and will have to do a pass-through penalty. This will then trigger three wide even four wide racing as everyone battles for positions on the track coming on and off the track. Joey Logano after doing his pass-through penalty was a lone car and trying to stay on the lead lap, he made the lead pack choose how to get around him or pick him up. It almost looked like Chase Elliott was going to make it back-to-back stage wins. Which has not been done at Talladega. This was not meant to be as at the last moment Aric Almirola pulls out from behind him and squeaked by to win stage two.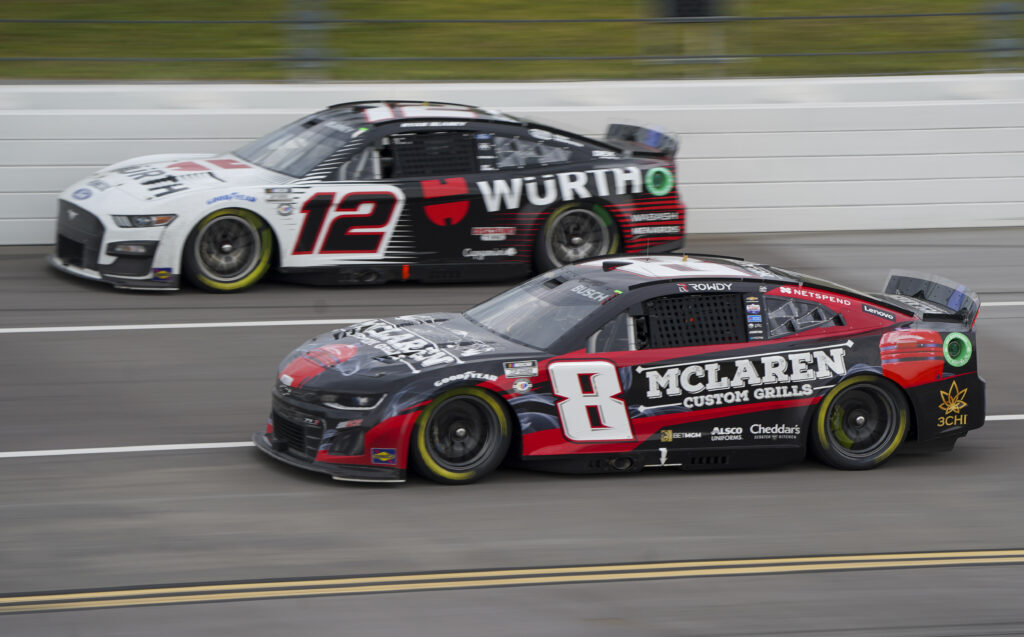 We started stage three with multiple cars not pitting which will once again shuffle the race. This puts Harrison Burton, Ryan Blaney, and Noah Gragson up front. Harrison Burton got bumped one too many times by Noah Gragson and this sent him down to the bottom of the track. The contact looks like the same contact that had been happening for the last several laps. Harrison did an amazing job of keeping himself from getting anyone else. However, other drivers checked up and got caught up in the accordion. Austin Dillon got hit by Zane Smith after Joey Logano bumped him when he checked up. This will send us into a caution right on the bubble for fuel. So drivers are already being told to save as much as possible. A third line is trying to form midway back. They just have not made a lot of forward progress so far. We have seen some close calls that could have easily triggered the big wreck. Joey Logano moves up as he sees a big run coming. Corey LaJoie makes a bump just before what Joey needed and causes a wreck with just roughly five laps to go. We get back to racing and cautions breed caution. There was a lot of movement and three cars at the front. Noah Gragson was able to drive away after hitting the wall from the front. Ryan Preece and Kyle Larson make heavy contact destroying both cars. As we head to the second overtime attempt Ty Gibbs runs out of gas. A lot of drivers are going to be on the bubble to run out if they do not run out. Bubba Wallace and Ryan Blaney were battling and Bubba has been loose with anyone pushing him. Both had to make the moves they made to try to win the race. This sent Bubba Wallace spinning after the white flag had flown. Kyle Busch was ahead of Ryan Blaney and Kyle Busch will get the unofficial win.