Clemson Leads With Seven on All-ACC Preseason Team; UNC's Maye Projected as POTY
From: ACC Communications
GREENSBORO, N.C. (theACC.com) – Clemson leads all programs with seven players on the 27-member 2023 All-Atlantic Coast Conference Preseason Football Team announced on Wednesday.
Florida State followed with four selections, while North Carolina had three picks, including redshirt sophomore quarterback Drake Maye, who was voted the ACC Preseason Player of the Year. Maye was named 2022 ACC Player of the Year and ACC Freshman of the Year.
Duke and Miami also had three honorees on the Preseason All-ACC Team.
The 2023 Preseason All-ACC Football Team was selected via a vote of a panel of 176 media members who were among those who were credentialed for last week's ACC Football Kickoff in Charlotte, North Carolina.
Maye comes off a record-setting season in his first year as the Tar Heels' starting quarterback. He passed for 3,847 yards and 35 touchdowns to go along with 629 yards rushing and six rushing TDs. He is just the ninth FBS quarterback since 2010 to post 3,500 passing yards, 35 passing TDs, 500 rushing yards and five rushing TDs in a season. The Huntersville, North Carolina, native also became the only ACC player in the last 25 years to register at least 300 passing yards and 50 rushing yards in four consecutive games.
Maye led the 2023 ACC Preseason Player of the Year balloting with 88 votes, followed by Florida State quarterback Jordan Travis (66), who was Second-Team All-ACC last season after passing for 3,214 yards and 24 touchdowns and rushing for 417 yards and seven TDs. Clemson running back Will Shipley totaled 17 votes, as six players total received votes for Preseason Player of the Year.
Clemson, which was picked by the media as the likely conference champion in the ACC Preseason Poll released on Tuesday, placed a balanced contingent on the preseason All-ACC team with two players on offense and four on defense in addition to Shipley at specialist.
The preseason team features 10 returning First-Team All-ACC honorees from the 2022 season, including Shipley, who was named Preseason All-ACC at running back, all-purpose and specialist. He also was named First-Team All-ACC in all three categories last season, becoming the first-ever player to earn first-team honors at three positions. Shipley rushed 210 times for 1,182 yards and 15 touchdowns last year. He also racked up 38 receptions for 242 yards and averaged 24.9 yards per kickoff return.
Syracuse's Oronde Gadsden II earned the nod at tight end after hauling in 61 passes for 969 yards and six TDs during his All-ACC campaign in 2022.
Florida State defensive end Jared Verse registered 17 tackles for loss and nine quarterback sacks during the regular season. Clemson's Tyler Davis also was a First-Team All-ACC pick last year at defensive tackle after piling up 9.5 tackles for loss, including 5.5 sacks.
North Carolina's Cedric Gray totaled an ACC-leading 145 tackles last season, including 12.0 for loss, and was a first-team selection at linebacker in 2022.
NC State cornerback Aydan White played the most coverage snaps (482) in the nation without allowing a touchdown last season, according to PFF. He ranked second in the ACC in interceptions (four). Miami safety Kam Kinchens was the ACC's leader in interceptions with six last season.
2023 Preseason All-ACC Football Team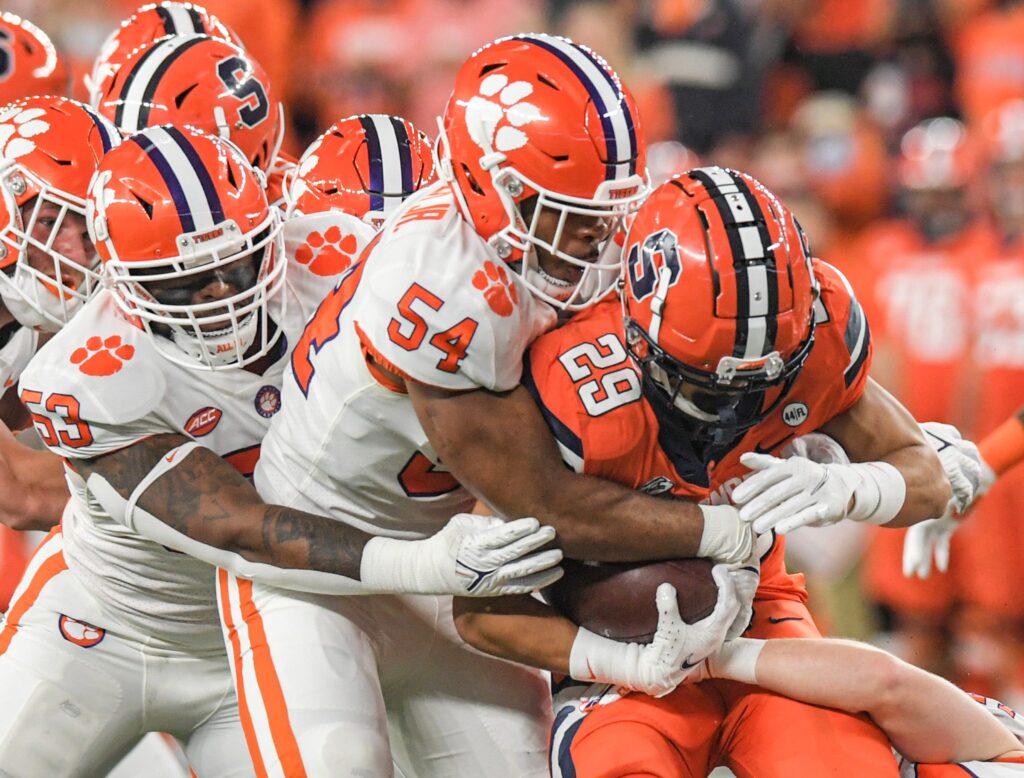 QB: Drake Maye, North Carolina (107)
RB: Will Shipley, Clemson (169)
RB: Trey Benson, Florida State (125)
WR: Johnny Wilson, Florida State (117)
WR: Tez Walker, North Carolina (51)
WR: Jalon Calhoun, Duke (49)
TE: Oronde Gadsden II, Syracuse (89)
AP: Will Shipley, Clemson (105)
OT: Graham Barton, Duke (110)
OT: Matt Goncalves, Pitt (58)
OG: Christian Mahogany, Boston College (101)
OG: Javion Cohen, Miami (69)
C: Bryan Hudson, Louisville (56)
DE: Jared Verse, Florida State (136)
DE: Donovan Ezeiruaku, Boston College (58)
DT: Tyler Davis, Clemson (124)
DT: DeWayne Carter, Duke (97)
LB: Jeremiah Trotter Jr., Clemson (132)
LB: Cedric Gray, North Carolina (109)
LB: Barrett Carter, Clemson (87)
CB: Fentrell Cypress II, Florida State (88)
CB: Aydan White, NC State (85)
S: Kam Kinchens, Miami (117)
S: Andrew Mukuba, Clemson (46)
PK: Andres Borregales, Miami (70)
P: Daniel Sparks, Virginia (54)
SP: Will Shipley, Clemson (68)
Preseason Player of the Year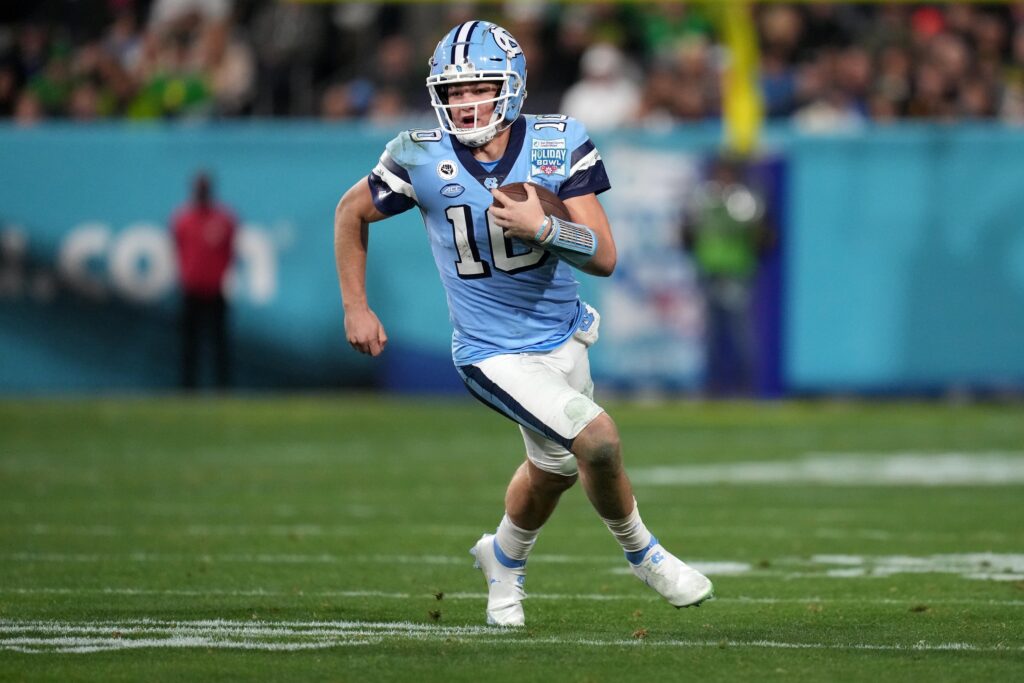 1. Drake Maye, QB, North Carolina (88)
2. Jordan Travis, QB, Florida State (66)
3. Will Shipley, RB, Clemson (17)
4. Jeremiah Trotter Jr., LB, Clemson (3)
T5. Riley Leonard, QB, Duke (1)
T5. Tyler Davis, DT, Clemson (1)
Votes in parentheses
176 media voters