2018 MLB All-Star Game Starting Lineups Projection 2.0
By:Darrell Owens
The 2018 MLB season continues to have the baseball faithful and new fans standing on their feet. Since my last article things have become a little bit more clear in the 2018 MLB season and some teams are starting to show that they are for real, here is my breakdown as of June 6th, 2018. The Seattle Mariners (38-22) are in first place in the AL West over defending World Series Champs, the Houston Astros (37-25) and are led by James Paxton "The Big Maple", who threw a no-hitter last month vs the Blue Jays in his home country of Canada. The Atlanta Braves are still the surprise team of Major League Baseball (36-25) they lead the NL East by 1-game over Max Scherzer and surging Washington Nationals (34-25) who have won seven out of their last 10 games. The Yankees (39-18) and Red Sox (42-19) are still a top of The MLB & the AL East, Red Sox hold 1-game lead over the Yanks despite having their best player and early AL MVP candidate Mookie Betts on the DL as of now.
The AL Central finally has a team with a record over .500, the Cleveland Indians, who are 31-28 on the season, led Corey Kluber who's having another "Cy Young" type season for the Indians posting a 9-2 record and a 1.96 ERA. The Milwaukee Brewers (37-24) had a great off-season with the additions of outfields Christian Yelich & Lorenzo Cain (both 7 Home Runs Respectively) and that great off-season has turned into a great regular-season as they hold on to the lead in the NL Central by two games over the Chicago Cubs (33-24). Now we've seen this story before from the Milwaukee Brewers, starting the season off hot and then cool off, but the question is can they finish.Last, but not least the NL West, which is the tightest division in baseball with all of the teams within 5 games of the leading, Arizona Diamondbacks (32-28), who have flip the Lead in the division back-and-forth with the Colorado Rockies (31-29) and of course I have to mention the LA Dodgers (30-30) who are finally playing solid baseball.
Now we are one month away from the 2018 MLB All-Star Game in Washington D.C. at Nationals Park. The excitement here in the DMV (DC,Maryland,Virginia) area for the 3-day MLB extravaganza from July 15-17 is through the roof! Last month, I did my first projected MLB All-Star Games Line-ups, now going to give you my picks for both all-star teams after 58+ games in the 2018 season. I base my decisions on both Hitting/fielding rankings. There are a few new players on the list this time around.
AL All-Star Starting Lineup (After 58+ Games)
Pitcher
Corey Kluber-Indians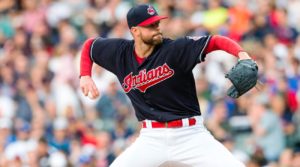 Catcher 
Wilson Ramos-Rays
1st Base 
Jose Abreu-White Sox
2nd Base
Jed Lowrie-A's
(Jose Altuve Of The Astros will probable get this spot, but Lowrie is 1st in Fielding % and 2nd in Batting avg for AL 2nd Basemen)
3rd Base
Jose Ramirez-Indians
(Mike Moustakas Of The Royals could get this spot being 1st Fielding % and 5th in Batting Avg for AL 3rd Basemen, Ramirez is in 2nd Fielding & 3rd Batting Avg)
Shortstop
Manny Machado-Orioles
(Jean Segura of the Mariners will make a run at this spot leading AL Shortstops in Batting Avg, but Machado has been to dominate this season)
Left Field
Michael Brantley-Indians
Center Field
Mike Trout-Angels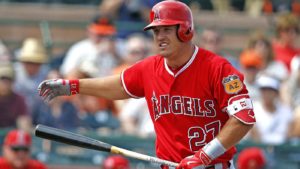 Right Field
Mookie Betts-Red Sox
(Nicholas Castellanos Of the Tigers should have this spot base on being 1st in Fielding % and 2nd in Batting Avg for AL Right Fielders, But Betts is having an AL MVP type season and is too good to ignore plus he has lead the Red Sox to best Record in MLB)
Designated Hitter
Matt Davidson-White Sox
NL All-Star Starting Lineup (After 58+ Games)
Pitcher
Matt Scherzer-Nationals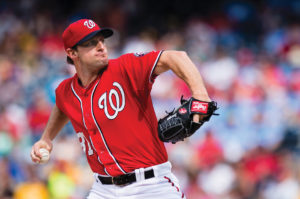 Catcher 
Buster Posey-Giants
1st Base 
Freddie Freeman-Braves
2nd Base
Scooter Gennett-Reds
(Asdrúbal Cabrera of the Mets is 2nd Batting Avg & 3rd in fielding %, he will be a player to watch but Gennett batting .344 on the season in 6th in Fielding)
3rd Base
Nolen Arenado-Rockies
Shortstop
Brandon Crawford-Giants
Left Field
Corey Dickerson-Pirates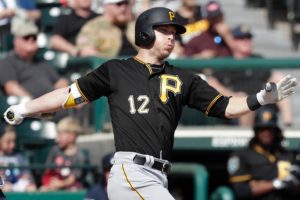 (Matt Kemp of the Dodgers is having a throwback season this year leading in Batting Avg for NL Left Fielders, nevertheless Dickerson is 2nd in Batting Avg and 1st in Fielding %)
Center Field
Albert Almora Jr.-Cubs
(Odubel Herrera of the Phillies will make this a close battle till the end 5th in Fielding and 2nd in Batting Avg for Centerfielders, Almora Jr is 1st in both)
Right Field
Nick Markakis-Braves
(Bryce Harper will challenge for this spot because the game will be in D.C. and his Power hitting is amazing, but Markakis is 1st in Batting Avg & 2nd in Fielding %)
Check back with LegacyMaker Sports Blogs right before the selection of the team for my final projection 2018 MLB All-Star Starting Lineups…Thanks for stopping by!