By:Paul Scofield
1. Phoenix Suns –
Deandre Ayton (Freshman), Arizona, Center
I don't think there's much to really think about here.  The only other player I like at 1 is Luka Doncic; however, Phoenix already is overloaded with guards so that pick wouldn't make much sense.  At 7'1" and averaging 20.1 ppg and 11.6 rpg, I think he's about as close to a sure thing as you can get at a big man position.
2. Sacramento Kings –
Luka
Doncic
, International, SG
Doncic has great size and skillset as a guard in the NBA.  He's going to come in and be an immediate starter and impact player regardless of where he's destined to go, which shouldn't be any lower than 2 overall.  He's a 6'8" shot-creator and can also make shots consistently.  He's, in my opinion, a win-win type player.
3. Atlanta Hawks – Marvin Bagley III (Freshman), Duke, PF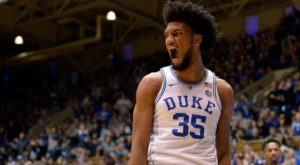 I think every mock in the journalist world has these 3 as top picks in the draft.  Marvin Bagley could have easily gone 1 overall, but I don't think he has the ceiling that Ayton has or the overall guaranteed talent Doncic has.  Not taking anything away from Bagley of course, he's a great player and a pristine NBA prospect.
4. Memphis Grizzlies –
Mohamed
Bamba
(Freshman), Texas, PF
I have Bamba going anywhere between 4 and 7 to Chicago.  I'm hoping he drops to Chicago, as a fan, but I don't think Chicago is going to get that lucky.  This man has a 7'9" wingspan, which could come as close to dominating on the boards as we've seen in recent NBA history.  He's fully capable of doing so.  I believe his ceiling is 4, just because he's probably not going to come in and be a starter.  That's not how the NBA works for the most part though, so there's a high possibility that he's molded into an All-Star.
5. Dallas Mavericks –
Michael Porter Jr (Freshman), Missouri, SF
Anyone see a trend of the class?  A lot of freshman being drafted very high.  I think Porter is the biggest gamble in the draft since he was so highly recruited and was hurt a majority of the season.  This really all depends on what doctors say honestly.  I'm going on a limb here and saying he's clearing all physicals and tests, meaning Dallas is going to have a smaller, more athletic version of a state-of-the-art Dirk.  Exactly what Dallas fans want, since Dirk may not be immortal afterall.
6. Orlando Magic –
Jaren Jackson Jr (Freshman), Michigan State, PF
There's so many mixed emotions when it comes to Jackson.  I like him, others don't.  He averaged just 21.8 minutes in college and was often limited because of foul trouble.  On the brighter side of things, he's a freak athlete and shot about 40% from 3pt land.  He's very physical, which could be extremely valuable at the next level.
7. Chicago Bulls –
Wendell Carter Jr (Freshman), Duke, PF
Yes, yet another Freshman big man.  Carter strived as Bagley was injured at Duke last year.  And He didn't seem to be bothered when he came back.  He was my favorite player on that highly talented team, whether Bagley was more talented or not.  He averaged 13.5 ppg, 9.1 rpg, 2.1 bpg and 2 apg in 26.9 minutes.  Those are pretty solid numbers for a player that wasn't a top option on his team.  He needs to approve his footwork and speed, but those are fixable in the gym.
8. Cleveland Cavaliers –
Trae Young (Freshman), Oklahoma, PG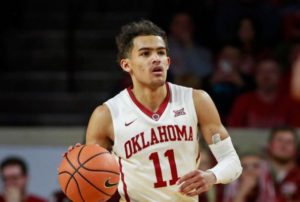 I don't  like Young whatsoever, like several other scouts and analysts.  However, there seems to be mixed feelings overall on him, seeming as there's also a lot of people who are in love with him.  His shot selection is questionable, but he's a shot creator and is fully capable of putting points on the board, something Cleveland is severely lacking outside of LeBron James.  I think Young fits Cleveland perfectly.
9. New York Knicks –
Mikal Bridges (Junior), Villanova, SF
Averaged 17.7 points and 5.3 rebounds while shooting 42.5% from 3pt land in 32.1 minutes on a National Championship winning team.  Those are amazing numbers considering the style basketball they run and the talent they had on that team.  He's going to help turn a franchise around, just not by himself.  I'm not sure if there's a player in the world, not name LeBron James, that could turn the Knicks into a playoff team immediately.  He can guard multiple positions and is already comfortable shooting "pro-level" shots.
10. Philadelphia 76ers –
Collin Sexton (Freshman), Alabama, PG
At this point of the draft, you take BPA (best player available).  There's really no other player to consider other than Sexton.  People have him going to Cleveland at 8, which would be great for them if Trae Young is off the board.  He's fast, quick off the ball and extremely aggressive.  He averaged 19.2 points, 3.8 rebounds and 3.6 assists in 29.9 minutes and lead Alabama to a tournament berth.  I believe this is a no brainer, even though Philadelphia doesn't necessarily need another guard.