NFL's Break Out Pass Rushers 2017!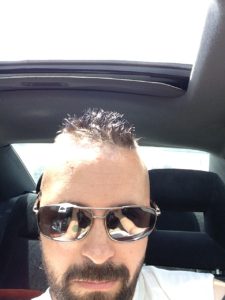 By: Jay Quimby
Robert Nkemdiche-Arizona Cardinals
With the lost of Calais Campbell, the Cardinals lose 8 sacks and 56 pressures. They need the former first round pick to step it up, he only played 82 snaps in his rookie year. Now that Campbell has moved on its his time to shine. The former 5 star #1 overall recruit has all the physical tools you need. There was talk of him being the #1 overall pick in the NFL Draft on just talent but he has some character concerns. This caused him to slide to the 29th pick in the draft to the Cards. Bruce Arians is know for taken in troubled youth and turning them in to stars (Tyrann Mathieu). If he can work his magic, Robert could be the steal of the draft.
2017 predictions- 59 tackles, 7.5 sacks
Shaq Lawson-Buffalo Bills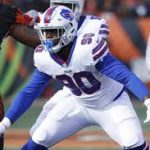 Lawson Could have been a first round pick, but durability was a huge question. Well the "Clemson Curse" hit again before OTA's. He missed the first six weeks and was slowly worked into the scheme, finishing with 2 sacks and 12 pressures. Lawson achieved all this while playing less than 44% of defensive snaps. So if he can stay on the field he could potentially get double digit sacks.
2017 Predictions-44 tackles, 6.5 sacks
Shane Ray-Denver Broncos
Ray is coming off part-time duty behind the great Demarcus Ware. Where he finished with 8 sacks. If that is his stat in part-time work, would it be safe to say Pro Bowl??!! In This defense your already planning for Von Miller on one side and now Ray on the other!!! Now the Broncos need to figure out their QB situation and I believe a playoff run is not out of the question.
2017 Predictions-50 Tackles, 15 sacks
Kenny Clark-Green Bay Packers
In 2013, the Packers drafted UCLA DE Datone Jones in the first and lets just say he is no longer on the the team. Then again in 2016 they draft DE Clark from UCLA. Fans started thinking here we go again!!! Being a late first rounder, he didn't see much of the field till later in the season. In the final 7 games, he went from averaging 8 snaps a game to 25 snaps. He had 17 QB pressures. He's yet to record a sack but he will have more snaps and a much larger role. Coach McCarthy sees using him in a hybrid role, so weather with his hand on the ground or standing up, Clark will make an impact.
2017 Predictions-38 tackles, 9 sack
John Simon-Indianapolis Colts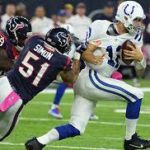 This is his chance to shine, Simon coming out of Ohio State was underrated when it came to his pass rushing abilities. While with the Texans, he learned from the likes of JJ Watt & Jadeveon Clowney. In two straight years in a situational role, he averaged 50 tackles  and 8.5 sacks along with 53 pressures. Well that production convinced the Colts to give him 13.5 million with 5.5 guaranteed. So only time will tell what the future will be for Simon.
2017 Predictions-110 tackles, 11.5 sacks
Noah Spence-Tampa Bay Buccaneers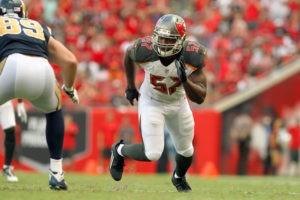 Spence was blocked on the depth chart by Robert Ayers along with fighting a shoulder injury all year long, we did not get to see a full product. In November, with injuries to the starter, Noah recorded 2.5 sacks and 2 forced fumbles, getting rookie of the month honors. He finished his rookie season with 5.5 sacks wit 40 pressures, while play less than 50% of the snaps. Now fully healthy and more snaps, will Tampa get it first double digit sack man since the great Simeon Rice graced the field. I believe so!!!
2017 Prediction-54 tackles, 13.5 sacks
Thanks for reading!!! for more great sports videos and articles go to www.legacymakersports.com & www.legacymakerblogs.com