Giancarlo Stanton: The $300 Million Dollar Man
By: Adam Falls
Giancarlo Stanton turn many heads while playing baseball at Notre Dame High School in Sherman Oaks, California,enough so, that he was selected by the then Florida Marlins in the 2007 MLB Draft. In June 2010, Staunton finally got the call to the big show. In 2014, the four-time All-Star, Hank Aaron Award winner and Home Run Derby Champ was signed to the richest contract in sports history, worth $325 million over 13 years.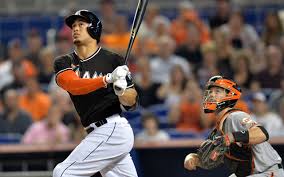 As of August 28, Stanton leads the league this year with 50 home runs. His 50th came on August 27th. The first person with 50 in a season since Chris Davis in 2013. He has a very strong possibility of hitting 60. The last person to hit 60 in a season was Sammy "say it ain't" Sosa in 2001 when he hit 64. He also will be a strong candidate for the Hank Aaron Award and MVP for the National League this year. He has 258 home runs in his career along with 648 RBI's. Stanton was also a member of team USA in the 2017 World Baseball Classic in which they won the Championship over Puerto Rico. His previous career high in home runs is 37 which he hit in 2012 and 2014. If he reaches 60 this year he will destroy his career high by 23 homers.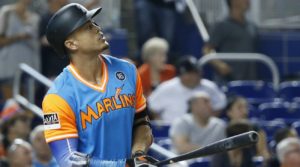 If Stanton can stay healthy he has a shot of breaking the all-time home run record of 762 career home runs set by Barry Bonds. Stanton would need to average 33 home runs over the next 15 seasons, which would make him 42 years old. David Ortiz of the Boston Red Sox hit 30 home runs at age 40 in 2016, so its possible. Only time will tell, but Giancarlo Stanton is definitely a player to watch for the next 10-15 years.