Resiliency: Virginia State sneaks past Virginia Union in The Battle of I-95!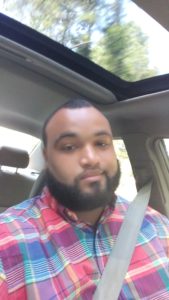 On Saturday, November 4, 2017 for those who witnessed the instant classic between the Virginia Union Panthers and the Virginia State Trojans at Rodgers Stadium they know that respect is not given its earned. The Virginia State Trojans earned that and a 9-0 record, winning against their I-95 rivals 40-39.
Senior Day started out with a pop for the host team, scoring the first two touchdowns of the game and looking like the better team. Union, however, would fight back and make this is tight game cutting the deficit to 21-17 right before the half.
The Trojans took the field with a little less than a minute, the Trojans completed a long pass down the sideline setting up a short two-yard run by Virginia State's new all-time leading rusher Trenton Cannon leaping over Ray Lewis III with no regard for his body, putting the Trojans up 28-17 at halftime.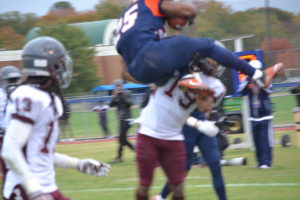 The Trojans came out flat in the third quarter however, allowing the visiting Panthers to score 22 unanswered. The weirdest play of the day came when the Trojans had a horrible snap on the punt, the punter hit the ball off the side of his foot and hit Panther Sterlin Hammond right in the chest on a sprint going in 15-yards for the walk in touchdown.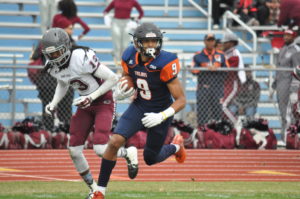 This touchdown occurred with 3:38 seconds left on the clock in the third frame, the Panthers sideline could be heard screaming Union loudly as they held a 39-28 over the undefeated Trojans. This would be the last celebrating that the Union Panthers would be doing for the rest of the night. The Trojans would score on their next drive less than four minutes later making this contest 39-34. Panthers quarterback Darius Taylor had a great game going 25-45 for 300 yards and 4 touchdowns. He also had three interceptions and one of those interceptions came late in their own territory.
The Trojans would waste no time only taking four plays to go 14 yards getting the go ahead running touchdown by Cannon, putting the Trojans up for good 40-39 and helping secure a birth In the CIAA Championships November 11, 2017 in Salem Virginia.