LMS Network's Paul Scofield's NFL Top 10 Mock Draft 1.0
By:Paul Scofield
Here is my top 10 NFL Mock Draft. My final mock will be out before Thursday's first round! Enjoy!
1. Browns – Saquon Barkley, RB, Penn State
I have been on this pick since day 1.  He solidified my #1 overall pick prediction at the combine.  I don't think there's a chance Cleveland goes any other route here, if they didn't trade for Tyrod Taylor, then I would have probably gone with Darnold here.  Hue Jackson and company are in a "win now" mindset, and by that, I mean win 5 or more games to show he's improving the team in order to keep his job.  Carlos Hyde can't handle the workload he's going to receive from Cleveland, however, a combination of Hyde and Barkley could be deadly.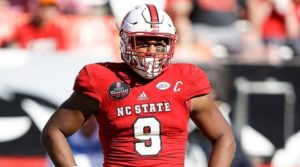 2. New York Giants – Bradley Chubb, Edge, NC State
Okay, here comes the scrutiny.  Hear me out.  New York already has a talented defense; however, they've lost the heart of JPP.  You have a chance to replace him with another franchise talent at edge with Chubb sitting right in front of you.  There's no baggage behind him and all the talent in the world.  I wanted to see him go to Cleveland at 4, but I just don't see him sneaking passed the Giants here.  Darnold is still on the board, and that's the only other option they have at this point.  With Darnold available, Gettleman's phone should be ringing nonstop after Cleveland passes on him.
3.
New York Jets – Sam
Darnold
, QB, USC
Not a chance that Darnold makes it to 4.  That would be a dream come true for Cleveland.  This pick should be in within 30 seconds of being announced on the clock.  It's a no brainer here, the reason why NYJ moved up is because they need a qb.  They have their choice of having whatever quarterback they want in the class, and Darnold is the silver lining of the draft class at the position.  
4.
Cleveland Browns
–
Minkah
Fitzpatrick, DB, Alabama
I honestly don't think Cleveland stays here to pick Minkah.  I'm not buying them drafting a quarterback in the 1st round either.  With the qb class only down 1 player right here, there's several qb hungry teams that would give Cleveland everything they'd ask for and more.  Especially since Denver drafts next and they're probably taking a qb at this point.  If Cleveland decides to stay here, I see them taking 1 of 3 players.  Minkah is the top candidate.  The others are Quenton Nelson (which I don't think will happen at 4) and Josh Allen, IF Cleveland decides to go quarterback.
5.
Denver Broncos – Josh Allen, QB, Wyoming
Denver has been successful with pocket passing, smart quarterbacks.  Since Darnold is gone, the next best is Allen.  He's a big arm, pocket passer.  He's probably the best option for Denver, regardless if Darnold is available at 5 or not (which he won't be).
6.
Indianopolis
Colts
–
Quenton
Nelson, OG, Notre Dame
Look, Andrew Luck was one of the best quarterback prospects to come out of college.  A Stanford graduate, smart as you can imagine and a big armed, pocket passing, mobile quarterback that's accurate.  You know what happened after that?  Zero pass protection happened.  Ever since the Colts drafted Luck, he's been hit.  He could be sitting on the sidelines in street clothes, and the blitzing linebacker would hit him.  It's been insanely ridiculous since he's been drafted.  Something has to change, and fast, or we will never witness Luck being great in the NFL.  Quenton Nelson is going 6th overall in the draft this year, you can book that!
7.
Tampa Bay Buccaneers
–
Derwin
James, S, FSU
I'm going to catch some criticism for this one too, but I think this is a perfect fit.  I was back and forth between James, Denzel Ward and, surprisingly, Roquan Smith (I'm in love with the LB from Georgia).  Tampa Bay has a chance to get scary good, scary fast during this 3 days of drafting.  This pick brings in an immediate impact player within the secondary of a defense that already has added a stout interior pass rush by adding Vinny Curry and JPP.
8.
Chicago Bears – Denzel Ward, CB, Ohio State
This is a "look what fell onto my lap" pick.  Chicago needs very little things after adding some impact players on offense.  They've been solid on defense already, but adding a theoretical "shutdown cornerback" is HUGE for this team.  Everyone is hollering about San Francisco and how good they're going to be, but don't sleep on Chicago.  I don't think they're going to be good enough to win their division, but they could absolutely steal a wildcard spot this season.
9.
San Francisco 49ers – Roquan Smith, LB, Georgia
If this pick doesn't happen, Smith comes off the board at 10 with Oakland.  With rolling the dice on Rueban Foster last year all but backfired on them, Smith is the safest LB pick I've ever seen.  He's going to come out and do 1 of 2 things.  He's either going to come out and ball out and win DROTY and earn All-Pro honors, or be a 3-down starter for 10-14 seasons with a few Pro Bowl seasons.  It's basically a win-win pick here for the Niners.
10.
Oakland Raiders – Vita
Vea
, DT, Washington
A lot of teams in the top 20 are drooling at the chance to scoop this guy up.  A big body that can move is a great addition to any team.  This is a perfect scenario for both Vea and Oakland's DC Paul Guenther.  I believe it's a match made in heaven.
Remember to check out my last mock for 2018 NFL Draft in the next couple of days!