North Carolina vs Duke: A New Chapter Begins (2-20-19)
By: Paul Scofield
Headline Photo Credit: ACCSports.com
This is one of the most prestigious rivalries in all of sports. There are very few college rivalries that you can put up there with the likes of Yankees/Red Sox, Celtics/Lakers, Frazier/Ali, Packers/Bears, etc. This is one of those rare matchups that ranks with the "big boys." Just about everyone that I've talked to has said they look forward to this matchup 2 or 3 times a year. I'm no different, and neither are you.
As I sit here with my coffee in my UNC cup on my UNC coaster, pop tart on my UNC plate and sitting next time my 2017 National Championship UNC autographed basketball, it's extremely difficult to actually write a legitimate preview of this game. There are 2 schools that I can't stand, and being a UNC fan, you probably already had guessed that those 2 schools were Duke and Kentucky.
The distance between two shades of blue, hatred and a county line. The distance between a Stadium and a Dome. The distance between 11 NCAA Men's Basketball Titles, 36 Final Fours and 50 ACC Championships. The distance between Jordan and Lind, Jamison and Laettner, Hansbrough and Reddick. The distance between Capel's half-court shot, the Stackhouse dunk, and the Rivers' dagger. 10 miles is that distance. The distance between college basketball's fiercest rivalry, the distance between Duke and Carolina. The distance between greatness … and greatness. 10 miles separates these schools. This is the Tobacco Road Rivalry ladies and gentlemen.
Let's take a step back and look at the rivalry history for a moment, just in case someone reading this is oblivious to just how big this one is. Their first matchup was on January 24, 1920. UNC beat Duke 38-25. UNC also leads the rivalry with a 137-111 record and also holds the longest winning streak within the rivalry at 16 games (1921-1928). Since the 1949-50 season, UNC has scored 13,581 points and Duke has scored 13,559. A difference of just 22 points over 179 games, or 0.1 per matchup.
The Duke Blue Devils are 9.5 point favorites to win this evening. That's not a surprise seeing they just climbed to the #1 spot in the AP poll and their playing at home. However, that doesn't necessarily mean much in college basketball, let alone this rivalry. When these teams play, records and rankings go on that back burner. That's why I'm very curious about how these young Freshmen are going to react to the atmosphere. Zion Williamson, Cam Reddish and RJ Barrett for Duke. Coby White and Nassir Little for UNC. Luke Maye has been here plenty of times before, so expect him to be big in this one.
The Duke Blue Devils Freshman trio led team is 23-2, #1 in the country and the ACC. They've beaten UVA twice, something UNC was unable to do at home last week. They blew out Kentucky, something UNC was unable to do early in the season. However, Duke lost to the Zags, a team that UNC beat. Williamson and Barret are projected to go 1 and 2 in the NBA draft in a short few months. They're both averaging 22 ppg and RJ Barrett just recorded Duke's 5th triple-double in school history. The team is playing good defense as well, ranking 52nd in points allowed with 66.1, giving them a +20.3 ppg average margin this season.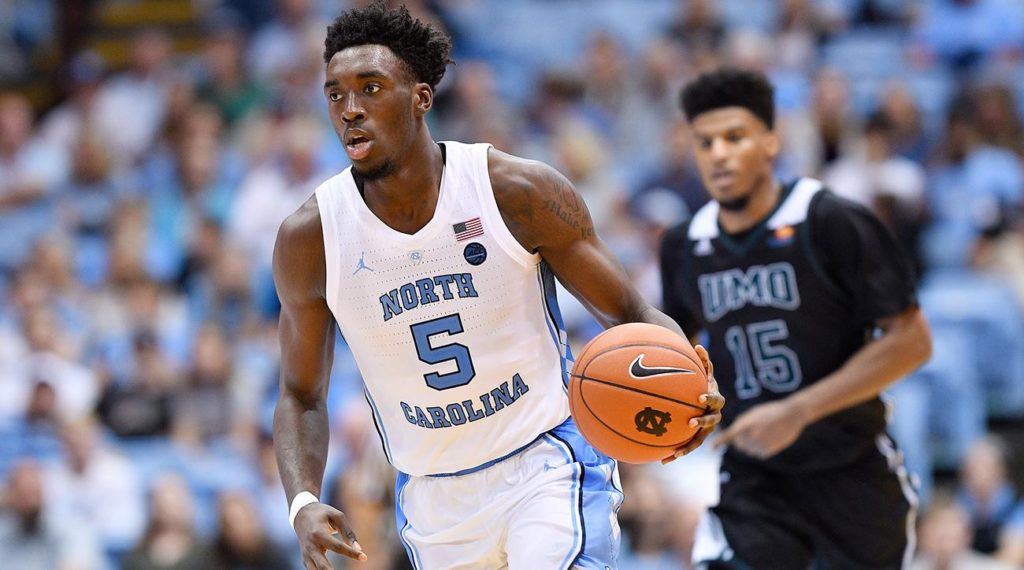 The North Carolina Tar Heels are one of three teams that rank higher offensively than Duke at 2nd in the nation with scoring 87.5 ppg. The defense, however, has been bad all season. They rank towards the bottom of the nation at 229 with allowing 73.3 ppg. Over their last 14 games, they've played great going 12-2 over that span, losing to UVA and Louisville, both at home. They came back over that same stretch of 14 games to beat Louisville 79-69.
I'm assuming Roy Williams lets Nassir Little play to favor Zion Williamson or RJ Barrett on defense. If that happens, Nassir has to play a flawless game for UNC to pull this upset off. Nassir Little did go down with a leg injury early in the game against UVA, but Roy Williams says he's feeling fine and he's okay to go against the Blue Devils. In order to beat Duke this evening, Carolina HAS TO focus on the containing of at least one of the big 3, and that one has to be either Barrett or Williamson. That would take away roughly 15-20 point of the offense, and Duke has that +20.3 margin so that would be huge if it were to happen.
The key point for Duke to win this game is to keep Coby White away from the basket and keep Carolina from getting offensive boards for second-chance points. That's something UNC has struggled with surprisingly this season. It's never been a problem with Roy Williams led teams, but with the lack of a true big man this year, it's been a problem for them.
Now, with this all being said, I'll be giving my prediction and reasoning to why this is going to happen. I believe Duke wins. As much as that pains me to say, I believe Duke pulls it off by roughly 5 points tonight. I think they lead much of a close game and don't give up the lead. I don't think Zion or Barrett will allow Nassir Little to contain them and both score 20+ at home. I said at the beginning of the season that Duke and UNC will split the season series and meet again in the ACC tournament. I still hold true to that belief 5 months after I made the statement. Duke wins 81-76 today.