Redskins offensive woes continue, Vikings win 19-9 (10-24-19)
By: Drew Willingham
Headline Photo Courtesy: Washington Redskins
After starting the year with five straight losses and firing their head coach, most of the people amongst the football world wrote this game off as another loss for Washington. Expecting the game to turn in to a blowout, it seemed as if the Redskins were destined to reach their seventh loss of the season. Heading in to this game with interim coach Bill Callahan, Washington was 1-1 with a defensive line that has been steadily improving under the new regime. With that said, this game would be different than what we all anticipated. The hype was around Case Keenum and Adrian Peterson returning to Minnesota to face their former team after having much success in their time with the franchise.
Washington traveled to Minnesota to take on the Vikings and former Redskins Quarterback Mr. "You like that!" Kirk Cousins, who has had his own struggles throughout the first half of this season. The Vikings were 5-2 coming in to the Week 8 contest, but had a struggling offense the first 5 weeks that lead to some turmoil throughout their locker room. Coming off of two straight weeks with stellar offensive production, the Vikings still had plenty to prove to themselves and the critics who frowned upon their dismal start to the year.

The first half would set the tone for this game as it was a battle of the defenses, as well as a challenge for the quarterbacks of both teams to ensure no turnovers for their offenses to give the other team the upper hand. Both quarterbacks played very safe for the most part during the first half, relying on their defenses and their running backs to keep them in the game. Dalvin Cook would score the lone touchdown of the first half on a 4-yard rush up the middle to give the Vikings a 13-6 lead at halftime.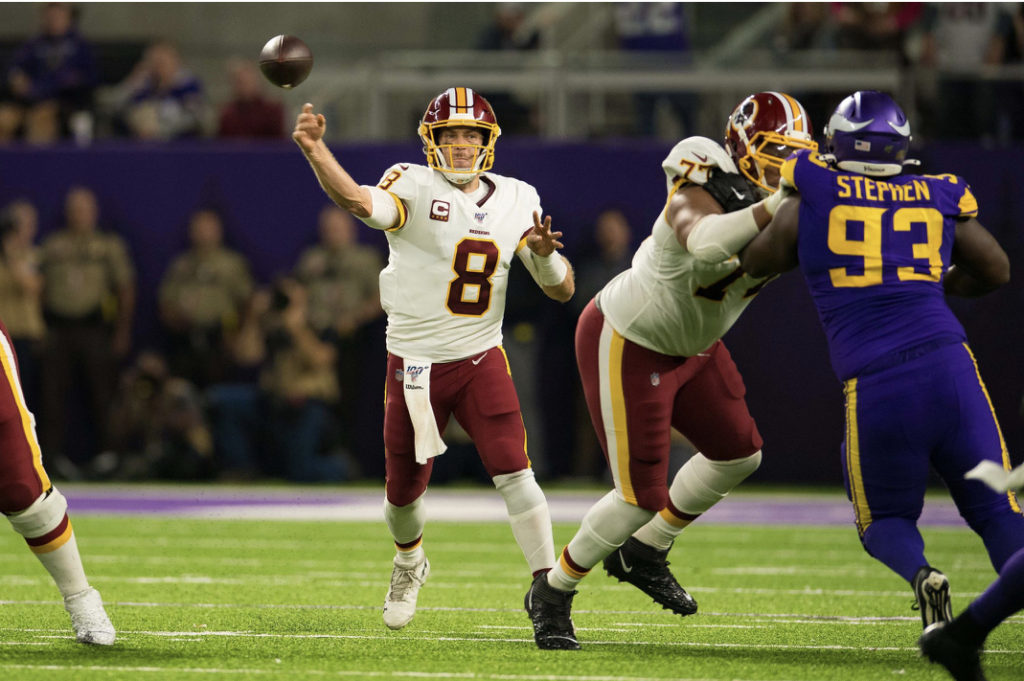 The Redskins would shock the football world with keeping the contest close going in to halftime. Unfortunately, Case Keenum would go in to concussion protocol at halftime and would not return for the second half. Keenum was 12-16 passing for 130 yards, despite fumbling twice and losing one of those to the Vikings defense. As a result of losing their starting Quarterback, the Redskins would be forced to sub in rookie Dwayne Haskins to try and lead their team to an epic comeback.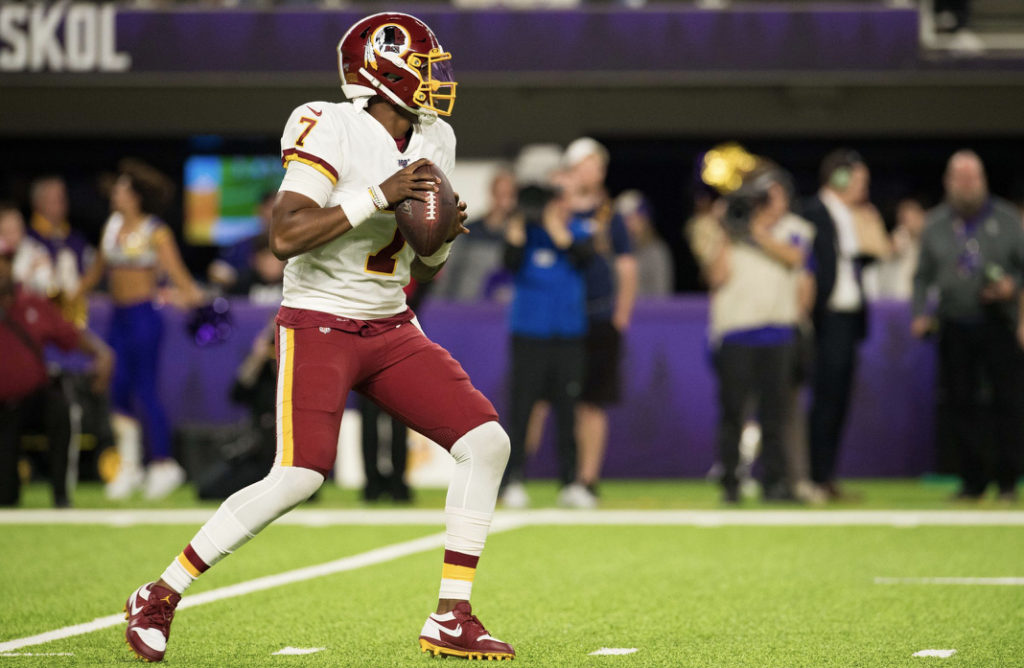 Washington would start the third quarter with the ball and would punt after three dismal plays by Haskins. Neither team would be able to break the plain and score a touchdown in the second half to take a commanding lead. The Vikings would outscore the Redskins 6-3 as it was primarily a battle of who had the better field goal kicker despite field positioning. Along with special teams, the running game basically dominated throughout this contest.
The former Washington quarterback Cousins would go 23-26 passing with 285 yards and no turnovers to lead his team to victory. The possible future starting quarterback in Washington Haskins would go 3-5 passing with 33 yards and an interception. Dalvin Cook would be the focal point of this game as he lead with 23 rushing attempts for 98 yards and a touchdown. He also added 5 receptions for 73 yards to help convey his team to victory.

This game was honestly everything you should expect for two teams that were coming off of 3 days rest. If you were a fan watching this game, it would feel like you were being stabbed with a plastic spork repetitively until it breaks inside your skin, makes itself a permanent home, and causes you unimaginable like irritation for quite some time. The Redskins are now 1-7 after 8 weeks of play to end the first half of the 2019 season.

Washington luckily has 10 days to figure out how to adjust their offense, hope for a speedy recovery from Keenum, and continue to enhance the performance of their defense in hopes of turning this season around to end on some type of high note. They will travel to Buffalo to take on the Bills who have had their own struggles as of late too. In my opinion, I feel like this a good matchup for the Redskins, they should give Haskins the first team reps between now and the game to see what the Rookie is made of for an entire four quarter contest. With a possible top 5 pick in next years draft, the team needs to figure out soon what they have at the quarterback position in order to start determining what to do with that first round selection.