2020 NFL Draft Top 5 Sleepers (4-20-20)
By: Ryan Fowler
Headline Photo Courtesy: Yahoo Sports
With Thursday's NFL Draft rapidly approaching, scouting boards have began to take shape with the list of this year's crop of NFL prospects. Who will be this year's Tom Brady (6th round) or Antonio Brown (6th round) selected in the latter half of the draft? We take a look into five prospects who could be major contributors in the after going on day 2-3 of the Draft.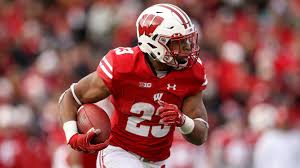 Jonathan Taylor, RB, Wisconsin
To this day most draft boards have Taylor as their third our fourth overall running back prospect and that is just downright disrespectful. A two-time All-American at Wisconsin in just three years in Madison, the bulldozer in Taylor rushed for over 6,100 yards averaging 6.7 yards a pop. He is the next installment of bigtime backs to come out of the Big-Ten joining the likes of Ezekiel Elliott, LeVeon Bell, Eddie George, and fellow Badger Montee Ball. Taylor provides a unique blend of both speed and size to the likes that have not been seen since Adrian Peterson. Taylor is faster than Elliott and more agile than Ball. Whichever franchise picks up Taylor immediately is boosted in the backfield and I fully expect him to be an All-Rookie selection.
Draft prediction: 2nd round, #37 (Detroit Lions)
Pick analysis: With injury concerns to Kerryon Johnson, Detroit finally finds its back in Taylor. He will immediately become the most talented RB in Motown since Barry Sanders.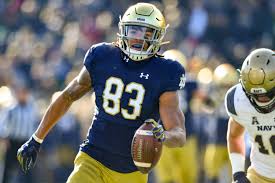 Chase Claypool, WR/TE, Notre Dame
Although a wideout in South Bend, Claypool's best position could very well be lined up beside the tackle at tight end. Teams have inquired on Claypool's ability to play the position and at this year's combine Claypool showcased his pass catching ability working out with both the wide receivers and tight end groups. Claypool would immediately draw mismatches against smaller and slower linebackers in coverage, presenting a huge target for any QB in the league at 6 foot 4. Claypool became a household name in 13 starts during the 2019 campaign, as he was the team's leading receiver, grabbing 66 passes for 1,037 yards (15.7 per) and 13 touchdowns, which ranked in the top 10 nationally. The Abbotsford, British Columbia native can also scoot. He clocked a 4.42 40 in Indy at almost 230 pounds, while also jumping 40 inches in the vert. If schemed correctly, Claypool could immediately become a top option in any offense.
Draft prediction: 2nd round, #42 overall (Jacksonville Jaguars)
Pick analysis: Jacksonville has one threat on offense in D.J Chark and would offer the ability to move inside to compete with Tyler Eifert in unique two tight end sets. With Chris Conley merely unproductive thus far in his career, Claypool's addition alongside the aforementioned Chark and Dede Westbrook would offer Minshew a group of young pass catchers to grow with.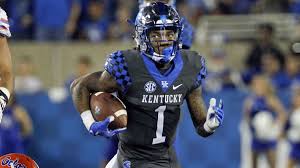 Lynn Bowden, WR, Kentucky
Gone are the days of the I-formation and wishbone offense. Welcome Saquon Barkley, Christian McCaffrey, and Taysom Hill, the Swiss army knives in an NFL offense who are capable of lining up in single-back, and out wide beside the Z. Bowden was electric at UK totaling over 1,800 yards from scrimmage with 14 touchdowns in 2019 alone. To become more than just a gimmick player, Bowden will look to refine his release off the line and route-running ability, but with his speed and playmaking ability among the top in this year's class, Bowden could be a featured weapon in one of the leagues unique offenses.
Draft Prediction: 3rd round, 78th overall (Miami Dolphins)
Pick analysis: Miami's group of wideouts tout the likes of DeVante Parker, Preston Williams, and Albert Wilson. That won't be keeping any defensive coordinators up at night. The addition of Bowden working primarily in the slot would boost the group significantly. Miami added Jordan Howard in the backfield this offseason to boost the run game, but Bowden could serve as Ryan Fitzpatrick's top target with his quick-twitch ability and ability to make wannabe tacklers miss in the open field.
Jordyn Brooks, LB, Texas Tech
A four-year starter at Texas Tech, Brooks is a "see ball, get ball defender" at the linebacker position. As NFL offensive schemes continue to develop, gone are the days of the stay-at-home linebacker where running a 4.9 would be ok. Not anymore. Brooks is a 4.5 runner with elite ball-hawking skills and has a knack for finding the ball carrier through the O-line. He capped off a senior season in 2019 garnering second-team All-American honors leading the Red Raiders with 108 tackles, 20 of which for loss that ranked in the top in college football. The downside to Brooks is his coverage skills. He tends to sit in coverage instead of attacking blockers but that will come with experience at the NFL level. His skillset could also see him work in sub-packages on third-down situations as a cover man on opposing RB's.
Draft prediction: 3rd round, 68th overall (New York Jets)
Pick analysis: A unit highlighted by 2018 FA addition C.J. Mosley did not live up to expectations as Mosley missed 14 of 16 games in 2019 with a groin issue and ultimately ended his season on IR. Add in Brooks alongside Mosley and New York has themselves a core of 'backers for the foreseeable future. Former Jets GM Mike Maccaggnan invested mightily in the defense in 2019 selecting Alabama d-lineman Quinnen Williams with the third overall selection, and Brooks, although not as highly touted, could provide an immediate impact within New York's defense from day 1 playing behind Williams within the second level of the defense.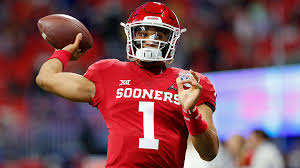 Jalen Hurts, QB, Oklahoma
Not a sleeper you say. Think again. Hurts hasn't garnered nearly the attention he deserves after transferring to Oklahoma following Tua Tagovailoa's surge to stardom in Tuscaloosa. Hurts has all the skills of a modern-day NFL quarterback, combined with a championship pedigree and the 6-foot-1 Hurts could see himself earning snaps in his rookie campaign.
Draft prediction: 3rd round, 69th overall (Carolina Panthers)
Pick analysis: Fit comes into question when looking around the league but look for Carolina to be potential players after the release of former MVP Cam Newton and trade of backup Kyle Allen to Washington. Hurts fits the Newton mold and could be a one-two punch alongside side stud back Christian McCaffrey in new head coach Matt Rhule's first season in Carolina. The former head coach at Baylor, Rhule is all too familiar of Hurts as his Baylor Bears allowed 64 points to the Sooners in two games in 2019.