Alex Bowman claims his is first win of the year, takes Las Vegas (3-6-22)
By: Becca Cottingham
Headline Photo Courtesy: Alex Bowman Twitter Page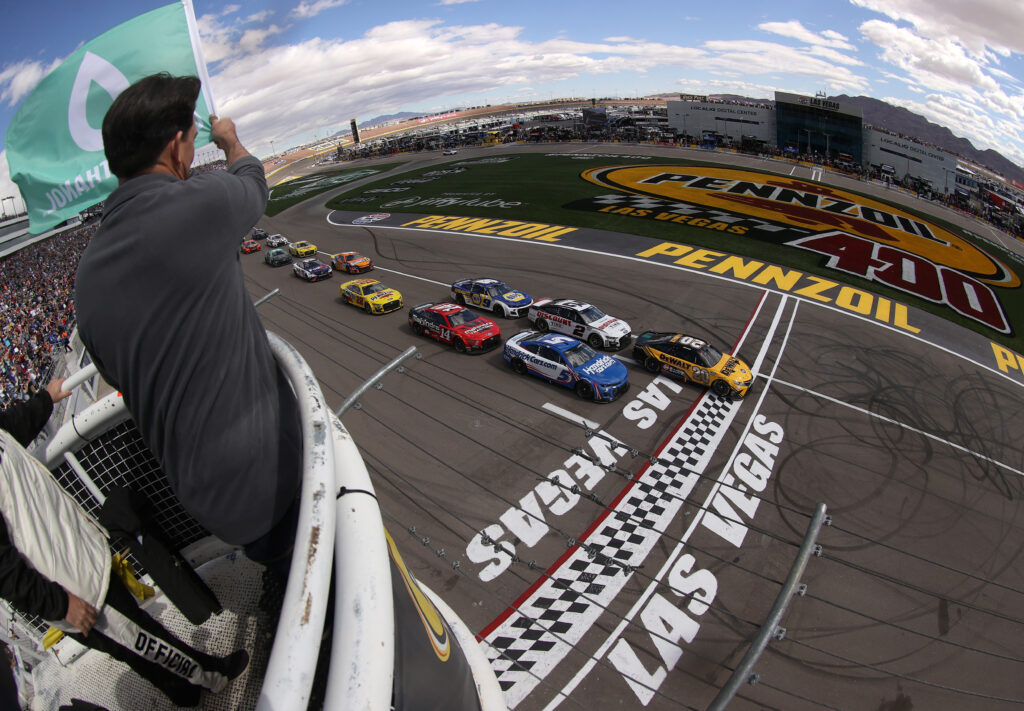 We head to Las Vegas for our second race on the west coast. Christopher Bell will lead us to green and maintain that lead until the competition goes to caution. NASCAR decided to add a competition caution to check tire wear. There was a huge battle happening with Denny Hamlin, Christopher Bell, and Ryan Blaney. Before the end of the end that run two additional drivers join the hunt for that top spot. Christopher Bell will lose the lead on pit road to Ryan Blaney. We get back from the competition caution with two back-to-back cautions for spins. Drivers and crew chiefs seem to be going with low air pressure and the bumps in turn two are causing some spins. We stay green for a little bit until Tyler Reddick went for a while riding through the infield. Team Hendricks will then come into play as the leaders and they will donate money for a cause. Alex Bowman will win stage one.
We get back to green flag racing but not before drama went down. Chase Briscoe has made Kyle Busch angry. Kyle Busch made sure he let him know after the caution waved to end stage one. We go to green and the battles begin again. It does not take long and Daniel Suarez ends up being collected due to Michael McDowell being on old tires and getting a bump. This causes a ripple effect and collects Daniel. Then we get another big caution with Ryan Blaney and Brad Keselowski. Ryan Blaney is out with the damage he ended up collecting. Brad Keselowski was able to fix his car and get back on track. We get at least one more caution before the end of the stage. Ross Chastain will win his first stage for Trackhouse.

We hit stage three and seat belts will need to be pulled tight if it is anything like the first two stages. We have seen multiple accidents and tire issues. Drivers will need gas and most will either be out of tires or almost out of tires. We see our first green flag pit stops with this stage. After everyone cycles through Denny Hamlin broke his gear and it brings out a caution. The front heats up with lead Ross Chastain looking like he could pull it off. Then Kyle Busch and teammate Martin Truex Jr went to battle. Right as another untimely caution comes as Erik Jones has something break in the front end of his car. This then collects Bubba Wallace and brings us to overtime. Everyone comes down pit road to the attention of the crew and most go for two scuffed tires. Teammates line up for Hendrick on the front row and the overtime battle begins. Alex Bowman and Kyle Larson will battle through the very last lap cleanly. Alex Bowman will be the unofficial winner.